Pratt building owners recreating historic Gold Medal Flour mural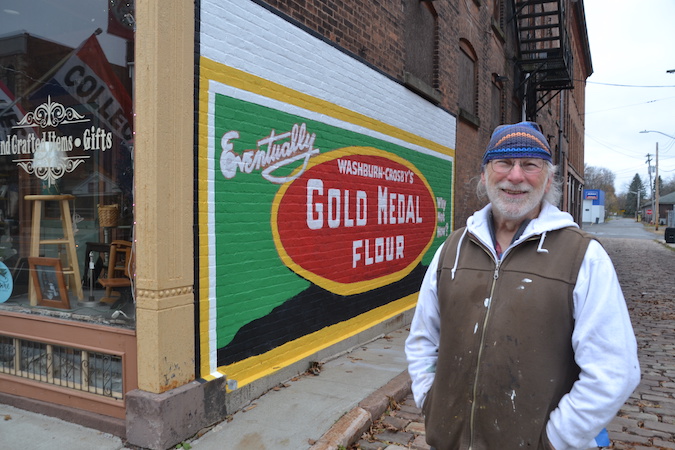 Photo by Tom Rivers
ALBION – Michael Bonafede, co-owner of the Pratt and Day buildings at 114-120 North Main St., stands in Beaver Alley this morning by the new Gold Medal Flour mural on the Pratt building.
Bonafede and his wife Judith Koehler have owned the building for about 15 years. They had paint scraped early this summer from the brick wall, near the corner of the site by the sidewalk and Beaver Alley.
They were planning to have the spot repainted to list the businesses in the building, and also to paint that parking is available behind the building.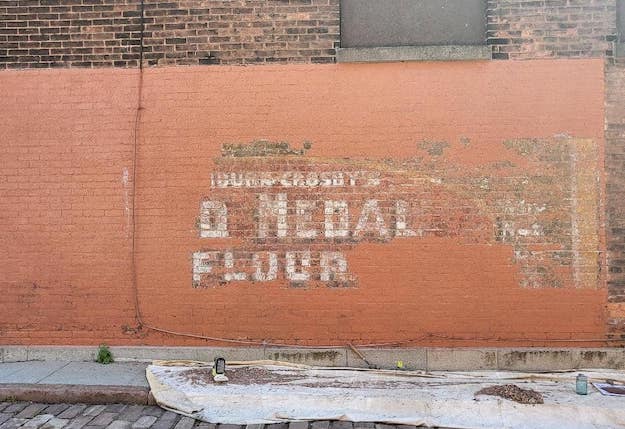 Provided photos
Underneath about seven layers of paint was the original Gold Medal Flour sign. Judith Koehler believes the sign dates to 1906 to 1908. That was the style for the logo at the time.
In 1908, there was a corner store at the site, Woods & Sprague. Bonafede and Koehler know that business was there based on an advertisement from 1908 for an Elks minstrel show at the Pratt Opera House.
When Bonafede and Koehler saw the historic sign for Gold Medal Flour, they changed their plans. Instead of listing the current businesses with a new painted sign on the building, they decided to recreate the Gold Medal Flour display.
They wrote to General Mills and received the company's licensing permission to have a new sign for Gold Medal on the building in that one spot only.
Bonafede and Koehler also received approval from the State Historic Preservation Office and the Albion Historic Preservation Commission for the sign.
"Nobody even knew that sign was there, nobody," Bonafede said. "It was a total surprise."
He and Koehler are thrilled with seeing the old sign and are happy to be recreating the display at their historic building.
"It's pretty cool that we found it," Koehler said. "Every once in a while we find something pretty cool."
The building from 1882 has an intact GAR Room used by the Grand Army of the Republic, and many programs and posters from performances at the opera house, as well as several other artifacts.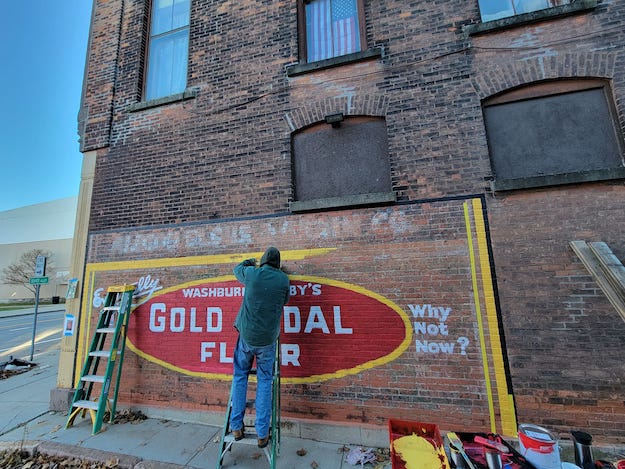 Mark Weld, a sign painter from Middleport, works on the project. He is teaming with D.J. Button of Albion and Bonafede on recreating the sign. Bonafede said they are pushing to have the work done before the harsh winter weather.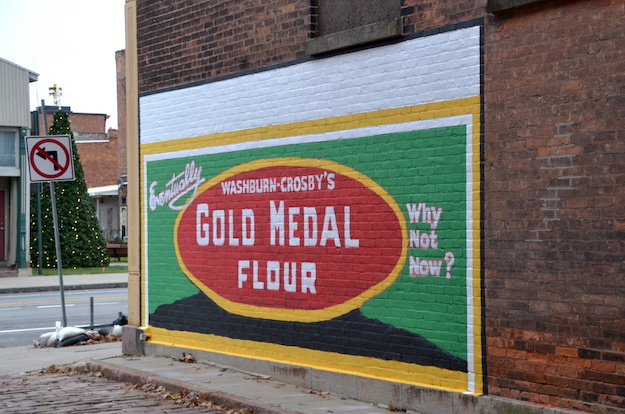 Photo by Tom Rivers
The sign isn't quite done. There will be a black outline around the white letters. There will be a silhouette of an Albion skyline below that Bonafede is keeping a surprise. The top part in white will say there is parking in the rear lot.
A Main Street grant from the state is helping to pay for the project.