Poverty rises in Orleans to highest level in region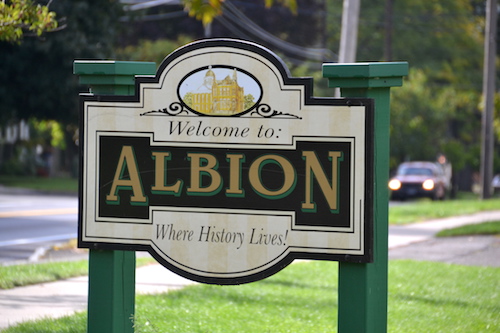 Orleans County has the highest percentage of people in poverty in the nine-county Finger Lakes region, according to a new report from the Rochester Community Foundation and ACT Rochester.
In Orleans County, 15.5 percent of the county's 42,000 residents were living in poverty in 2014, up by 3.4 percentage points. The rate is much higher in the villages of Albion and Medina. The report states that 20.5 percent of Medina's 5,962 residents live in poverty. In Albion, the rate is 26.8 percent of 5,799 people in the village, a rate only topped by 27.5 percent in the Village of Webster and 33.8 percent of the City of Rochester. (Medina and Albion are two of nine villages in the nine-county region with poverty rates above 20 percent.)
The federal poverty level in 2016 is $11,880 for a household of one, $16,020 for a household of two, $20,160 for a family of three, and $24,300 for a household of four.
Orleans leads the region at a 15.5 percent poverty rate. Other counties aren't too far behind: Monroe and Yates, 15.4%; Livingston, 14.7%; Seneca, 13.0%; Genesee, 12.6%; Wayne, 11.9%; Ontario, 10.4%; Wyoming, 10.2%.
"Rising poverty threatens our children and our future," said Jennifer Leonard, president and CEO of the community foundation. "These unwelcome statistics underscore the importance of the coordinated, strategic actions we're taking to lift our community's trajectory."
Ed Fancher is executive director of Community Action of Orleans & Genesee. He said the agency has seen an increase in people needing help paying bills and providing food and basic needs for their families. Many of the people have jobs, but their wages aren't enough to cover their bills, Fancher said.
"Most of the people who are poor don't want to be poor," Fancher said. "Day to day they are doing the best they can to get through."
Community Action runs a food pantry and tries to help people facing utility shut-offs and other emergencies.
"We've seen an uptick in people at our front door," Fancher said. "We see a lot of people who are struggling day to day to keep going."
There are anti-poverty initiatives and funding, but Fancher said the state tends to direct most of those funds to cities.
The report from the Rochester Community Foundation and ACT Rochester notes that Orleans County's population shrunk 5 percent from 2000 to 2014. Orleans has the highest rate of single parenthood in the region, and higher proportions of Orleans residents rely on some form of public assistance, particularly the Medicaid health insurance program for low-income and disabled residents. Despite those statistics, student performance on state tests is strong and the high school graduation rate exceeds the region and state, according to the report.
Here are some highlights on Orleans County in the poverty report.
The child poverty rate in Orleans has increased since 2000 and is now tied for 2nd highest in the region at 23 percent.
In 2010-14, 17% of Orleans households consisted of married couples with children, an 8-point decline from 2000.
Orleans had the smallest share in the region of married couples with children, and the largest share of single parents with children in 2010-14.
In 2014, tourism revenue per resident was $560, well below the state ($3,160) and region ($1,280). Only Wayne County had lower revenue per resident than Orleans.
In 2010-14, 43% of families were headed by a single parent, above the nation (35%), state (37%), region (39%), and every other county in the region.

In 2014, there were 27 cases of child abuse and neglect per 1,000 children under 18, more than the state (17) and region (15). Only Seneca and Yates had higher rates than Orleans in the region.

The teen pregnancy rate in 2013 was 4.0%, higher than the state (3.7%), region (2.9%), and every regional county.
The voter registration rate in Orleans fell from a peak of 83% in 2005 to 73% in 2014, below the regional and state rates of 79% and 76% respectively.
Orleans also had relatively lower voter turnout with just 29% of registered voters casting ballots in the 2014 midterms, below the region (35%) and every county in the region. Turnout fell by 5 points from 34% in the 2010 midterms.
In 2014, the unemployment rate in Orleans was 7.6%. It fell from a high of 9.7% in 2012, but the 2014 rate was higher than the nation (6.2%), state (6.3%), region (5.8%), and every other county in the region.
Total jobs in Orleans fell slightly from 2013 to 2014 (0.1%), in contrast to increases in the state (1.8%), nation (1.9%), and region (0.8%).
The manufacturing sector in Orleans grew by 27% from 2001 to 2014 – an extraordinary achievement, given large losses in the nation (23%), state (33%) and region (34%). Orleans was the only county to experience more than a 5% increase in manufacturing jobs over that period.
In 2014, the average salary in Orleans was $38,800, an increase of 10% from 2000. This compares to an increase of 6% nationally, 7% for the state, and no change for the region. However, Orleans' salary in 2014 was lower than the nation ($51,400), state ($65,900), and region ($45,100).
Orleans has had extraordinary growth in prekindergarten participation, and has the highest rate in the region. In 2014, 64% of eligible Orleans children were enrolled in prekindergarten, higher than the state (44%), region (40%), and every other county. The rate rose by 52 points from 2001, outpacing the state and regional increases (both 29 points).
In 2010-14, the median household income in Orleans was $48,000, the lowest among the counties in the region and well below the nation ($53,500), state ($58,700), and region ($52,300).
Median income in Orleans fell by 11% from 2000 to 2010-14, a larger drop than the state (5%) and region (6%).
For more on the report, click here.