Portraits and personalities from 2021, a year of persistence amidst a pandemic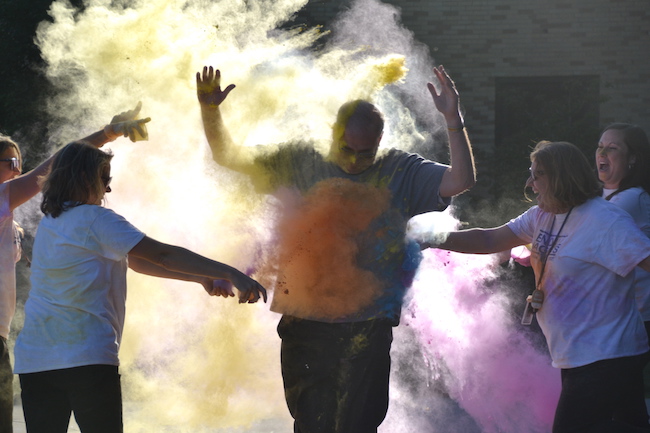 Each year I pick some of my favorite "people pictures" and others that highlight big news events or moments for the community.
The top photo shows Kendall teacher Dana Longrod running through a cloud of color powder on June 17 during a moving up ceremony for Kendall sixth-graders. Longrod joined the students in the color run after being recognized by students and his fellow teachers for a 35-year career as a Kendall elementary teacher. During the moving up ceremony each student presented him with his favorite drink, a can of Mountain Dew, or his favorite snack, a glazed donut.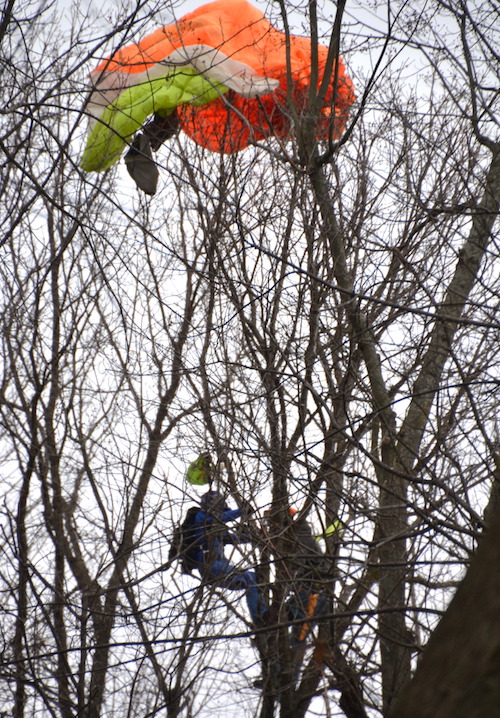 Greg Rosato, right, of Gaines climbed a tree on Jan. 1 to free a skydiver who was stuck and dangling 65 feet up in the air next to the Pine Hill Airport in Barre. The airport is busy on New Year's Day with many skydivers setting a New Year's resolution to jump from an airplane about 10,000 feet in the sky.
One of the skydivers drifted off path when her helmet fogged up and she became disoriented in the air. The wind took her into the trees next to the air strip at Pine Hill. She was too far back to get in heavy equipment and too high up for a ladder. Rosato used tree climbing spikes to get up to the stuck skydiver. Rosato used a carabiner hook to connect a rope to the skydiver's harness. Firefighters on the ground had a pulley and they were able to lower the skydiver through the branches. Rosato helped to guide her as she went down. He used a chainsaw to remove some branches that were in the way.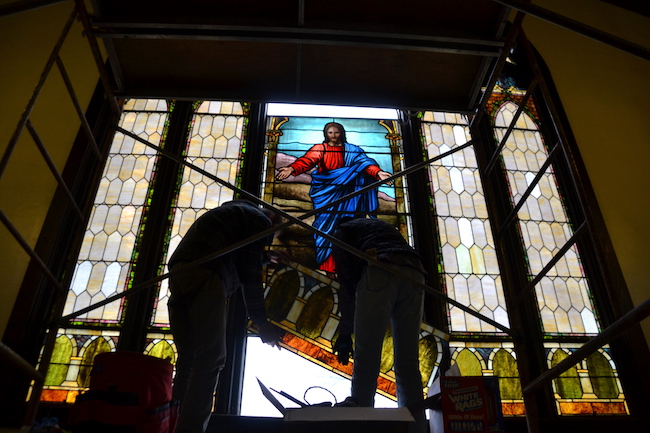 A Holley church made repairs to century-old stained-glass windows. Valerie O'Hara (right), president of Pike Stained Glass Studios of Rochester, and Chris Grooms set a repaired stained glass window into place at the Holley Presbyterian Church on Jan. 7. Pike was hired to repair two sections of the "Come Unto Me" window, a centerpiece of the church. The window is believed to have been installed in 1907 when the sanctuary was built. The repairs were about $25,000.
"We looked very close at it and we could see it had problems," Tom Gardner, the church pastor, said about the window. "The congregation wanted it to be right and be here for future generations."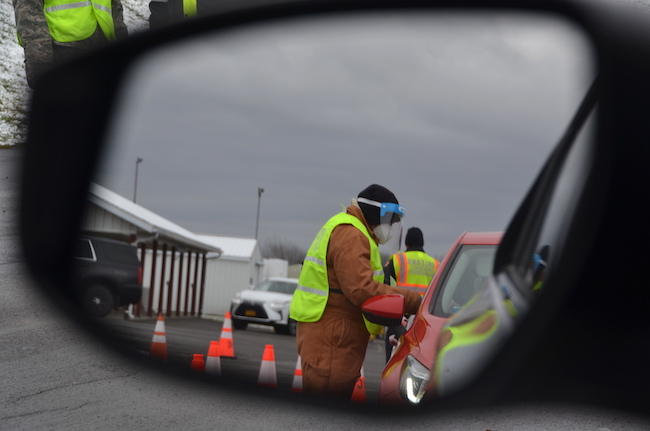 Jack Welch, Orleans County chief administrative officer, assisted at a rapid test clinic on Jan. 6 at the Orleans County 4-H Fairgrounds. He is shown in a driver's side mirror of a car in line.
Welch was among a group of volunteers and county employees who assisted at the rapid test clinic on Wednesdays in January as well as in December 2020. About 500 people were tested each day at the clinics. The volunteers and staff then switched to running a vaccine clinic at the Ridgeway Fire Hall beginning in late January.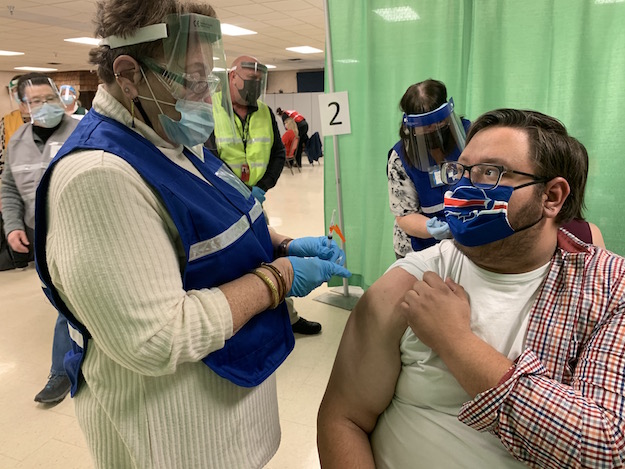 Zach Busch, a junior-senior high music teacher in Holley, received his first dose of the Covid-19 vaccine on Jan. 28. Connie Ferris gave him the shot during a vaccine clinic at the Ridgeway Fire Hall.
"It's peace of mind," said Busch, 27. "I feel it's important to protect not only myself but my students and my colleagues."
Many of the people vaccinated on Jan. 28 were school employees, who are in the 1b eligibility group. This was the first day of the Covid vaccination clinic run by the Orleans County health Department. The slots filled up quickly and 100 doses were given out.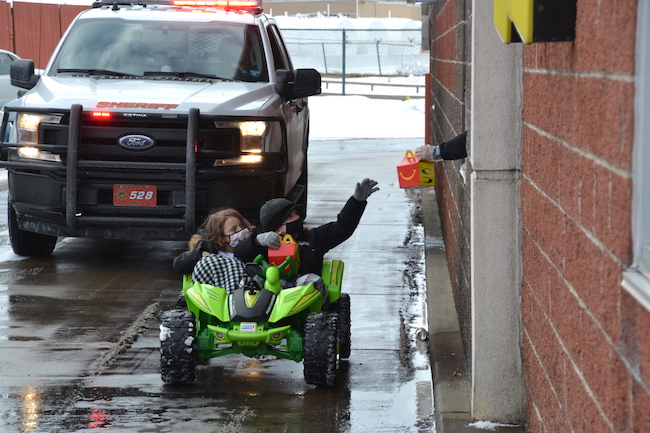 Cooper Traxler (right), 6, took his Valentine's date Natalee Olsen, 6, through the drive-through at the Albion McDonald's on Feb. 14. They received an escort from the Orleans County Sheriff's Office.
The two met the previous year in kindergarten and became best friends. This year Cooper asked Natalee to be his valentine, and wanted to take her through the drive-through at McDonald's. They rode in style in a Power Wheels Dune Extreme and stopped at the drive-through window to pick up their cheeseburger Happy Meals.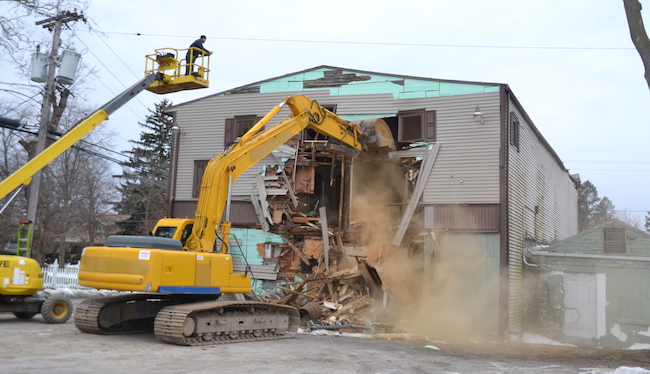 Art Hill Excavating of Medina started taking down the Lyndonville Pennysaver Market building on March 8. Art Hill is operating the excavator. His son-in-law, Aaron Young of AGC Construction in Holley, is in the lift as a guide and to keep an eye on the demolition.
The roof of the building collapsed on Feb. 22 with heavy snow and ice on the roof. The building from 1899 also had suffered deterioration with its support beams. The Village Board met on Feb. 22 and declared the structure unsafe after an engineer's inspection. The cleared site was later used for a farmers' market in the fall.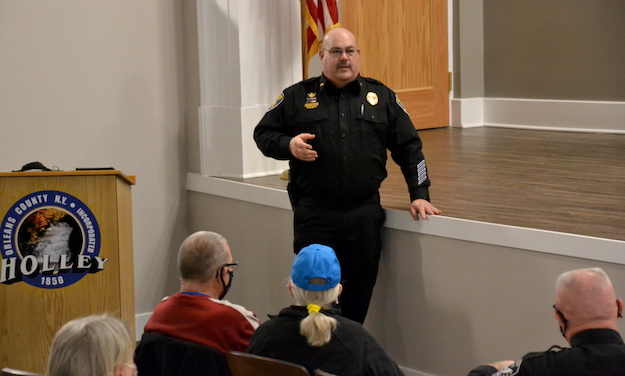 Roland Nenni, Holley's police chief until he retired on March 31, speaks during a forum on police reform on March 11 at the village office in the former Holley High School. The Holley Police Department responds to about 1,000 calls annually, and many are lockouts, alarms going off, and building checks. But increasingly, the department responds to people in mental health crisis. Nenni said more mental health personnel are needed in the community to help assist individuals in a mental health crisis.
"We're trying to find better ways of dealing with mental health," he said. "There's no doubt about that."
Law enforcement agencies throughout the state needed to hold community meetings and submit plans to the state as part of a police reform initiative.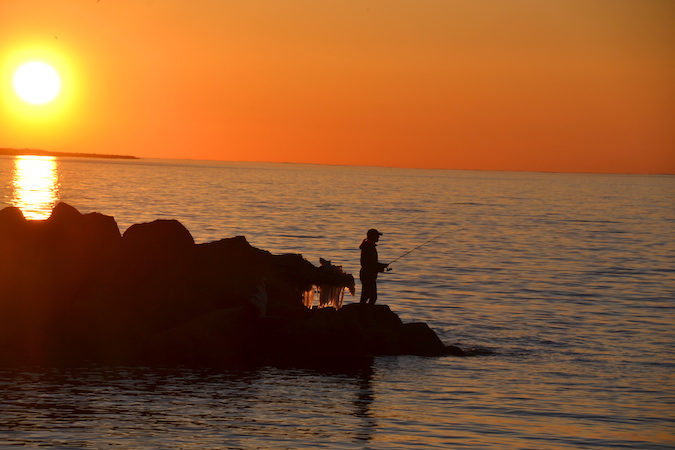 A woman fishes from the eastern pier at the Oak Orchard Harbor on March 20. It was a brilliant sunset but it was also chilly with icicles hanging on the rocks.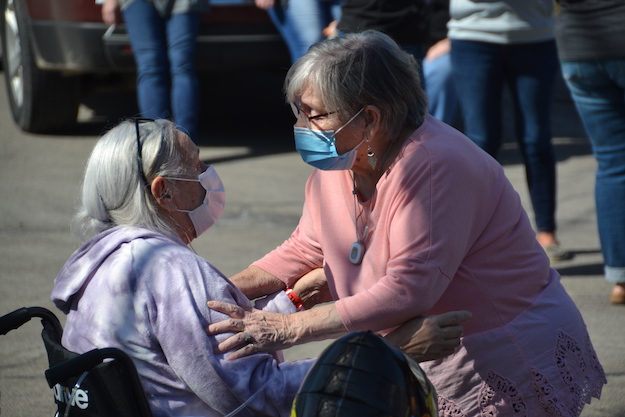 Sue Dickinson of Albion is greeted by her mother, Marjorie Condoluci, on March 22 after coming home after being sickened by Covid for about 10 weeks. Dickinson spent two months in Rochester General Hospital and then 2 1/2 weeks in rehab facility.
Doctors didn't expect her to survive. But she pulled through it. When she left a Rochester rehab facility for Covid patients on March 22, the nurses and aides presented her with balloons. She was at the Unity Specialty Hospital, St. Mary's campus.
"They told me I was their success story," Dickinson said when she came home to Reynolds Street in Albion. "I am feeling great. I am determined to get back to good health."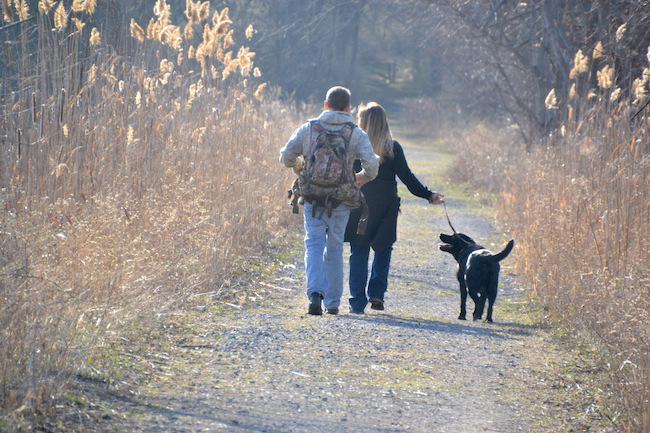 These two people walk their dog on the 1.2-mile Onondaga Nature Trail at the Iroquois National Wildlife Refuge in Shelby on April 4. There were many people out that evening enjoying the nature scenes and hoping to see an owl, bald eagle and other wildlife.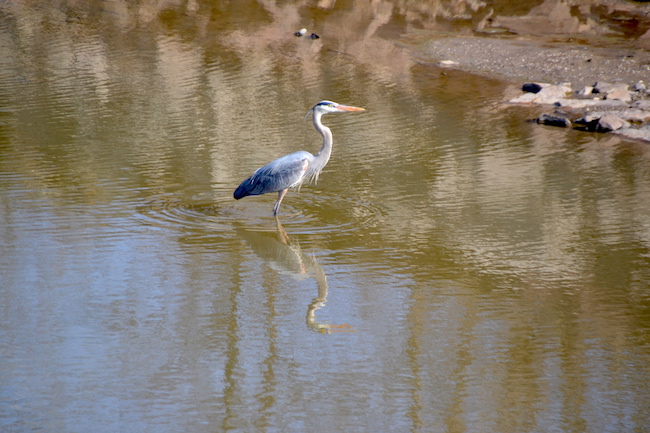 This blue heron enjoys the shallow water of the Erie Canal in Albion on April 8 p.m. The heron was not far from the Keitel Road bridge.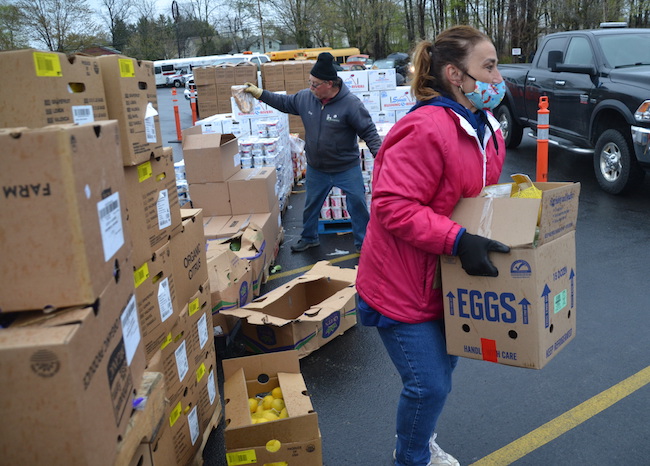 Samantha Koons of the Office for the Aging helps at a food distribution in Albion on April 16. Greg Gilman, an employee with Community Action of Orleans & Genesee, also organized and carried boxes of produce. The program went most Fridays in Orleans County from April 2020 until the end of June this year. People often would line up in vehicles by 5:30 to 6 a.m. for the distributions that were scheduled to start at 8 to 8:30 a.m. There are usually 300 boxes of food each week, but sometimes there were more, including on April 16 when the usual 20-pound box was supplemented with oranges, pears, Brussels sprouts, hummus and eggs.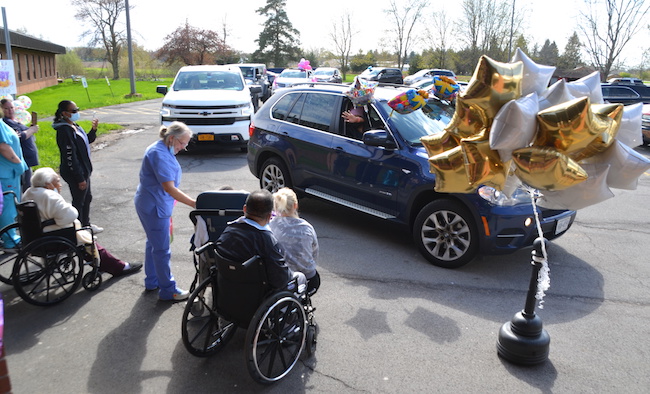 About 15 vehicles, decorated with balloons and birthday greetings, drove by the front entrance of The Village of Orleans Health and Rehabilitation Center on April 18. The vehicles all stopped so the drivers and passengers could wish Angela McNeil a happy 52nd birthday.
McNeil also is known by her nickname "Bookie." She worked as an aide at The Villages for about 30 years. She suffered several strokes and became a resident at The Villages, sharing a room with her mother, who worked in the kitchen at the nursing home.
"She was the best aide ever," said her former co-worker Sandy Flugel. "She took care of so many people. She has so much love."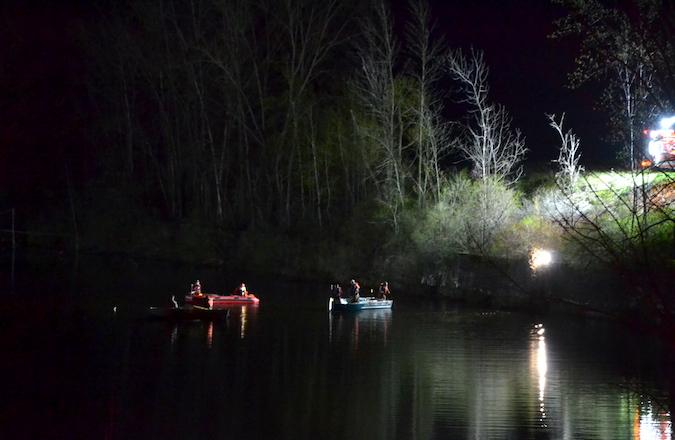 Firefighters in rescue boats from the Albion Fire Department, Medina Fire Department and the Murray Joint Fire District search the frigid waters of a quarry in Murray on April 23. A Murray man went into the quarry off Canal Road next to the Erie Canal to look for his dog. Ryan J. Perkins, 30, of Canal Road drowned and was found near the embankment on the south side of the quarry in a deeper water hole. The dog was located and was safe.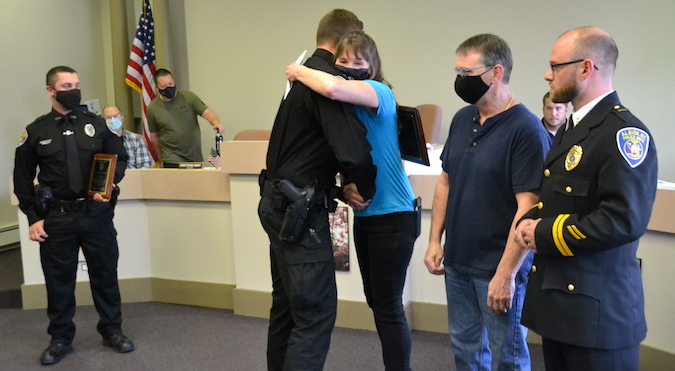 Faith Smith hugs Dillon Black during an awards presentation on April 28 at the Albion Village Board meeting. Black and officer Robert Wagner both received "lifesaver" awards for their critical life-saving assistance on the night of March 21.
Within 2 minutes of the 911 call at about 10:30 p.m., Albion police officers arrived with a defibrillator. The Albion patrol vehicles all carry AEDs. Wagner and Black were able to get Smith's heart beating again after shocking him with the defibrillator. They also did CPR until a crew from COVA ambulance arrived and took Smith to Strong Memorial Hospital.
"I want the world to know that police officers are more than just the person who comes to arrest you if you do something bad and pull you over for a traffic violation," Mrs. Smith said. "They are heroes to my family. Because of their quick response and determination my husband is alive and here with me today."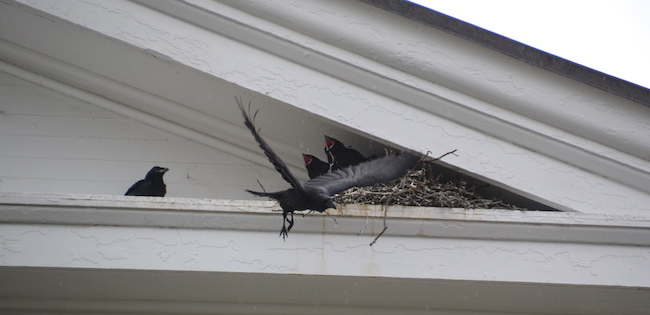 A group of ravens created quite a stir at the Orleans County Courthouse in the spring. There was a large nest is a crevice at the courthouse. This photo on May 2 shows the mother raven retrieving food for the small birds, which were making quite a racket and showing a lot of impatience.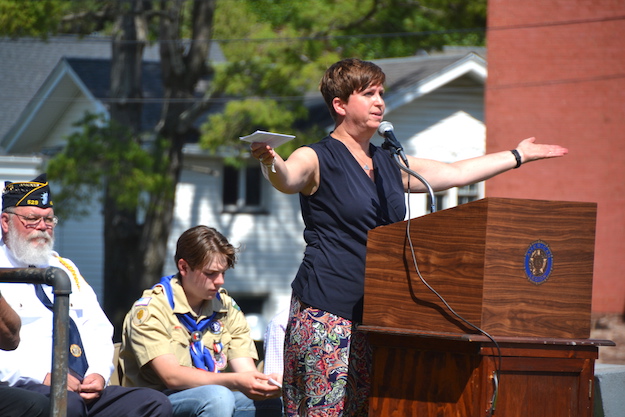 Diane Valentine thanks the community for rallying to complete an Eagle Scout project started by her son Evan. She is shown speaking on June 5 during a dedication of the project, which is the stone wall around the veterans' monument in Holley by the Post Office and American Legion Post.
Evan Valentine in December 2020 finished the last of the 21 badges he needed for the Eagle. He also had Scouts and volunteers lined up to build a veterans' wall around the monument. He was presented the Eagle Scout badge while in the hospital in February. Evan passed away from leukemia at age 18 on Feb. 21. Speakers commented that his presence was felt at the ceremony on June 5, with bright sunshine and frequent gusts of wind.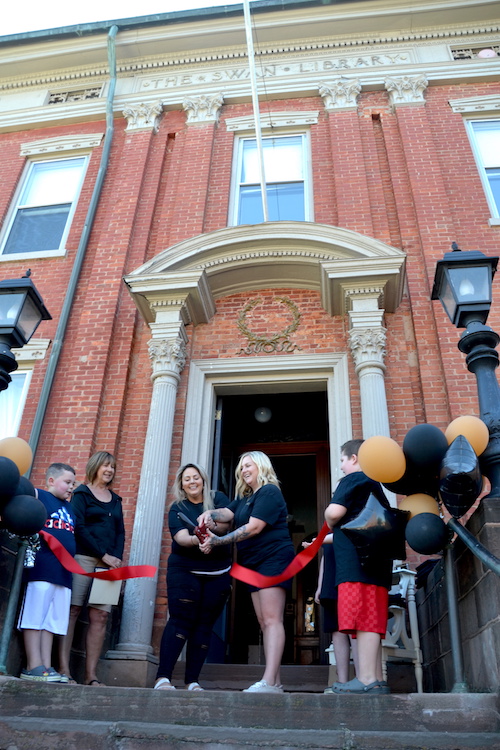 Janna Stirk (center right) of Marked by Janna Brow Artistry & Waxing Spa and Kylie Hughson (center left) of the Tease hair salon celebrate the grand opening on June 12 of The Parlour at the former Swan Library in Albion. Joining them on the steps for a ribbon cutting include from left: Brady (Kylie's son), Albion Mayor Eileen Banker, Kylie Hughson, Janna Stirk, Brody (Janna's son not very visible in back) and Troy McGaffick, a friend of the families.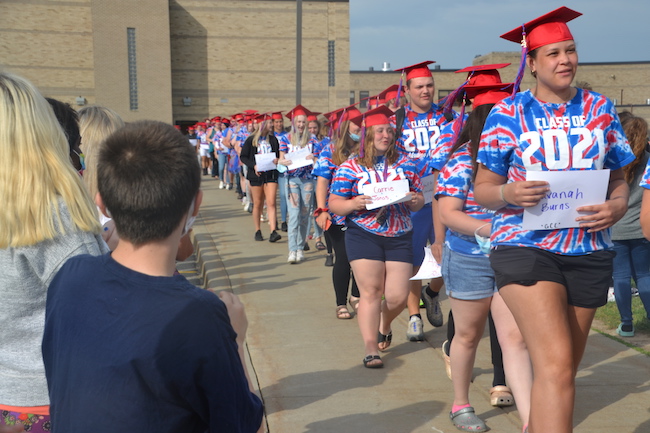 Savanah Burns and about 125 members of Medina's Class 2021 participate in the senior walk on June 14. In the past students have walked through the hallways in the three school buildings. Last year there wasn't a senior walk. This year it was moved outside on the sidewalk from the high school to the middle school and the elementary school.
The entire student body from the elementary, middle and high schools formed a tunnel and applauded the class. The seniors carried signs with their future plans.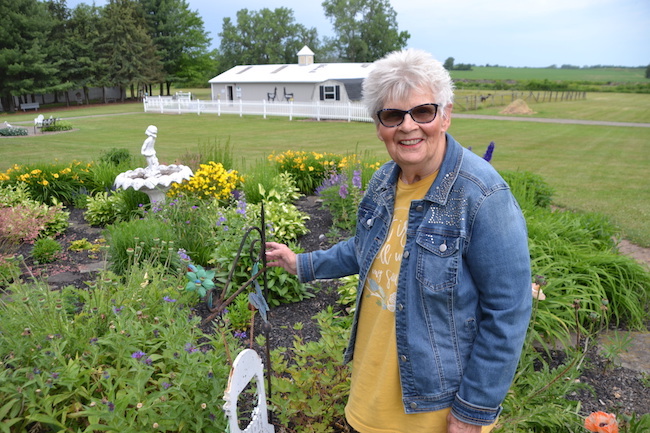 Pat Fox is shown on June 18 in her backyard on East Center Street in Medina. A week earlier she had about 175 Medina students in formal gowns, suits and tuxedos for photos stop by before the prom. Fox and her husband Bob operate the Garden View Bed & Breakfast. They have welcomed Medina students the past 30 years to come by and use their property for photos before the prom.
"It's a tradition in Medina to come here," Fox said. "It makes me feel good. It's a way that I can give back to the community."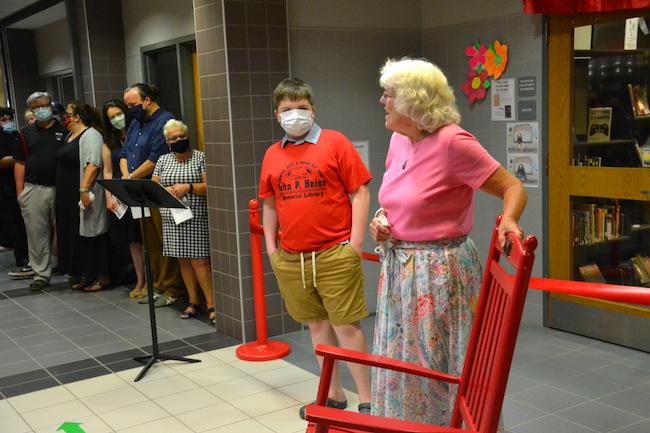 Sandy Heise speaks on June 21 at the Holley Jr./Sr. High School when the library was dedicated in honor of her husband, John Heise, who served the school as a principal and the district as a member of the Board of Education. Heise also was an elementary school principal and director of education and special programs. He passed away at age 73 on Dec. 23, 2020. (Their grandson Alexander Zelent is next to Mrs. Heise.)
The red chair in the photo will go in the elementary school. That chair was donated in memory of Heise by the other members on the Board of Education and Jeff Martin, the school attorney who also has been in the Holley Rotary Club for many years with Heise.
"No amount of words can offer gratitude that this district, community, your friends and family have for all that you gave of yourself for the good of others," BOE President Robin Silvis said about Heise.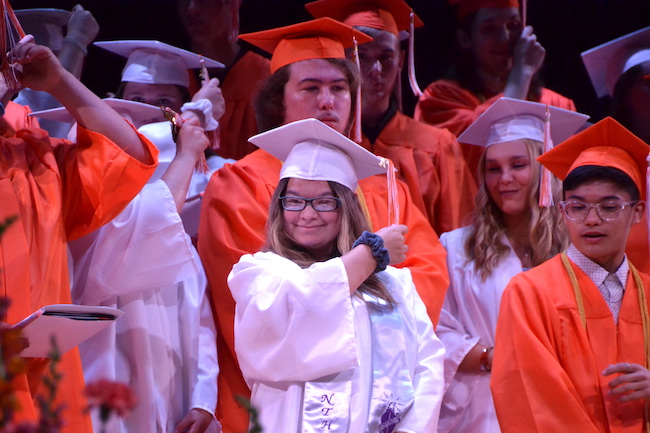 Abigail Garver moves her tassel to signify her graduation from Lyndonville Central School during commencement on June 24 at the school's Stroyan Auditorium. Connor Bell is next to her and Hayden Arlington is behind her. They are among 59 graduates in Lyndonville's Class of 2021.
Commencement is usually on the fourth Friday in June. Lyndonville was planning for an outdoor ceremony and set the date for June 24, the fourth Thursday, to allow for a rain date on Friday. But the state modified its Covid-19 guidelines for special events, which allowed the district to have the ceremony indoors.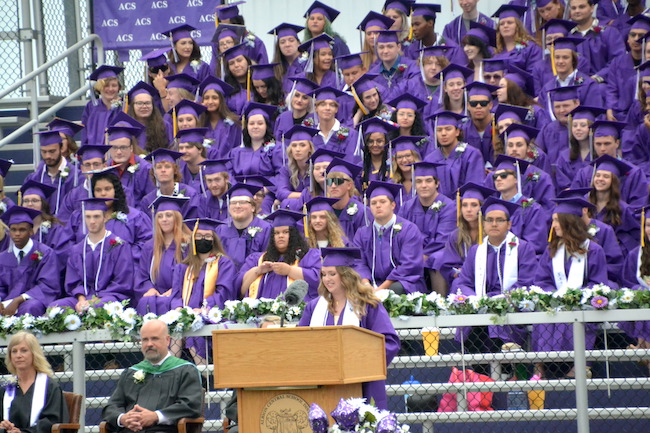 Aubrey Boyer, the president of Albion's Class of 2021, speaks during commencement on June 25, which was held outdoors at the football stadium instead of the usual high school gym. Boyer said life can often feel like a roller coaster that goes up and then down, and back again. The Class of 2021 has been on a roller coaster "that goes every which way."
"Each and every one of you is capable of greatness," Boyer said. "Seniors, thank you for the rollercoaster ride of a lifetime."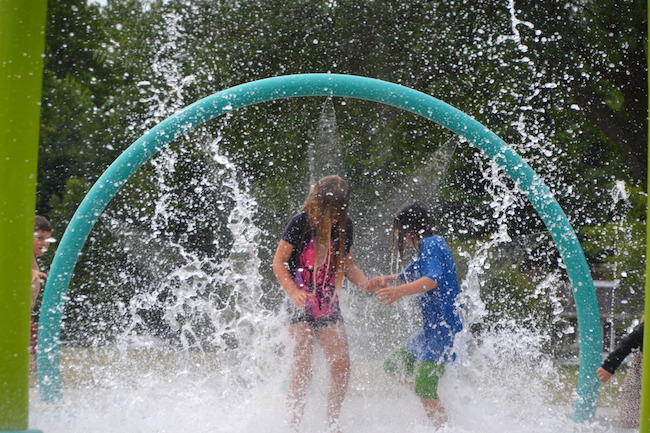 These sisters, Ashlee (left) and Haylee Young, have fun at the new splash pad at Bullard Park in Albion on July 4. They are from Charlotte, NC and are visiting family in Medina. The splash park opened on June 8 and was very popular with the public.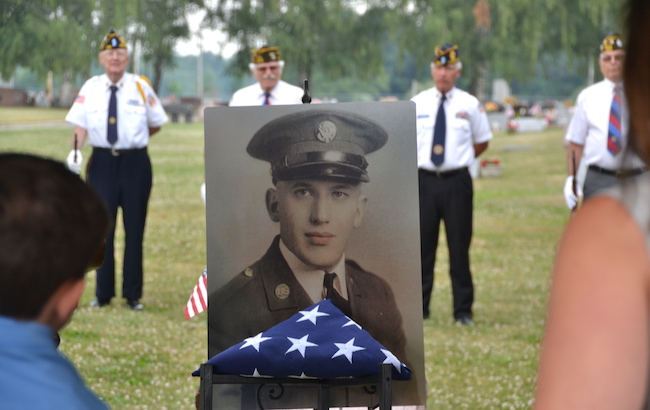 The portrait of Gerald "Bud" Hamann is positioned near his grave spot at Lynhaven Cemetery during a service for him on July 6. His remains were recently identified in a mass grave in the Philippines. Honor Guard members from Orleans County are in the background.
Nearly 79 years after his death in a Japanese prisoner of war camp, Hamann was given a service at Lynhaven Cemetery. Hamann survived the arduous Bataan Death March over 60 miles on foot, and then a 25-mile ride standing up in a boxcar packed with fellow soldiers who were prisoners. When he finally made it to the prisoner of war camp at Cabanatuan, Hamann would die from dysentery on July 25, 1942.
"We are horrified, and our sense of humanity wounded by the misery that CPL Hamann and so many others endured," said Matthew Atkins, a chaplain with the 10th Mountain Division at Fort Drum. "And we are astounded by their character. These were men of honor, who fought valiantly with next to nothing, endured unspeakable conditions. They lived the most arguably difficult days with principle. In their suffering, they did not surrender their souls."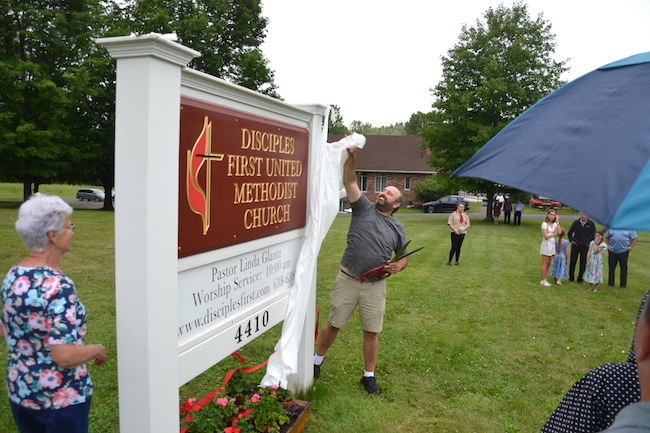 Randy Moore on July 11 pulls the cover off the new sign for a merged church – Disciples First United Methodist Church, which brings together the Disciples UM Church and the Albion First UM Church. Moore, a member of the board of trustees for Disciples, was joined by Leslee Lockwood of the Albion congregation in unveiling the sign after the first service of the newly merged church.
The two congregations have been sharing a pastor for nine years. The pastor previously would travel to Albion and then to Clarendon for services until the Albion members started attending the Clarendon site about 18 months earlier. The two congregations each voted on April 25 to formally merge. July 11 was the first service for the merged group.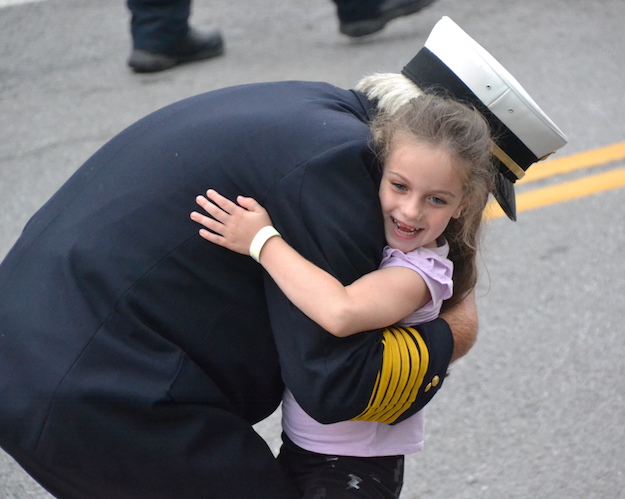 Mackenzie Niles gives a big hug to Fran Gaylord, a member of the Murray Joint Fire District during the Kendall Carnival Parade on July 16, the first traditional parade in Orleans County since the start of the Covid pandemic. Mackenzie is Gaylord's great-niece. She spotted him in the parade and ran towards him with outstretched arms.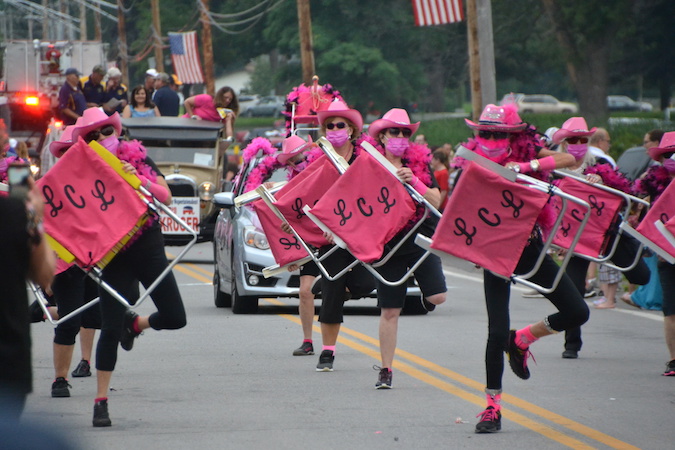 The Kendall Lawn Chair Ladies fired up the Kendall crowd on July 16 with a performance to "Keep Your Hands to Yourself." The Lawn Chair Ladies have been a crowd favorite in their nine years of performing. This was the final performance for the group, which is mostly women in their 60s and 70s.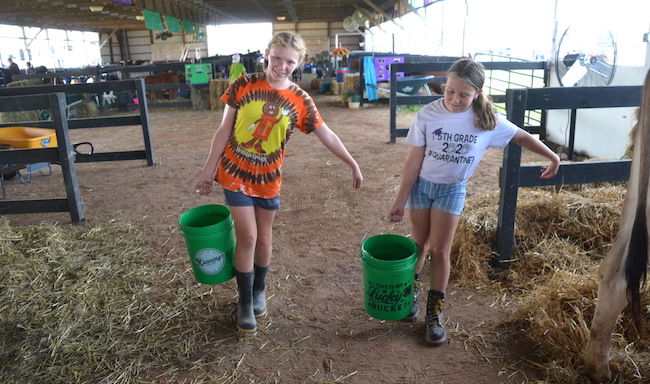 Kaitlin Bennett (left), 12, of Barre and Anna Grillo, 12, of Albion bring buckets of water to their animals at the Orleans County 4-H Fairgrounds on July 25, which was moving in day for most for the animals. The fair returned in 2021 after being cancelled in 2020 due to Covid concerns and restrictions on crowd sizes.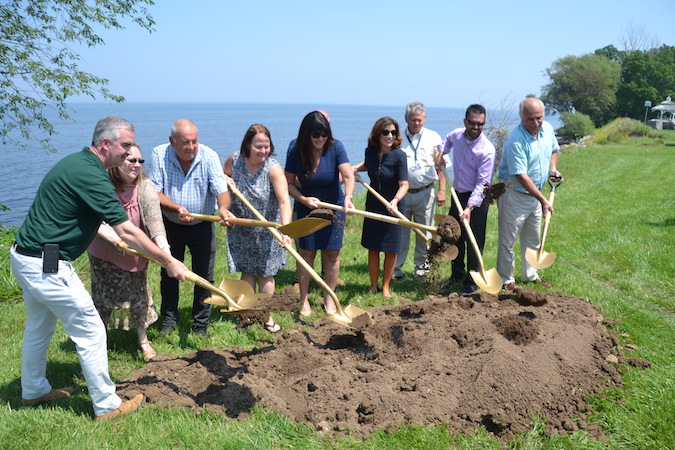 Then Lt. Gov. Kathy Hochul joins in a ground-breaking celebration on July 26 for a new $2 million breakwall along Lakeshore Road in Carlton that is 95 percent funded by the state. It is one of many projects along the south shore funded with $300 million through the state's Lake Ontario Resiliency and Economic Development Initiative (REDI). Hochul would be sworn in as the state's 57th governor on Aug. 24 and the first woman to serve as the top's highest elected official. She will become governor following Andrew Cuomo's resignation.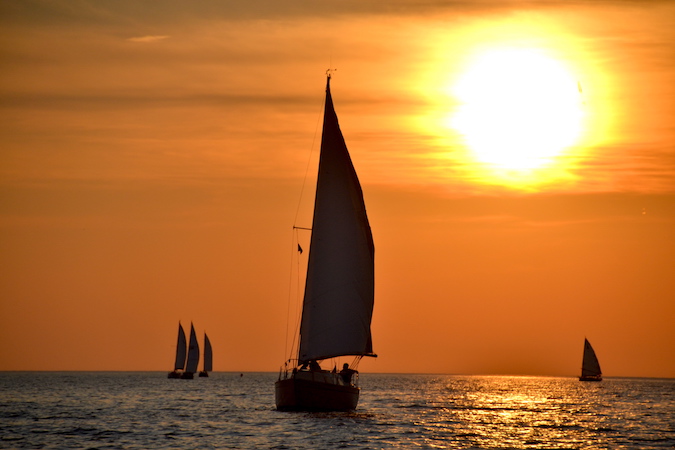 These sailboats race on Aug. 12 as the sun comes down on Lake Ontario. It made for a picturesque setting in a competitive race for 10 sailboats. They raced for 4 miles, having to change directions frequently. The Oak Orchard Yacht Club hosts Thursday night races off Point Breeze, a summer tradition for nearly 30 years.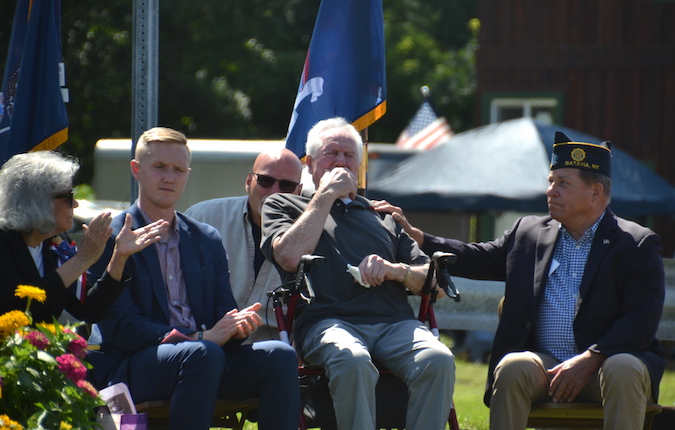 State Assemblyman Steve Hawley comforts Richard Vendetta, who was named after his uncle who was killed during World War II, one of 10 from the Fancher community who died in the war. The younger Vendetta was among many family members in attendance of the 10 men honored Aug. 14 with the rededication of the monument.
The memorial at the "Fancher Curve" on Route 31 was originally dedicated on Aug. 14, 1949 as a monument to 10 young men from the Fancher community who were killed in World War II. Those men include John Christopher, Joseph Christopher, Cosmo Coccitti, John Kettle, Jr., Leonard Licursi, Martin Licursi, Richard Merritt, Camille Nenni, Floyd Valentine and Richard Vendetta.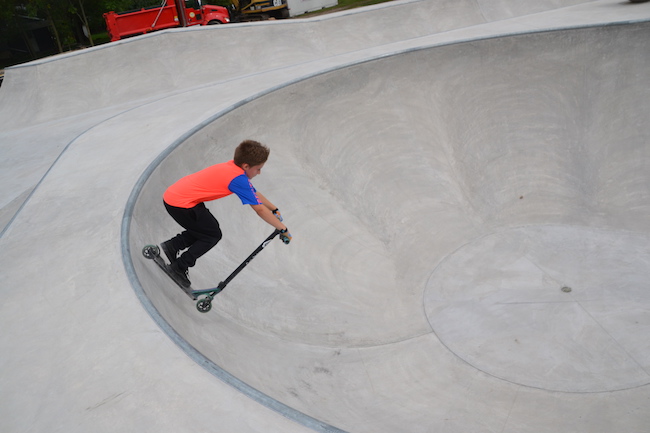 Kaleb Hungerford, 11, of Medina takes off on Sept. 1 in the bowl of Medina's new skate park. The $550,000 park is named in memory of the late Luke Nelson of Middleport. He often came to Medina as a kid and young adult to use the former skate park, which was on a former tennis court. He was 23 when he passed away on April 22, 2017. His family has donated to the park and helped organize fundraisers to upgrade the site.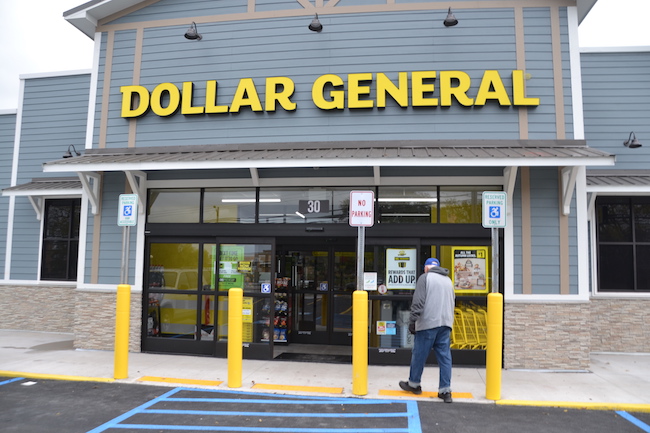 Harold Scribner walks into the new Dollar General store in Lyndonville on Oct. 28. The store opened the day before. Scribner said the building is "beautiful" and the store is a welcome addition to the community, especially in the winter when people don't want to travel too far.
The store is in the spot of the former Crosby-Whipple building, which was demolished and removed at 30 North Main St. to make way for the new Dollar General. The 7,600-square-foot store is next to Johnson Creek. The project includes a retaining wall next to the waterway. There are also 29 parking spaces.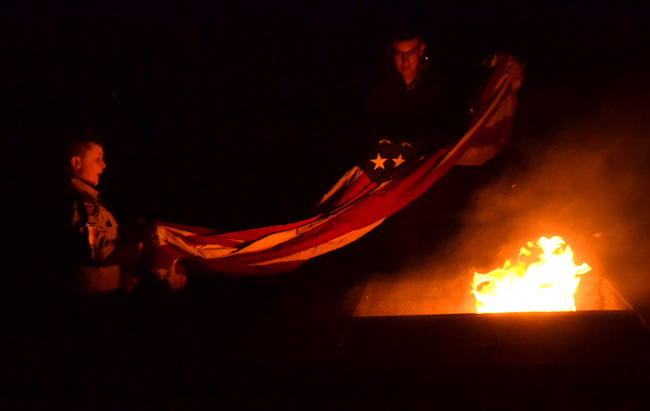 Sawyer Braley, right, and his brother Stryker put a flag in a fire pit at St. Joseph's Cemetery in Albion on Nov. 11. The brothers are members of Troop 164 which held a flag retirement ceremony on Veterans Day. Scouts retired about 100 flags in the fire pit. Harrison Brown led construction of the fire pit for his Eagle Scout project. It was first used on May 29, 2019.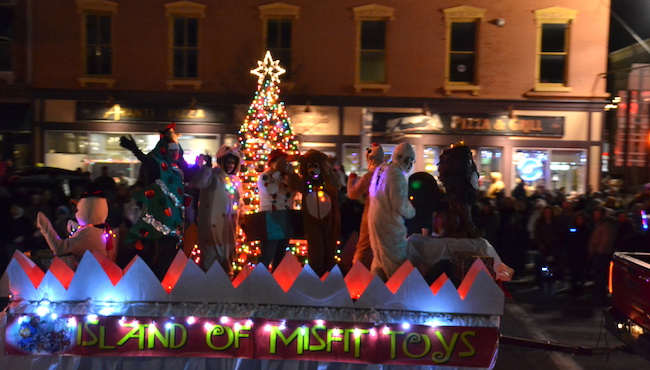 The Medina Misfits won "Best in Class" during Medina's 13th annual Parade of Lights on Nov. 27. The parade returned to a procession down Park Avenue and Main Street after a "reverse parade" the previous year with the floats all stationary and people driving by to see the displays. The "Medina Misfits" include a group of friends from several local businesses who wanted to dress up Christmas characters and add some extra fun to the parade.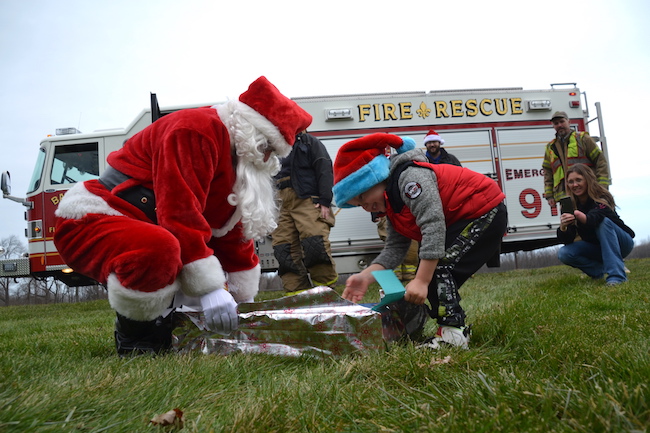 Santa Claus helps Jaxson Stefaniak, 3, unwrap a present of an Iron Man toy on Dec. 5 as part of the Barre Volunteer Fire Company's annual Santa Express. Firefighters escorted Santa around town to visit 30 families and deliver presents.