Portraits and personalities from 2020, a year unlike any other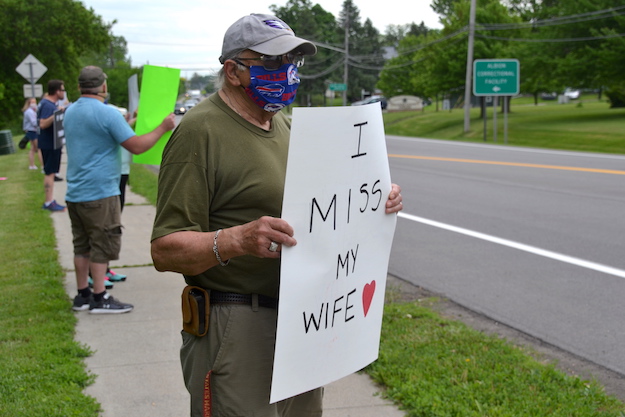 Each year I try to pick some of my favorite "people pictures" and also highlight images from notable news events the past year.
The top photo shows Richard Brakenbury, holding a sign that says, "I Miss My Wife" during a picket on May 29 outside The Villages of Orleans Health and Rehabilitation Center in Albion. His wife of 61 years, Connie Brakenbury, died on May 12.
The family said she contracted Covid-19 at The Villages while in the rehab section. She was trying to build back her strength after being dehydrated and feeling weak. She was at The Villages for 20 days.
She was one of 30 residents at The Villages who died after getting Covid this year. There were about a dozen picketers were outside The Villages on May 29. At that point, 26 people had died after getting Covid at the nursing home in Albion.
The state Department of Health would fine The Villages $20,000 after an inspection May 9 showed facility staff weren't following proper infection prevention and control measures. One example included certified nursing aides and licensed practical nurses entering and exiting a room of a person with Covid, and then entering rooms of other residents without Covid.
The county had 62 residents die from Covid in 2020, with 30 at The Villages, 24 at Orchard Rehabilitation & Nursing Center in Medina, and eight other community members.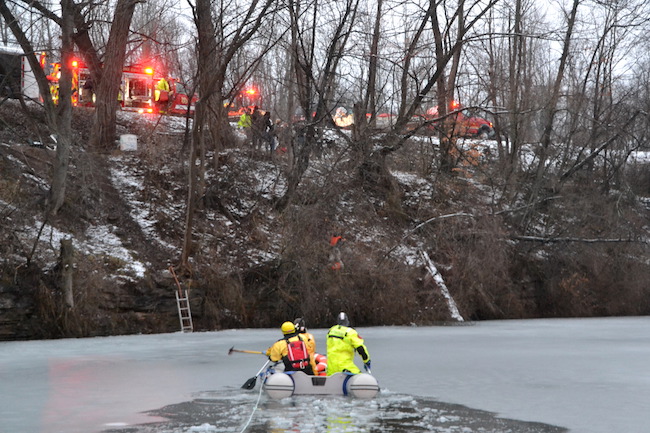 Firefighters break through ice to cross a quarry in Murray on Jan. 4 to get to a dog stranded in icy water. Firefighters were dispatched to the scene at about 4 p.m. and were able to bring the dog to dry land at about 4:40.
The dog named Lily fell down an embankment by the Erie Canal and was stranded in a quarry. The dog was out for a walk with its owner. The dog walked too close to a steep embankment and fell.
Lily wasn't injured and promptly ate a bowl of dog food and then took a nap when she got home.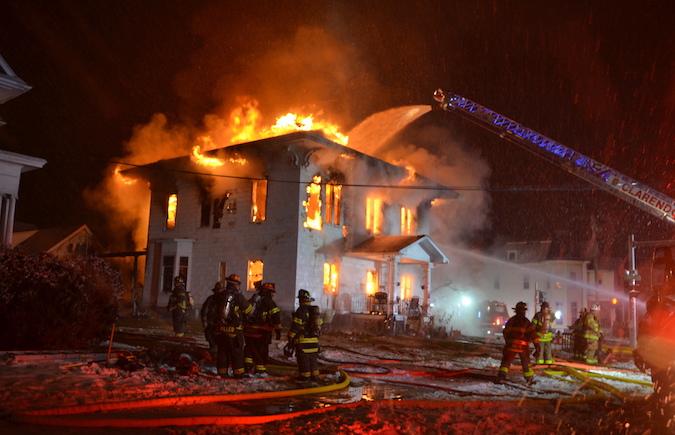 There were many fires in Orleans County in 2020, including this one late at night Jan. 5 in Holley. The 4,000-square-foot house with a cupola was a landmark at corner of Rts. 31 & 237. The house had four apartments with 11 residents. A fire broke out at 11 p.m. on Jan. 5. Firefighters worked through the night to contain the blaze to the one building.
The fire displaced 11 residents, including three elementary school children, a high school senior and a baby. The fire was ruled accidental and investigators weren't able to determine the cause due to the extensive damage. Investigators believe the fire started in the kitchen at one of the four apartments.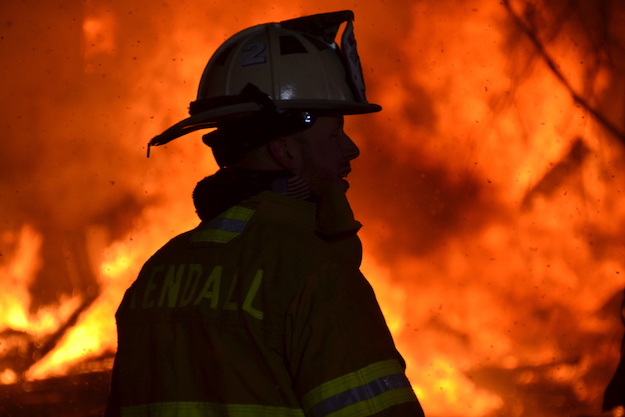 Kendall Deputy Fire Chief Dan Schultz is a silhouette with the Holley apartment building on fire behind him on the night of Jan. 5. Firefighters from Holley and neighboring communities were at the scene late into the night.
None of the residents were injured, but they lost their possessions in the blaze. Three cats and a dog also died in the fire, that broke out about 11 p.m. and quickly tore through the house owned by Stanley Passarell.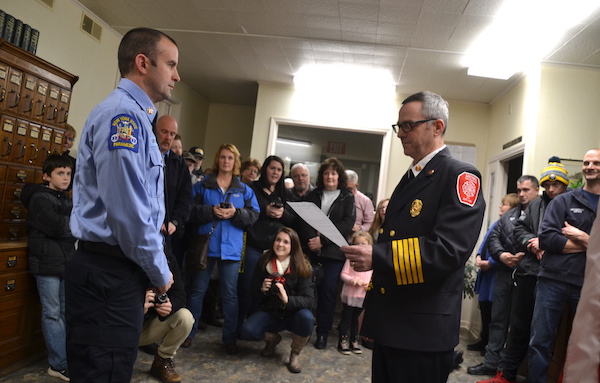 Matt Jackson, left, takes the oath of office as Medina's new fire chief on Jan. 13. Tom Lupo, the chief the previous four years, administers the oath in the village office in front of other firefighters, village employees and Jackson's family.
Jackson was a full-time firefighter in Medina the previous 13 ½ years, including 2 ½ years as a captain, the department's second highest leadership post.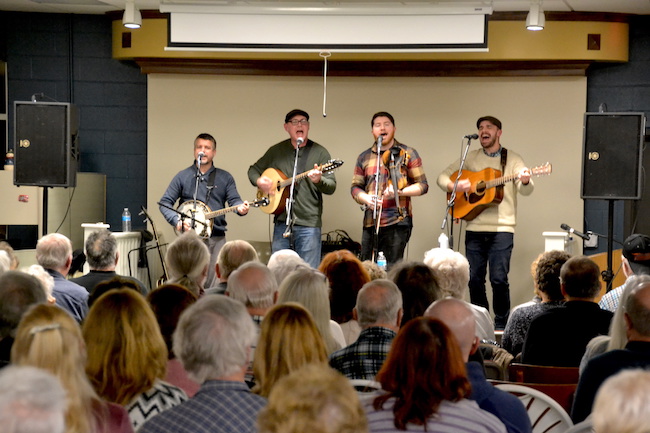 The band Crikwater from South Buffalo performed on Jan. 17 at Lee-Whedon Memorial Library in Medina for the Finally Fridays concert series. Crikwater performs many Irish American traditional folk songs. Band members include from left: Peter Zalocha, Liam Caulfield, Charles Coughlin and Matthew Sperber.
Finally Fridays was in its 19th season. The concerts draw about 200 people to the library. Lee-Whedon made it nearly through the entire concert series before canceling the last concert on March 13 due to concerns about the spread of Covid-19.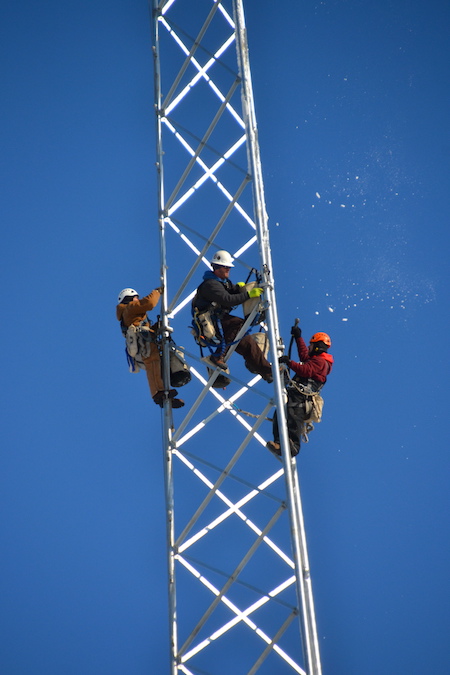 Workers from Upstate Tower Construction erect a 180-foot-high radio tower on Jan. 20 next to the Orleans County Public Safety Building along Route 31 in Albion. These workers are connecting the top section of the tower. They are more than 100 feet up high.
This was one of four new radio towers to go up in the county. The towers are part of a $6 million project to upgrade the emergency communications system in the county.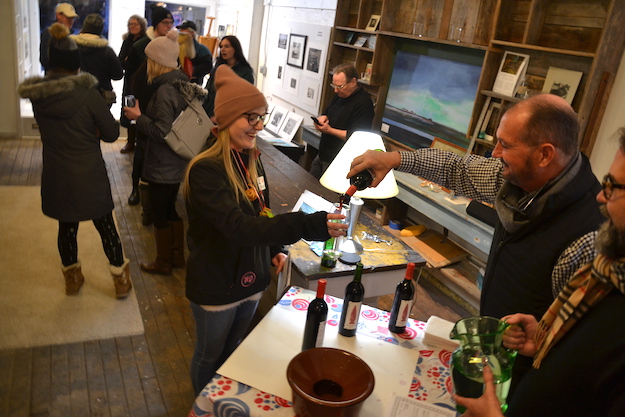 Frank Ferri pours wine for Kimmie Martindale of Kendall during the Wine About Winter event in downtown Medina on Feb. 1. There were 24 stops for people to taste wine, including this location, the Wallflower Studio. More than 800 people bought tickets for the event. This was one of the few big indoor events during 2020. In mid-March, the state imposed many restrictions on crowd sizes to try to slow the spread of Covid-19.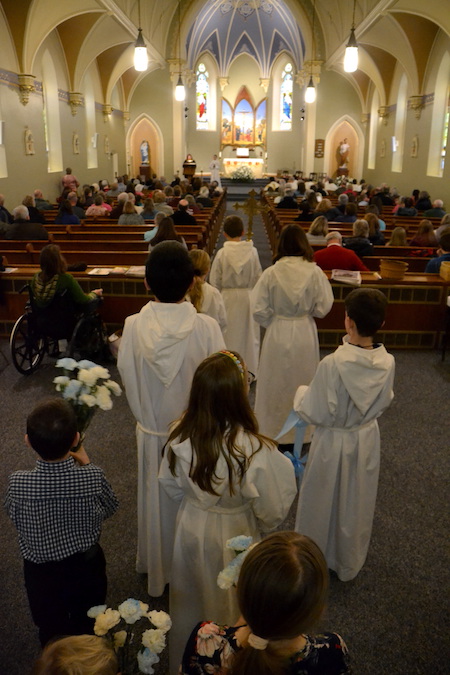 Altar servers prepare to lead clergy down the aisle for a rededication Mass on Feb. 9 at St. Mary's Catholic Church in Holley. The church celebrating completing five years of renovations and capital projects.
The interior used to be an ivory white color and but was changed to include stenciling and more colors, which church leaders say better highlights the craftsmanship in the building's interior, and also adds to the worship experience. The altar includes a triptych mural of three paintings about Christ.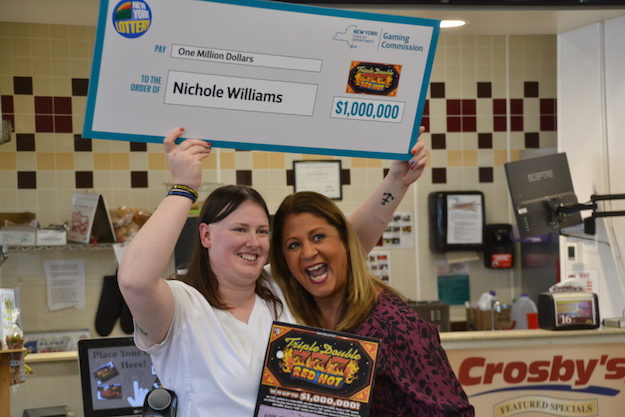 Nichole Williams of Knowlesville celebrates winning a $1 million lotto jackpot on Feb. 12 with New York Lottery personality Yolanda Vega. They are shown at the Crosby's in Elba, where the winning ticket was purchased on Jan. 11. Williams, 30, recently fought cancer. She said the money will pay off medical bills and help her start a college or career fund for her three children. Williams is shown in her work clothes as a unit assistant at the Orchard Manor Rehabilitation and Nursing Center in Medina.
"It's definitely a blessing," Williams told reporters on Feb. 12. "It's definitely a huge weight lifted off my shoulders that I can provide college for my kids or if they don't want to go to college we can put it towards a tech school or whatever else they want to do."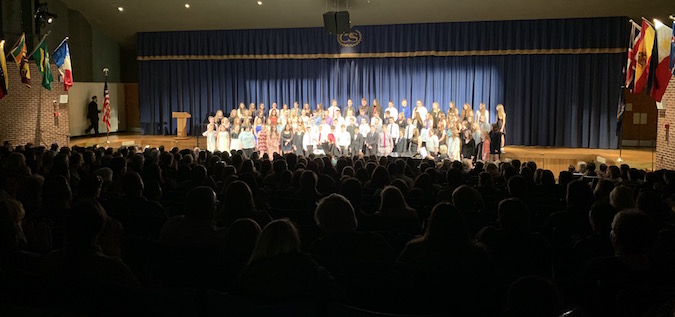 It was a packed auditorium at Kendall Junior-Senior High School on March 7 for the All-County Music Festival. This was a week before all of the Orleans County schools would shut down for in-person school the rest of the 2019-2020 school year.
This photo shows the junior high chorus, which included 93 students from the five school districts in the county. Jacqueline McLean of LeRoy served as guest conductor for the group.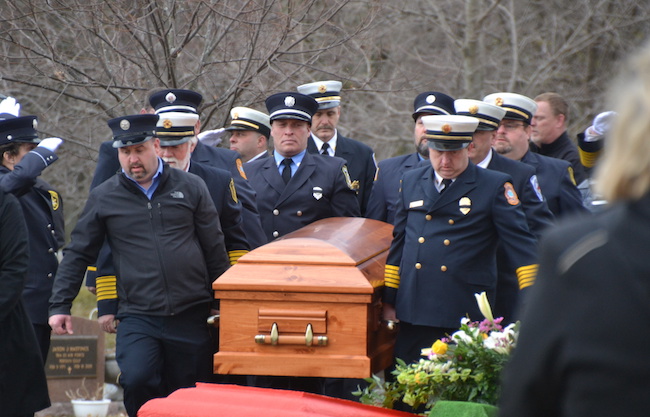 Firefighters including Troy Kingdollar, front left, and Bob Freida, front right, served as pallbearers for Jon DeYoung. They are shown at Mount Albion Cemetery. DeYoung, Clarendon's fire chief, died at age 55 on March 10 after a seven-year fight with colon cancer. DeYoung continued to lead the department and respond to emergency calls while getting chemo and radiation treatments.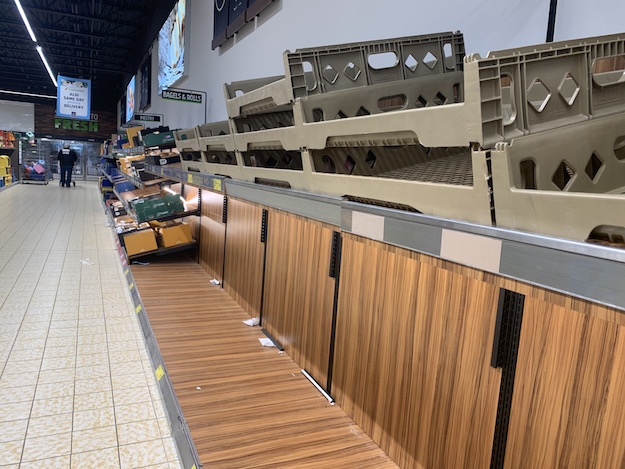 The shelves at the ALDI grocery store in Medina were bare on March 14 after a rush on grocery stores early in the Covid-19 pandemic. ALDI had to close temporarily to restock. Other stores limited items to prevent hoarding of cleaning products, toilet paper and other household essentials.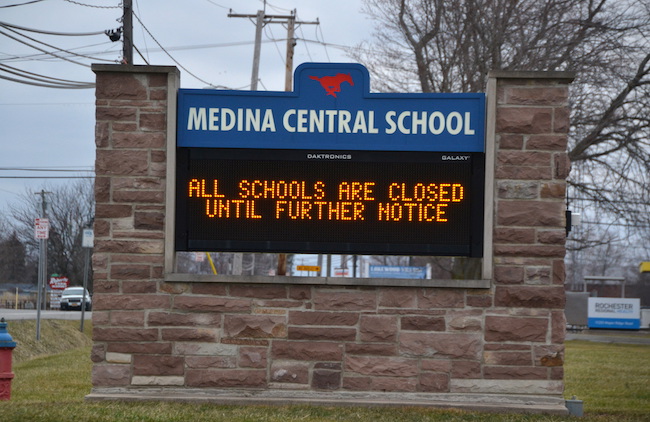 Medina announced on March 14 that the school buildings "are closed until further notice." All five public schools in Orleans County did not have in-person classes again after March 13 for the 2019-20 school year.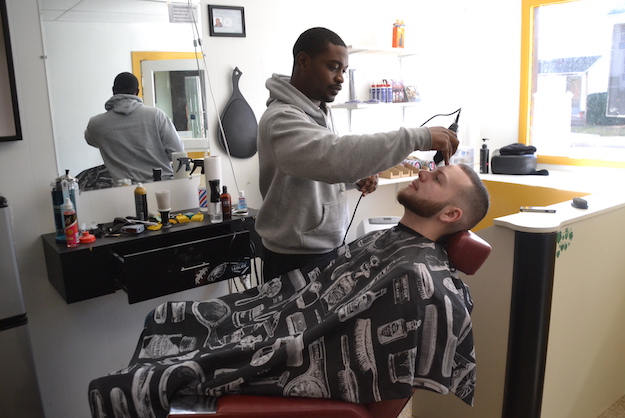 Marcell Taylor, owner of Absolute Xquisite Cutz on East Bank Street in Albion, gives a hair cut to Dan Perl of Elba on March 21. This was the last day barbershops and hair salons were allowed to be open until May 30 as part of the governor's effort to slow the spread of Covid-19.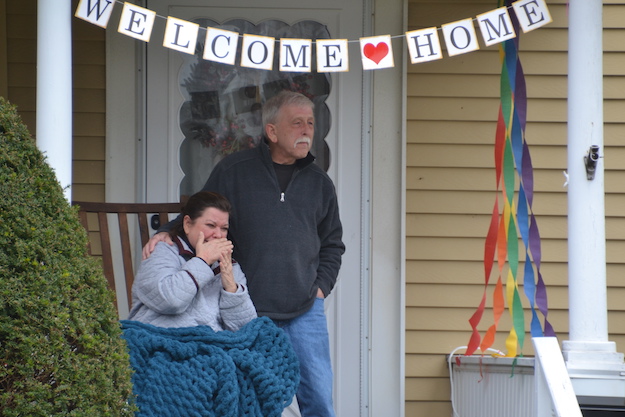 Sue Babbitt of Albion is emotional when she was greeted on April 12 by a procession of family, friends and co-workers. Her husband, Ray Babbitt, is with her on the front porch. A line of about 25 vehicles drove down East Park Street to welcome Sue Babbitt home. Babbitt is a well-liked office manager at the Ace Hardware in Albion. She battled through a near fatal case of the flu and pneumonia, which deteriorated into acute respiratory distress syndrome.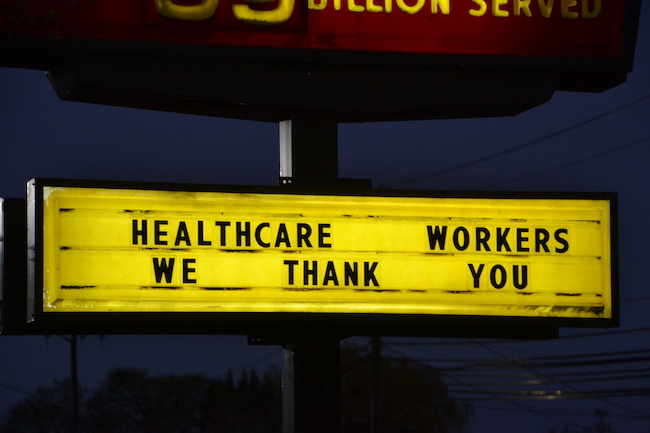 The McDonalds in Albion took a break from promoting its menu to thank healthcare workers on the frontlines of the Covid-19 pandemic. This photo was taken on May 1.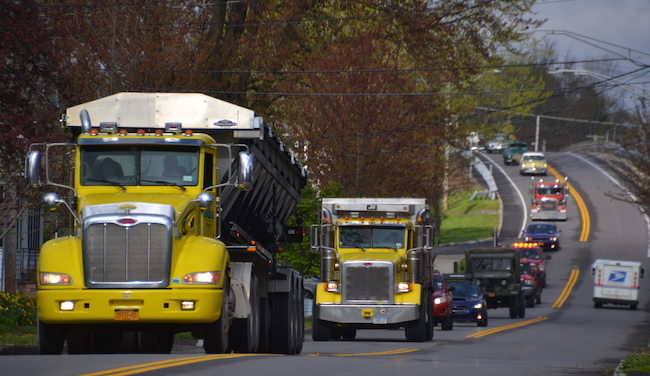 A caravan of about 100 vehicles road 50 miles throughout Orleans County on May 16 to raise awareness for small businesses. Art Hill Excavation in Medina is in front in the yellow trucks as the procession heads down Route 31 in Holley. Adam Johnson, owner of the 39 Problems bar and restaurant in Albion, organized the event. He and other small business owners were frustrated many of the merchants on Main Streets were shut down by the state for two months or more.
"I feel like a lot of the small businesses aren't getting enough attention from Albany," Johnson said in May.
While many family-owned businesses were largely shut down, the corporate retailers seemed to be flourishing and couldn't keep their shelves stocked, Johnson said.
"You can go to big box stores but not the mom and pop stores," Johnson said. "It seems backwards."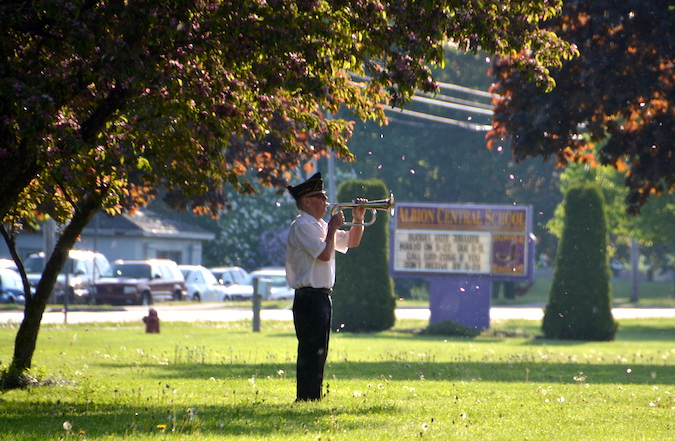 Wally Skrypnik, commander of the American Legion in Albion, plays Taps during an observance on Memorial Day in front of the Albion Middle School on May 25. There is usually a large crowd for the Memorial Day service each year at the school. But in 2020 there was no Memorial Day service or parade with social gatherings still limited to no more than 10 people due to the Covid-19 pandemic. The Honor Guard had eight veterans and they did a gun salute and played Taps at eight sites in Albion – cemeteries and memorials for veterans.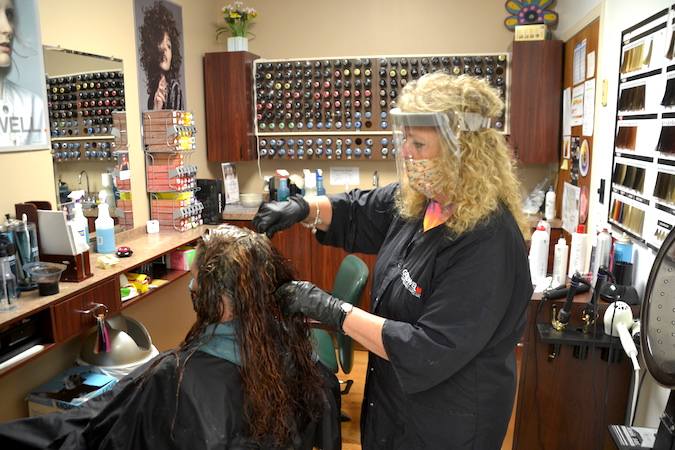 Edee Hoffmeister, a hairdresser for 40 years, wore a mask and also a face shield while working for the first time on May 30. It's a new requirement by the state.
"I hate it," said Hoffmeister, owner of Celebrity Day Spa. "I feel very claustrophobic. But I'm very happy to be open. I'll do what I have to do."
Hair salons and barbers have many restrictions as part of Phase 2 of the state reopening the economy. People who enter the business are given a temperature check when they step inside. If it's a 100 degrees or more, they aren't allowed to stay inside.
Hoffmeister and her staff also have to have a Covid-19 test every two weeks. Her business was significantly curtailed, however. She could cut hair and color it, but she couldn't do nails, facials, pedicures or body treatments. She can't trim a beard.
After a haircut, she has to disinfect the chair and counter and wait 10 minutes before the next customer.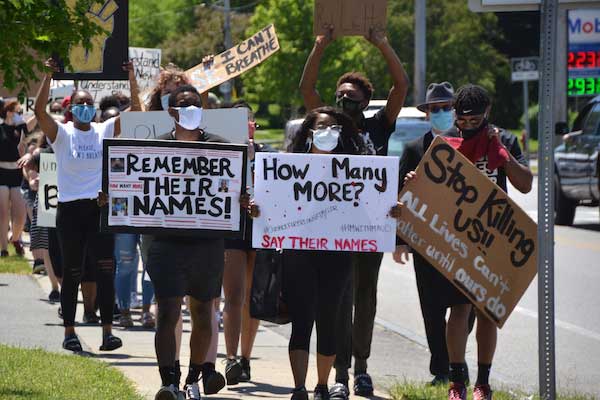 There were several Black Lives Matters demonstrations in Orleans County in 2020, including this one in Albion on June 6. Marquise Riddick, left, and Eboni Taylor, center, both graduated in the Class of 2013. They are college educated and both want to be teachers.
The two friends said they felt compelled to have a Black Lives Matter event in Albion. They were encouraged to see 75 people attend, and have numerous people beep their horns in support.
Taylor said Orleans County should push for more diversity in the police departments and Sheriff's Office. She would like to see more black teachers and minorities "in official positions."
Riddick attended a protest on May 30 in Rochester and he said it was an empowering event.
"It was really inspiring how everyone came together in Rochester," he said. "I wanted there to be one in the community where I grew up in."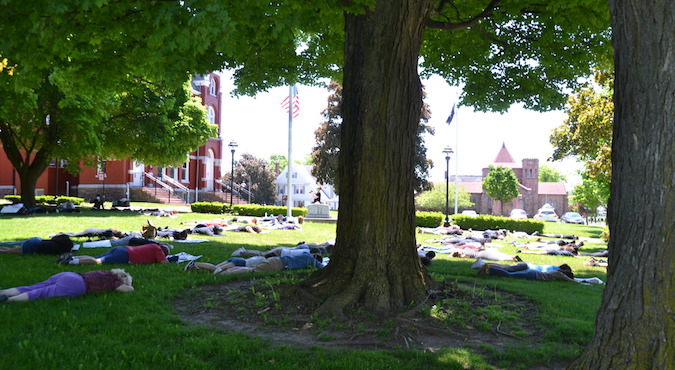 After a walk from the intersection at routes 31 and 98 to the Courthouse Square on June 6, the group from Albion laid down for 8 minutes and 46 seconds. That's how long George Floyd was on the ground on May 25, while a police officer had his knee on Floyd's neck before Floyd died. After his death, there were protests against police brutality all over the country, including in Orleans County.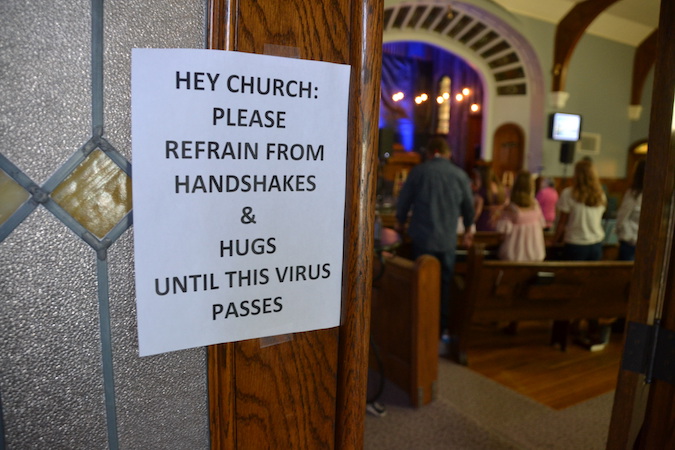 This sign on the door leading to the sanctuary at North Point Chapel in Albion urges people to not give hugs or hand shakes for now. This was on June 9, the first Sunday where churches had the option to be open for in-person services since mid-March, but attendance was capped at 25 percent capacity. About 20 people attended the service in person, down from the usual 50 before the pandemic.
"We should just get together," elder Albert Alexander said from the pulpit. "It doesn't have to be perfect."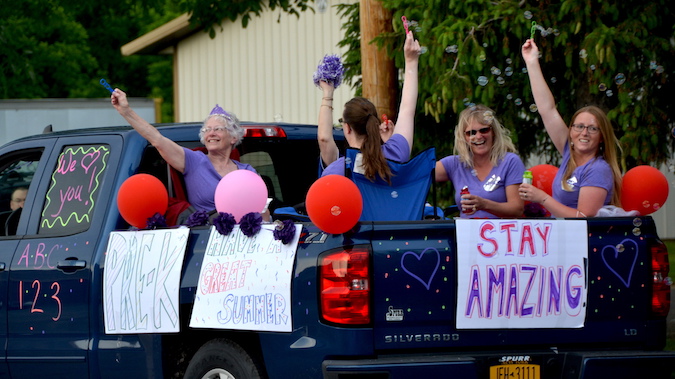 Albion teachers on June 18 went on a two-hour parade through the school district. They wanted students to know they have been missed during the previous three months of at-home learning.
Some of the prekindergarten team include from left: Peggy Lemcke (who would retire as an aide) and teachers Jennifer Waters and Deanna Moore. They are shown on King Street, near the start of the parade.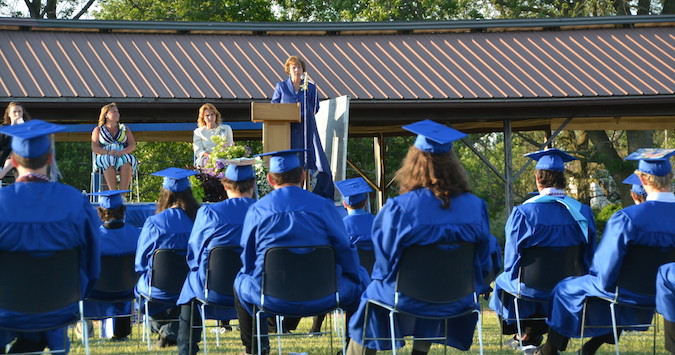 It was a first-of-its-kind graduation at Kendall on June 26. Normally the ceremony is inside in a packed auditorium. This year the celebration was at the Kendall firemen's grounds.
The state set a maximum size at 150 people for graduation ceremonies, unless people were in cars. Kendall decided to have an outdoor ceremony and allow families to drive-in and park.
The 51 graduates had seats on chairs that were spaced six feet apart to meet the state's social distancing guidelines.
Carol D'Agostino, the high school principal, addresses the graduates and the crowd. She is joined on stage by Lisa Levett (left), president of the Board of Education, and Julie Christensen, district superintendent.
The stage was donated for use by Kludt Farms. Christ Farms decorated the stage for the event.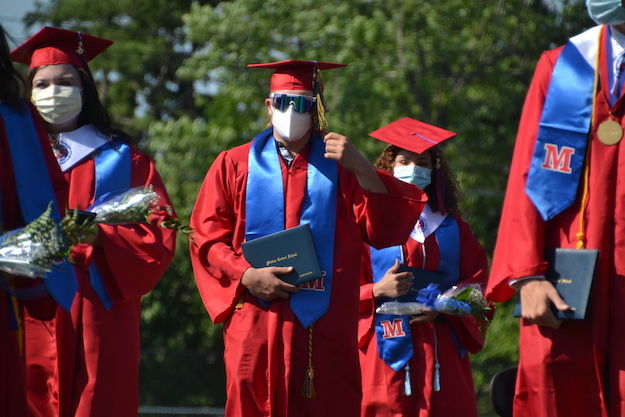 Caleb Boyce stands with his Medina classmates June 26 on the Vets Park field after they moved their tassels to symbolize their graduation from Medina. Caleb and his classmates all wore masks due to the Covid-19 pandemic.
The district moved the ceremony from the school auditorium to the outside venue and broke the 110 members of the Class of 2020 into three groups of about 37 each. They were given three tickets for family members. That allowed for about 150 people to be at the service to stay within the state's maximum limit.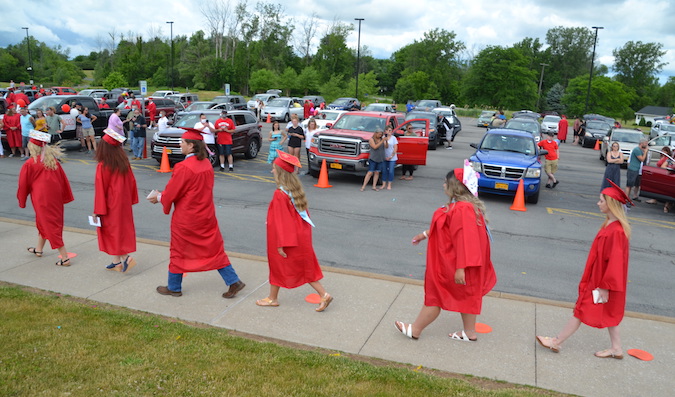 These Holley graduates walk to a stage set up in front of the Holley Junior-Senior High School parking lot, where graduation was held June 27.
The state allowed outdoor graduations at drive-in movie theaters. Holley considered having the ceremony at a drive-in, but there isn't one very close by.
"Why do you have to go to a drive-in?" said Susan Cory, the high school principal. "We can turn our school into a drive-in."
The class has 81 members, but three foreign exchange students returned to their home countries in Greenland, Spain and Portugal.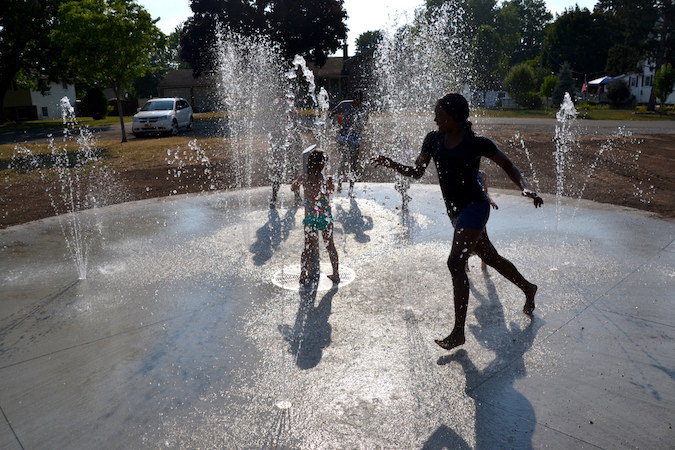 Nevaeh Moss, 13, of Medina has fun on Medina's new splash pad that opened for the first time on July 9. The splash pad is at the Pine Street Park off Park Avenue.
The committee that raised the money and pushed for the project includes Nicole Goyette, Tom Hungerford, Bob Sanderson and Maureen Sanderson.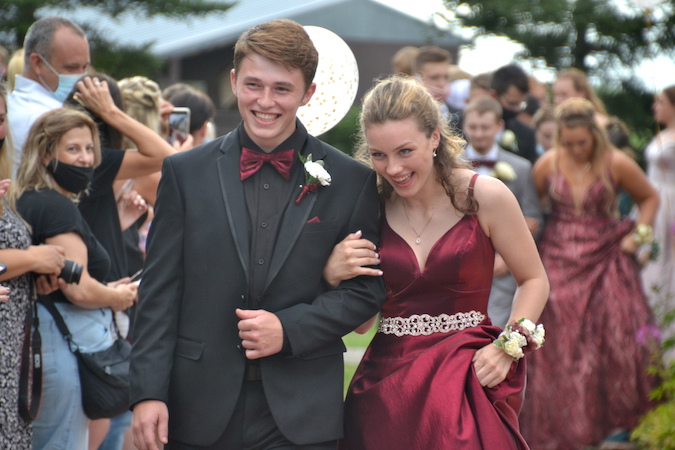 Thomas Vazquez and Morgan Greco make their entrance and walk down the red carpet during Medina's senior prom on July 22 at Becker Farms in Gasport. The event was planned for June 12 but was delayed due to Covid-19 restrictions on crowd sizes. Medina capped this evening's event at up 150 people.
Michael Cavanagh, the high school principal, said about 110 students attended the event, and there were also teachers and other chaperones. He met with student leaders in June who were adamant they wanted the prom, even if it was pushed back into the summer.
"The voices of the students were loud and clear: they wanted one more chance to be together," Cavanagh said.
There were some restrictions at the event, including no dancing.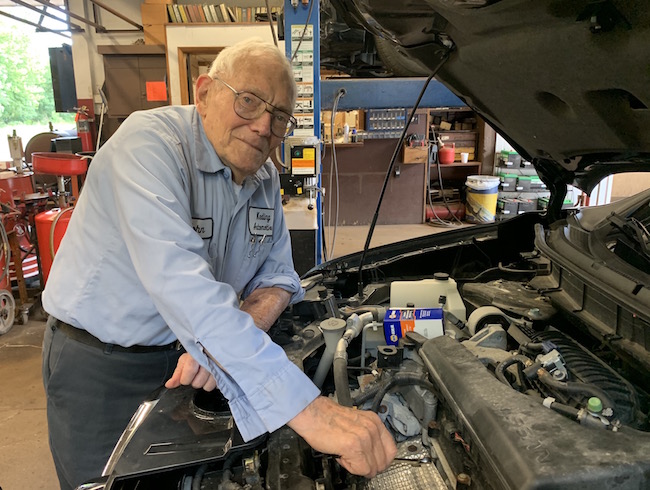 John Keding, owner of Keding Automotive on East Avenue in Albion, is shown at his shop on Aug. 17. He retired later that month after 70 years as a mechanic. He has been working as a mechanic at 14, first fixing lawn mowers. Keding, who was two weeks from his 85th birthday when this photo was taken, said he will miss his customers and daily interactions out in the community.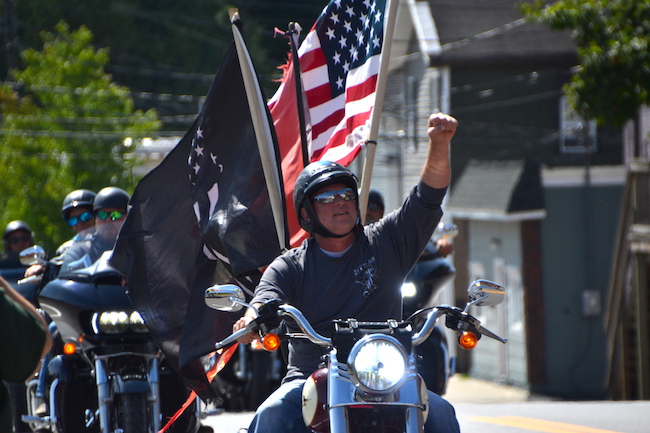 A motorcyclist gives a fist of support to acknowledge the crowd that lined the Public Square in Holley on Sept. 12 for "Back the Blue" ride in Orleans County in support of law enforcement. The man looks up and was impressed by the sight of a large American flag hanging over Route 31.  There were more than 500 vehicles in the ride, with about 300 of them motorcyclists.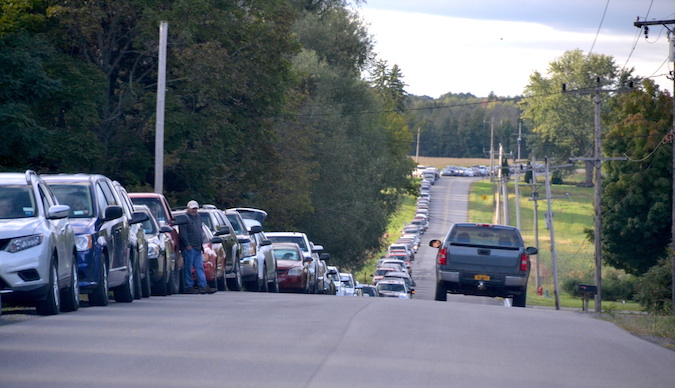 There was a long line of vehicles on Horan Road in Medina on Sept. 18 for a food distribution at the Ridgeway Volunteer Fire Company parking lot. The delivery truck was about two hours later than expected. Long lines of vehicles often waited two hours of more at food distributions from April through the end of the year.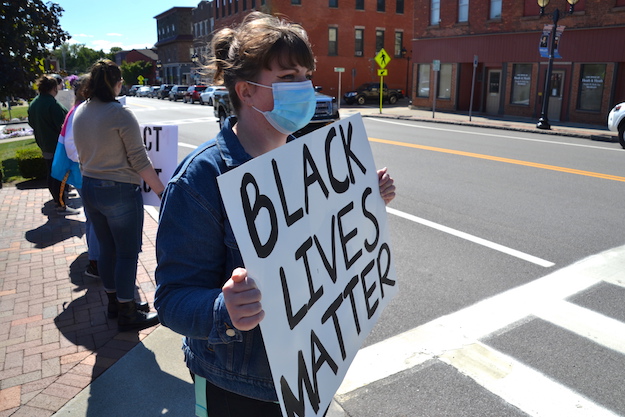 Heather Rowley of Holley organized a Black Lives Matter demonstration on Sept. 19 in Holley. She is holding the Black Lives Matter sign.
Rowley was joined by her sister and brother, and four of their friends from Holley and Brockport.
Rowley, 30, wanted to publicly support the cause, especially after a big processional a week before in support of law enforcement.
"This is in direct response to the Back the Blue rally," Rowley said. "We want to show people of color in our community that we support them and we hear them."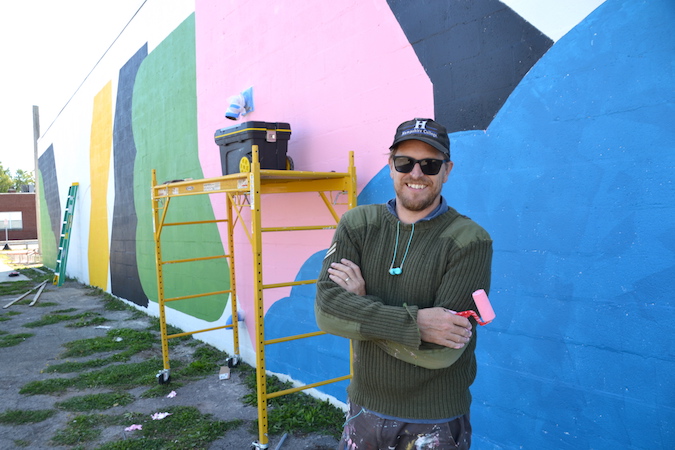 Julian Montague, an artist from Buffalo, worked on a mural in Medina on Sept. 19. He painted on two walls of a building at the corner of Pearl Street and West Avenue. It was one of four new murals in the area near Proctor Place.
Montague painted colorful geometric patterns and added eyes and mouth to give the mural some added personality.
"It's playful and a little weird," he said.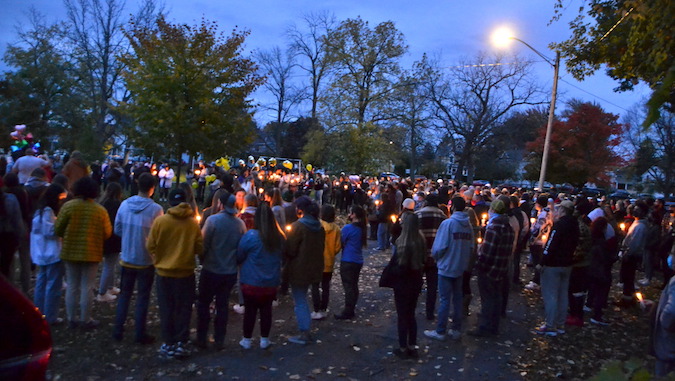 More than 300 people attended a candlelight vigil on Oct. 18 at State Street Park in honor of Cheyenne Farewell. She was shot and killed the previous day during a Halloween party on Niagara Street in Lockport. Five others were wounded by gun shots including two current Medina High School students.
"People just loved her," said Destiny Satkowski, who graduated with Farewell in 2018. "She didn't care what color you were, who you liked or where you were from. She treated everyone the same. She was a friend you could count on. She had the most joyous laugh."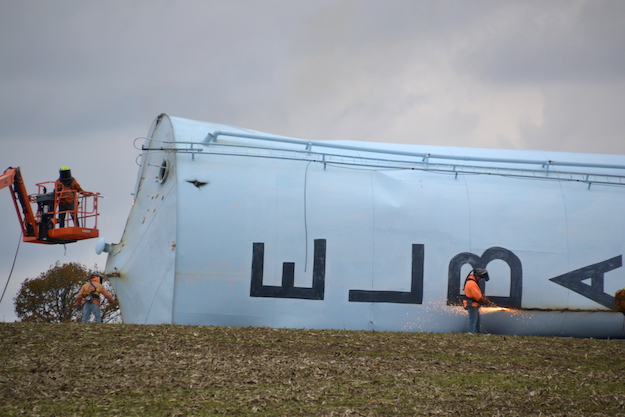 Demolition day arrived on Oct. 27 for Elba's water tank from 1934. The standpipe that held about 300,000 gallons of water was taken down by a team of welders from Iseler Demolition of Port Hope, Mich. Once the water tank was down, Iseler cut it into pieces.
Elba switched over the water system to a new 750,000-gallon water tank.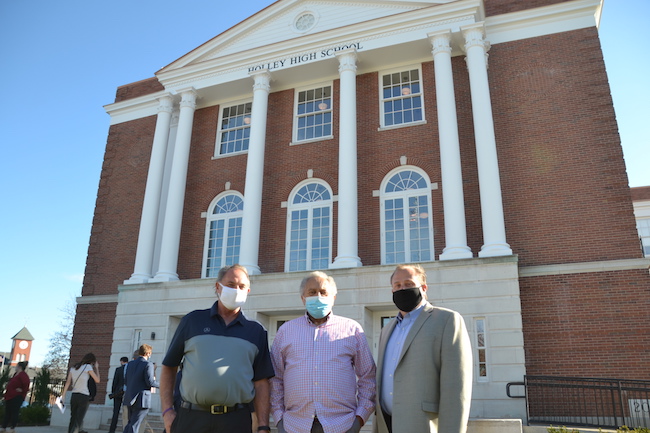 Three of Holley's most recent mayors joined for a photo on Nov. 10 during a celebration of the $17 million transformation of the former Holley High School into 41 apartments and the village offices. Pictured from left include current Mayor Kevin Lynch, John Kenney (mayor from 2006 to 2016) and Brian Sorochty (mayor from 2016 until July 15, 2020.)
All three had roles in the redevelopment of the building. Home Leasing of Rochester led the transformation of the building, which needed support from local, state and federal governments. Lynch is a member of Holley's Class of 1975, the last group of seniors to graduate from the former school.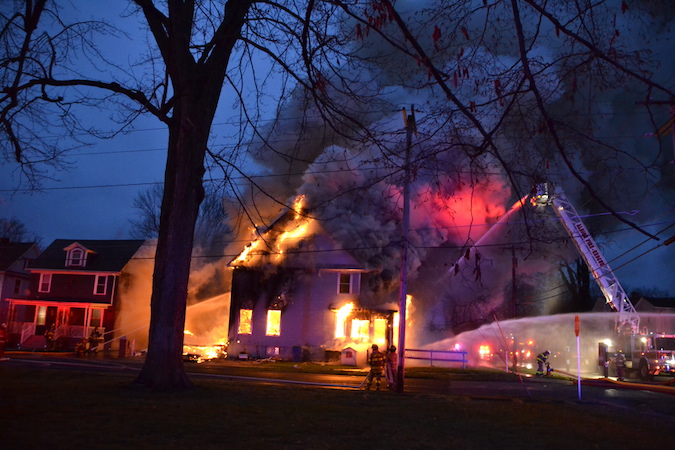 Firefighters arrived on the scene of a fire at 221 West State St. in Albion just after 4:30 p.m. on Dec. 5. The fire would spread to two neighboring houses. Garry Tarr, one of the residents, was mixing compounds with fireworks in a garage. He tested one of the fireworks and it exploded, according to police. The garage was quickly engulfed in flames that spread to the houses.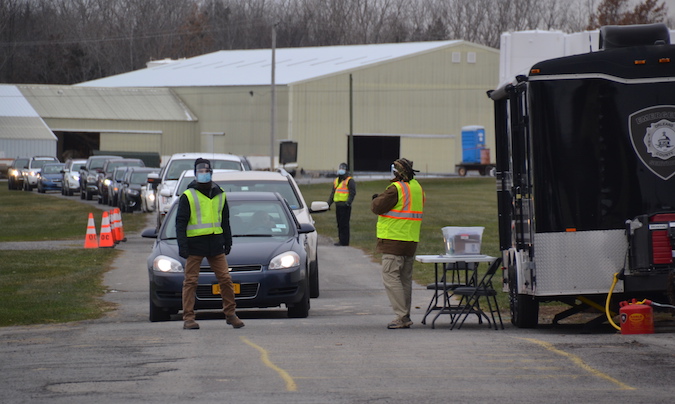 Cars are lined up just before 1 p.m. on Dec. 16 for the first rapid Covid test clinic in Orleans County. There were 402 people tested at the Orleans County 4-H Fairgrounds that day and 12 of the tests came back positive. Orleans County is ending the year with a dramatic increase in the number of new confirmed Covid cases in December.
The county was at 1,342 confirmed cases during the pandemic as of Dec. 30, with 720 of those in December, compared to 623 the first nine months of the pandemic.