Pop-up food events will continue through at least June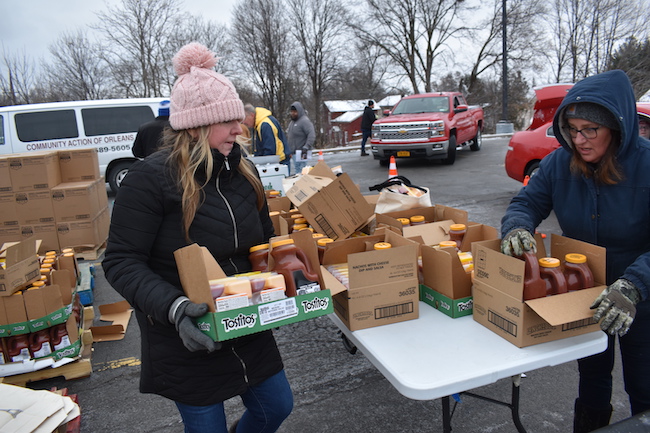 Photos by Tom Rivers
ALBION – Marilyn Interisano (left), an M & T employee, volunteers this morning during the pop-up food pantry event in Albion. She is joined by Katrina Chaffee, director of community services for Community Action.
About 200 vehicles received bags and boxes of food at the village's municipal parking lot at 165 Platt St.
The events in Albion are run by Community Action with food delivered by Foodlink in Rochester.
Chaffee said the program will continue through at least the end of June.
The schedule for the first six months of 2023 for Albion includes: Jan. 9, Feb. 13, March 13, March 27, April 10, May 8 and June 12. The events are scheduled to start at 8:30 although many of the vehicles are in the parking lot well before that.
The next pop-up pantry in the county will start 8:30 a.m. Friday at the Lyndonville Presbyterian Church, 107 North Main St.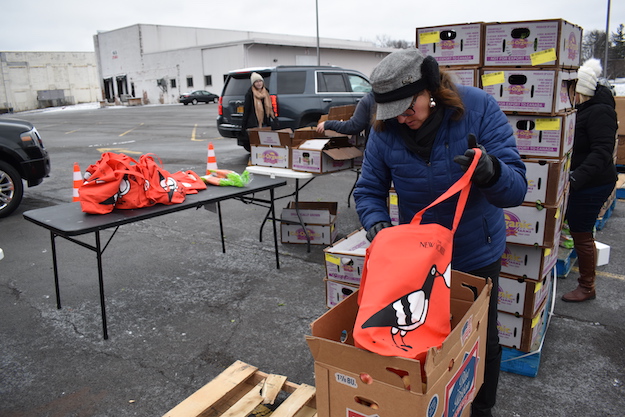 Kim Balcerzak, an employee at the Iroquois Job Corps, fills a bag with fruit during this morning's pop-up food pantry event. The Job Corps employees have been consistent volunteers at the food distribution events for more than 2 1/2 years.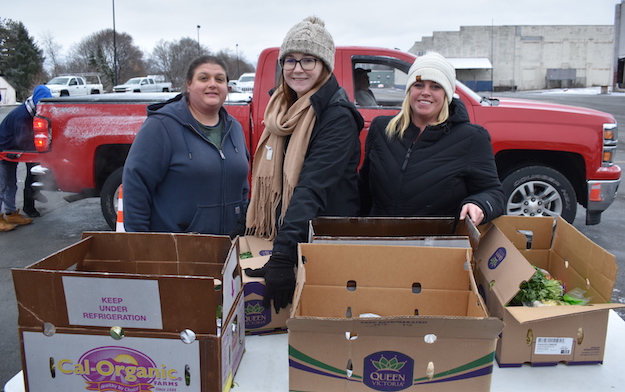 This group volunteered this morning with temperatures in the mid to high-20s. They include, from left: Jennifer Burkey of M & T Bank, Danny Fenley of the Job Corps, and Candace Pitts of the Job Corps.