Police, K-9 locate man who escaped during transfer to jail this morning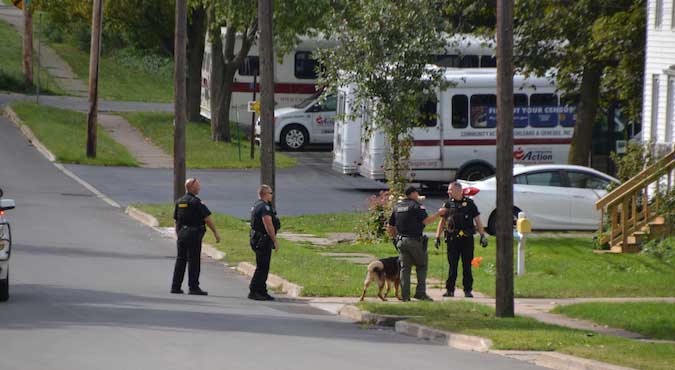 Photo by Tom Rivers
ALBION – Law enforcement officers, including K-9 Otto and his handler Jeff Cole of the Orleans County Sheriff's Office, search for a man who bolted from Sheriff's deputies and corrections officers at about 10 a.m. today while he was being transferred to the Orleans County Jail on Platt Street. The officers in this photo are shown on Platt Street, just north of Chamberlain Street.
Joseph J. Motzer, 27, of Ridgeway was taken into custody at about 10:30 a.m. He was found hiding under a picnic table in the backyard of a residence on South Main Street near the Main Street Thrift Store, said Sheriff Chris Bourke.
He had been driven from a deputy's patrol car to the jail and was in the process of being turned over to the jail staff when he took off running. Motzer had his hands cuffed behind his back when he escaped.
He was arrested this morning after he allegedly assaulted his girlfriend, who is 8 months pregnant. He allegedly choked her using an electric cord. She is being treated at a hospital.
Motzer was charged with second-degree assault, aggravated criminal contempt, criminal possession of weapon, obstruction of breathing, criminal mischief and violating an order of protection.
He faces additional charges of escape and resisting arrest.
Motzer will be arraigned this evening. Bourke said the charges are bailable offenses.
The Sheriff's Office was assisted in setting up a perimeter and searching for Motzer by the State Police, Albion Police Department and the jail staff.
"All agencies worked together quickly," Bourke said. "Everybody's safe. He's safe and the officers are all safe."