Pilot walks away from plane crash in woods at Gaines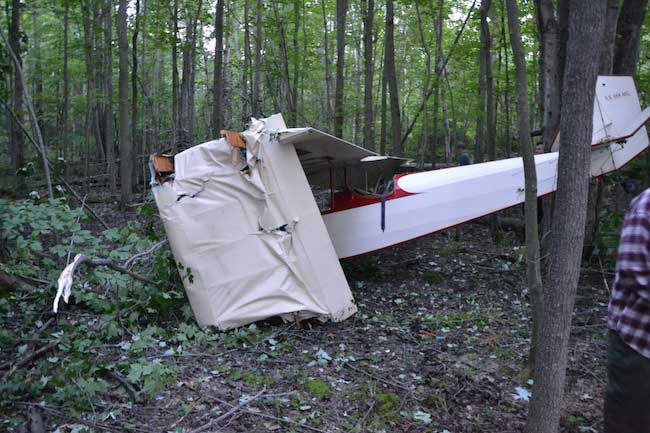 Photo by Tom Rivers
GAINES – A pilot avoided serious injuries after crashing a small airplane in the woods next the Gaines Valley Airport on Route 279.
Firefighters and Orleans County Sheriff's deputies were dispatched to the scene just before 8 p.m.
The Daily News of Batavia is reporting the pilot's name is Earl Luce Jr., 64, of Brockport. He was flying a Pietenpol experimental aircraft.
Luce told The Daily News the plane veered to the left right after takeoff. Rather than have the plane fly into buildings, Luce choose instead to have the plane go into the woods.
The plane was extensively damaged. Officials from the Federal Aviation Administration were expected at the scene, The Daily News reported.
Several people were stung by a swarm of ground bees in the woods, including Orleans Hub editor Tom Rivers, who was stung at least a dozen times. Rivers is allergic to bee stings. He was taken by COVA Ambulance to Medina Memorial Hospital and was discharged about 10:15 p.m.