Photos: Tanker leaked liquid fertilizer after flipping on 237 in Clarendon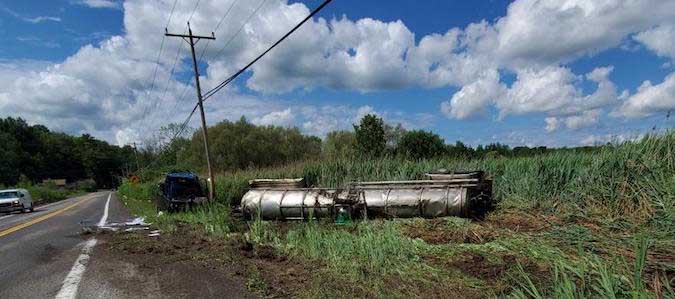 CLARENDON – An Orleans Hub reader sent in these photos of a tanker after it flipped at about 3:30 p.m. on Route 237 at the curve near the Hanson quarry.
The tanker leaked several thousand gallons of liquid fertilizer with nitrogen.
Route 237 is shut down between the Route 31A intersection and Hinds Road.
The State Police is handling the situation with assistance from many local fire departments, the DEC Spill Response Team, Monroe County Hazmat Team and other first responders.
The tanker rolled into the cattails at the curve, which is a wetland.
The driver of the truck was taken by ambulance. A person who was one of the first on the scene said the driver didn't appear to have serious injuries.