Photos: Lyndonville Pennysaver building comes down on Main Street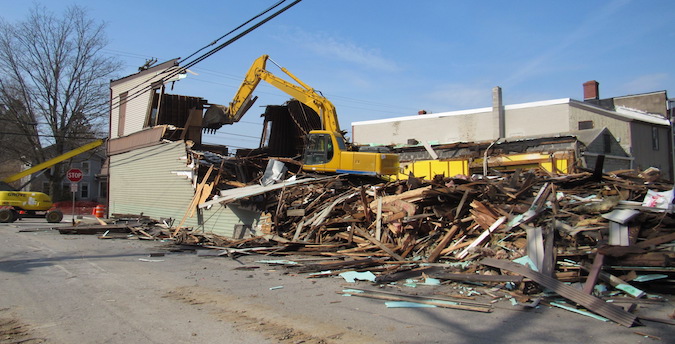 Photos by Ginny Kropf
LYNDONVILLE – Art Hill Excavating of Medina started taking down the Lyndonville Pennysaver Market building at about 8:30 this morning and by 1 p.m. the building was nearly down.
The roof of the building collapsed on Feb. 22 with heavy snow and ice on the roof. The building from 1899 also had suffered deterioration with its support beams.
The Village Board met on Feb. 22 and declared the structure unsafe after an engineer's inspection.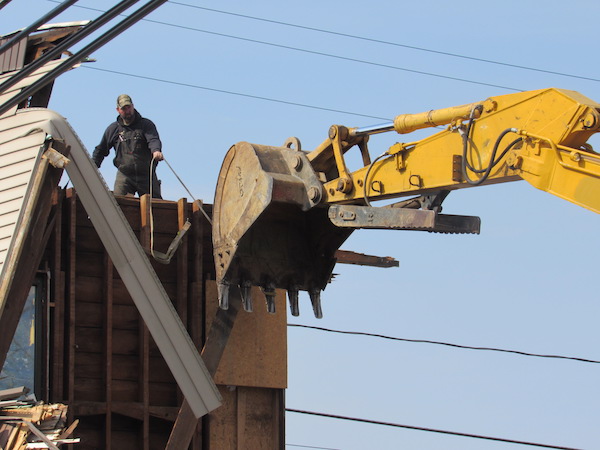 Aaron Young of AGC Construction in Holley assists his father-in-law Art Hill with the building's demolition. Young is shown preparing to hook a strap on the teeth of the excavator to pull the front section of the building at Main and Eagle into the rubble, so it wouldn't fall on Main Street.
Art Hill Excavating owner Jennifer Hill-Young expects the company will be on site most of this week, hauling the demolition debris to a landfill.