Photos from the 'Reverse' Parade of Lights
Medina's popular parade finds a way to continue during Covid-19 pandemic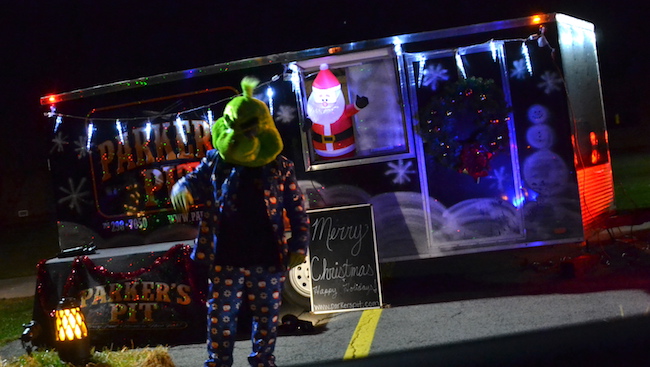 Photos by Tom Rivers
MEDINA – The Grinch joined the display at Parker's Pit in Middleport during today's 12th annual Parade of Lights in Medina. This year the event was a "reverse parade" with the floats and displays stationary at the Medina Central School campus.
Covid-19 restrictions prevented a large crowd from gathering in the downtown and on Park Avenue. This time spectators were limited to passing by inside vehicles.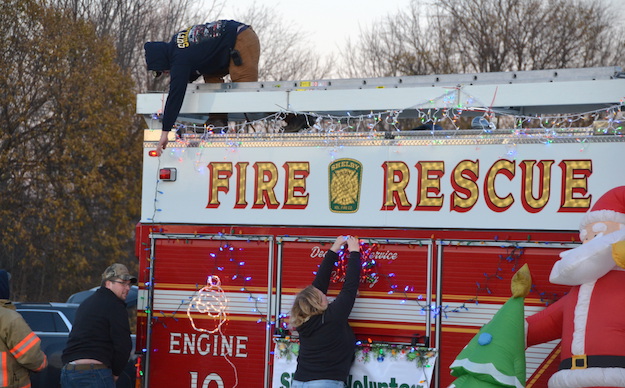 Shelby firefighters, including Zach Petry up high, decorate a fire truck at about 4:30, before the start of the parade at 5. They were one of 20 floats or decorated fire trucks in the parade. That is down from the 35-40 that are usually featured in the parade.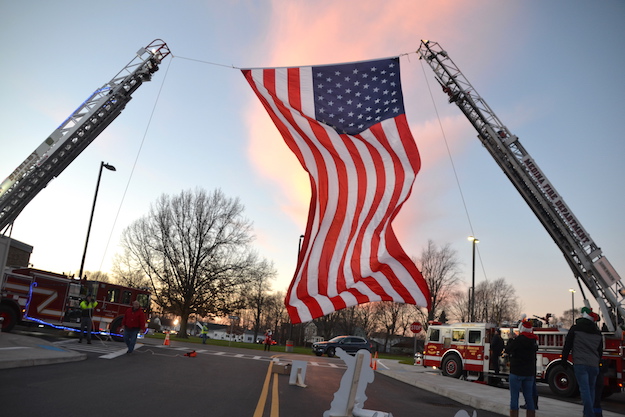 Shelby and Medina used their ladder trucks to hold up this giant American flag at the start of the parade.
There were some complaints on the Parade of the Lights Facebook page about a wait of an hour or more with traffic bottled up in the village. Other commenters appreciated the chance to attend a parade and holiday celebration with so many community events cancelled since March due to Covid-19 restrictions.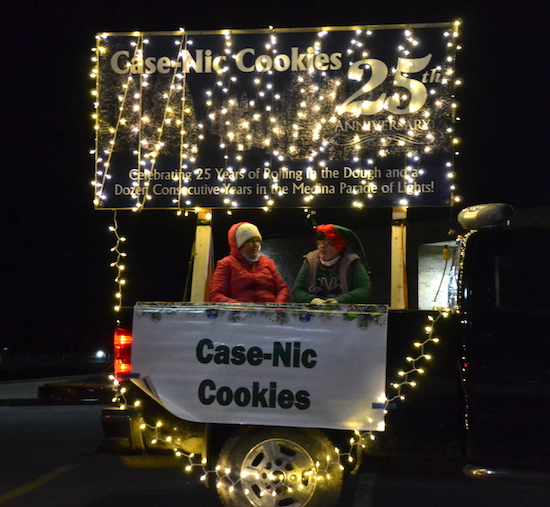 Mary Lou Tuohey, left, and her daughter Nicole continued their streak of participating in all 12 parades with Case-Nic Cookies.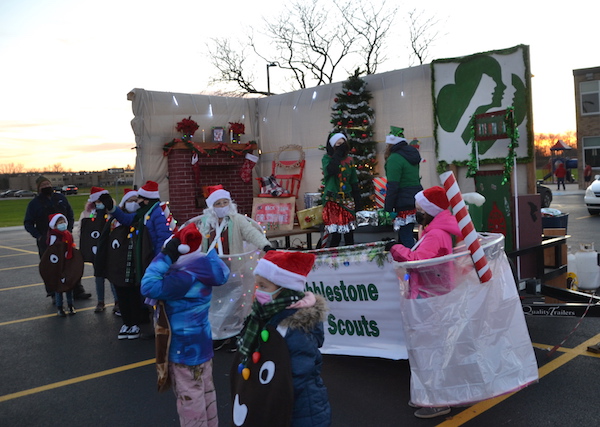 Members of the Cobblestone Service Unit of the local Girl Scouts get their float ready for the parade. They have been consistent participants for several years. They were grateful the temperatures were above freezing, unlike in many previous years.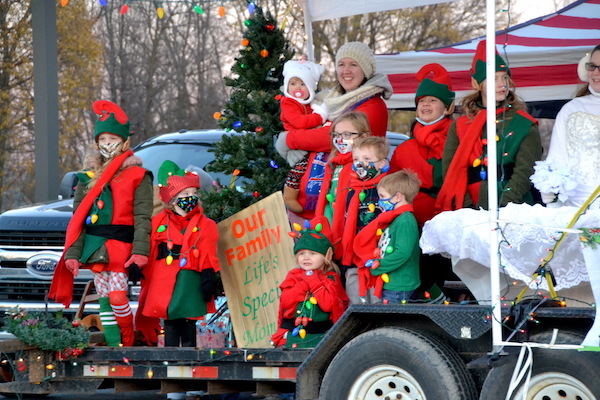 This group was part of the display for Party Tents Plus. They posed for a group photo before the start of the parade at 5. The parade lasted until 8 p.m.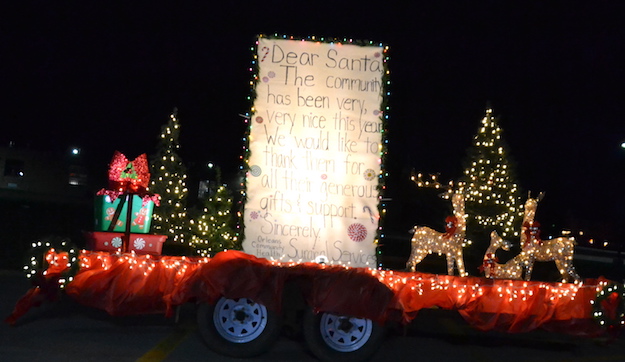 The Surgical Services Department at Orleans Community Health created this display to thank the community for its donations and support.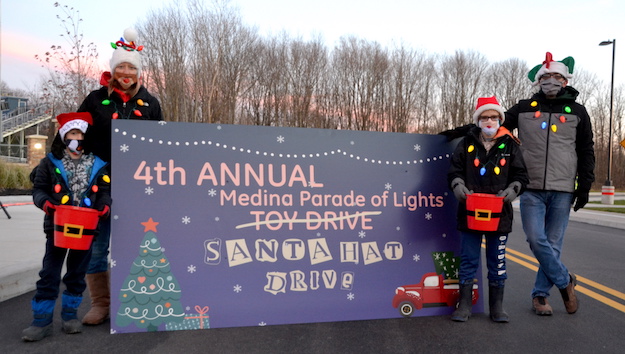 The Szatkowski family – from left, Wyatt, mom Sara, Lukin and dad Andrew – passed out stickers and collected money for the fourth annual toy drive. This year instead of toys the collection of money will go to Community Action and the Medina Area Association of Churches for their holiday efforts with local children and families. MAAC is doing a toy drive and Community Action is giving gift cards to families.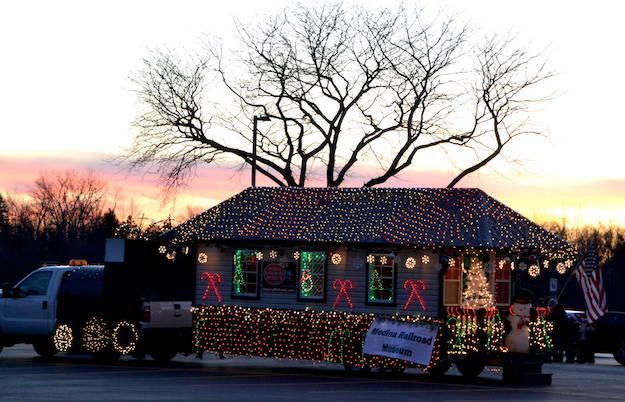 The Medina Railroad Museum, last year's grand prize winner, was back for the reverse parade this year. The winners in several categories could be announced on Sunday.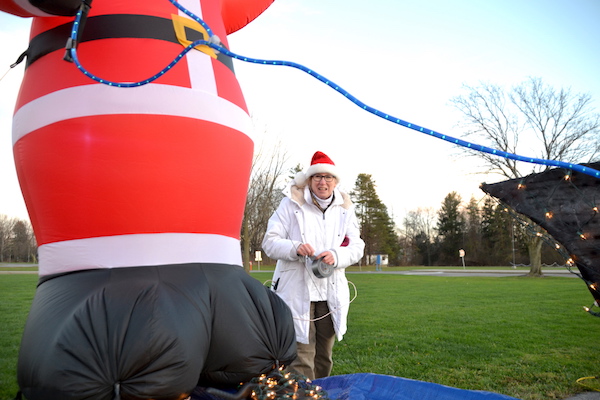 Lynne Menz of the Orleans County Tourism Department used plenty of duct tape on the tourism float.