Photo display at Hoag Library in memory of Duann Zicari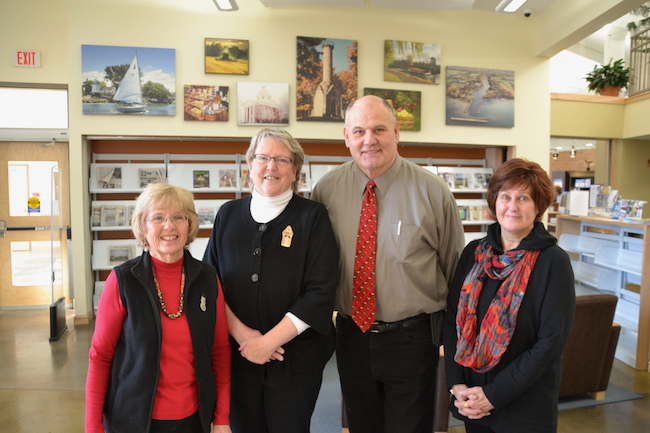 Photo by Tom Rivers
ALBION – Several photographs of Orleans County scenes are now displayed over the collection of magazines and periodicals at Hoag Library. The photos were paid for by Duann Zicari's friends from the Class of 1961 in Albion.
Bruce Landis of Photos by Bruce took the photos and set them up last Wednesday. The biggest photos are 30 inches by 40 inches.
Pictured include from left: Patty (Benton) Moorhouse, Class of 1961; Betty Sue Miller, library director; Bruce Landis; and Marilyn (Mack) Waingarten, Class of 1961.
Zicari's classmates said she loved the written word, and enjoyed reading and writing poetry.
Maurice Hoag, a member of the Class of 1961, has been a big backer of Hoag Library, which bears his name. He donated $250,000 in the library's capital campaign and then gave another $100,000 after the library opened in 2012.