Personal trainer in Medina shows students fitness benefits of boxing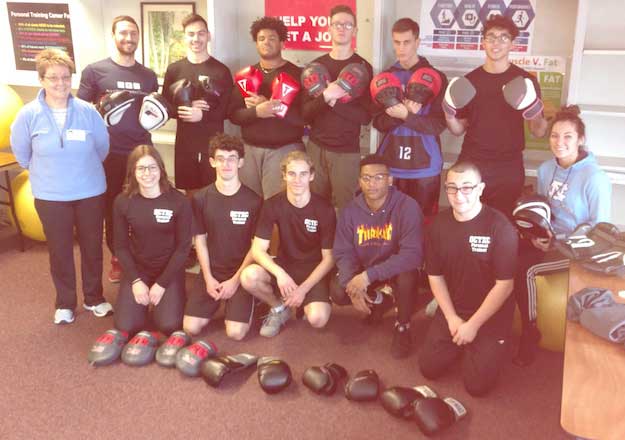 Provided and article courtesy of the Orleans/Niagara BOCES
MEDINA – Students in Joe Wilkie's Certified Personal Trainer Program at Orleans/Niagara BOCES recently got a lesson in boxing.
Lori Grabowski is a personal trainer at SNAP Fitness in Medina. She stopped at the class, which met at Royalton-Hartland High School, to show the students some moves and talk about its uses to help clients reach their physical fitness potential.
Lori Grabowski is shown with teacher Joe Wilkie and his class: Jon Rivera (Lockport), Don Ross (Albion), Joe Ogiba (Lockport), Caden Gibson (Newfane), Ethan Dominquez (Lockport), Logan Overton (Lockport), Brendan Saia (Royalton-Hartland), Caleb Cidzillo (Medina), Ruben Cheatham (Lockport), Richie Stern (Newfane) and Kali Sharping (Royalton-Hartland).
Grabowski has been a personal trainer since 2011 and has a black belt in Tae Kwon Do as well.  Mr. Wilkie says it was a great experience for his class to hear from her.
"She really shared a lot of knowledge with my class and talked about how boxing is a different modality that people can use to achieve their fitness and health goals," Wilkie said. "She really wore them out with her routine!"