Persistent rain this spring has been hard on marching bands, too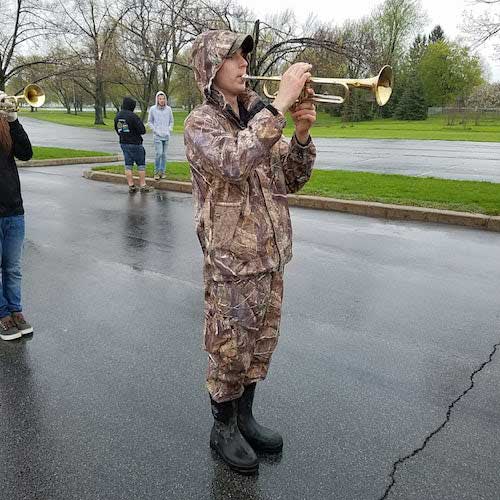 Photo courtesy of Mike Thaine
ALBION – The Albion Marching Band braved the constant rain on Saturday and practiced for four hours. Andrew Moore looked like he was dressed to go duck hunting.
The marching band normally starts outside practices in early to mid April, but had been confined to using the gym and halls. The band tried going outside once before this spring, but that only lasted 10 minutes before fleeing from the rain.
But the band and its 75 students make their season debut this Saturday at the Lilac Festival in Rochester. Yesterday was the last chance for a long drill practice before the Lilac Festival.
Mike Thaine, the band director, said the students stayed positive despite the rain and 45-degree weather.
"There were very few complaints," he said.