'People with purpose drive change,' says Elizabeth Cady Stanton impressionist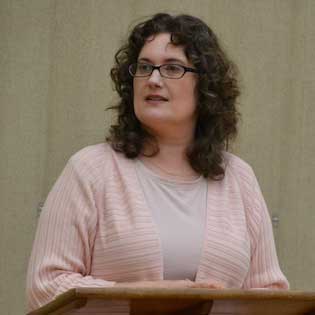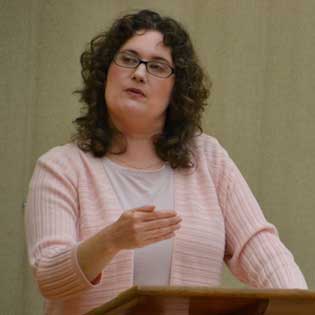 Photos by Tom Rivers: Melinda Grube speaks at Hoag Library in Albion on Monday evening for a presentation about Elizabeth Cady Stanton, the women's suffrage leader. Grube was in costume at presentations on Saturday and Sunday about the famed suffragette.
Grube, a Medina resident, is an adjunct lecturer in history at Cayuga Community College in Auburn. She has portrayed Cady Stanton for the past 14 years. She also will portray Abigail Adams on Saturday at 1 p.m. during a timeline festival at Mount Albion Cemetery.
Her presentations are part of the 10-day Orleans County Heritage Festival, which started on Friday and continues through this Sunday.
Grube in her presentation on Monday said women were not treated as equals by most men, especially during the country's first century. Many men didn't think they women were smart enough to be considered citizens.
Elizabeth Cady Stanton was among a small group of women who pushed for women's rights, and helped organize the Women's Rights Convention at Seneca Falls in 1848. Women wouldn't get the right to vote nationally until 1920.
Grube said it was a minority of women who pushed for the right to vote.
"People with purpose drive change," Grube said. "It's always been a small group of people that push the world forward."
For more on the Heritage Festival, click here.