Parade is patriotic celebration in Lyndonville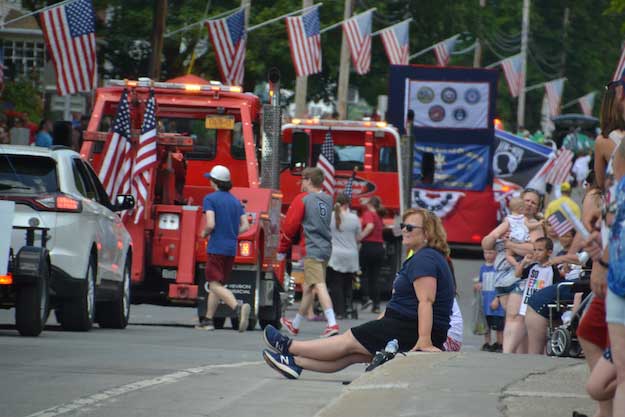 Photos by Tom Rivers
LYNDONVILLE – People lined Main Street for the annual Fourth of July parade in Lyndonville, which lasted more than an hour an included many fire trucks, floats for businesses and organizations, and marching bands.It was another hot parade with temperatures near 90 degrees.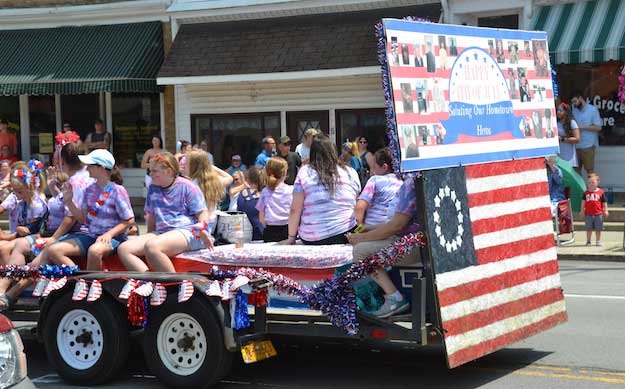 Girl Scouts in Troop 82040 in Lyndonville wore red, white and blue and had a display of local soldiers as part of their float.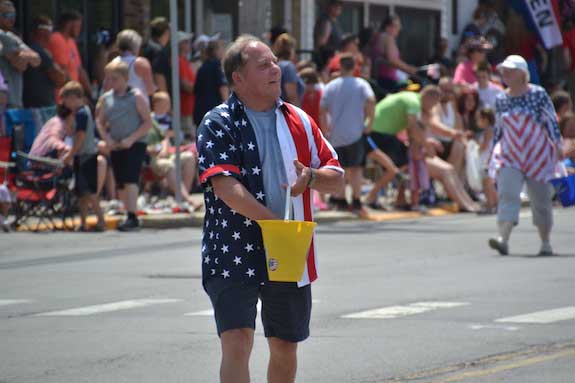 State Assemblyman Steve Hawley wore a patriotic shirt while passing out candy on Main Street.

Lyndonville had a big turnout from the band for the parade that started at LynOaken Farms at Platten and Alps roads.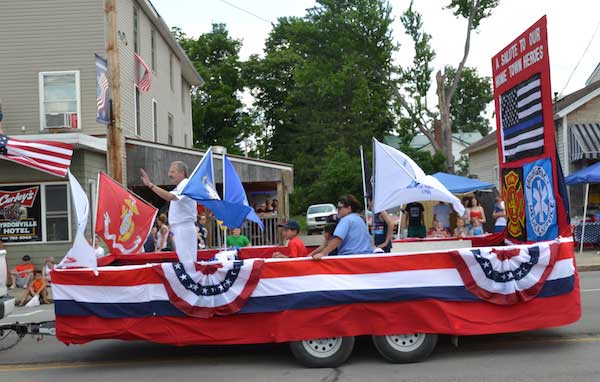 Greg Dugan, left, and the Knights of Columbus recognized the different branches of the military.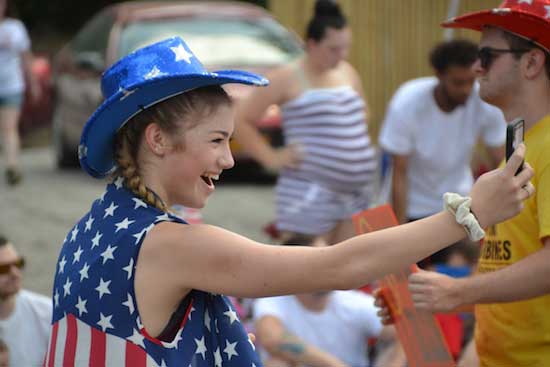 A member of Save Ontario Shores was decked out in red, white and blue. She took a selfie during the parade.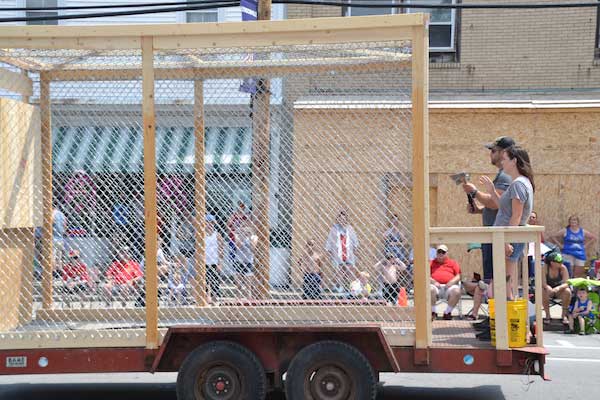 Brandon and Stephanie Scholes promoted an axe-throwing business that is expected to open next month or September by Dubby's Wood Fired.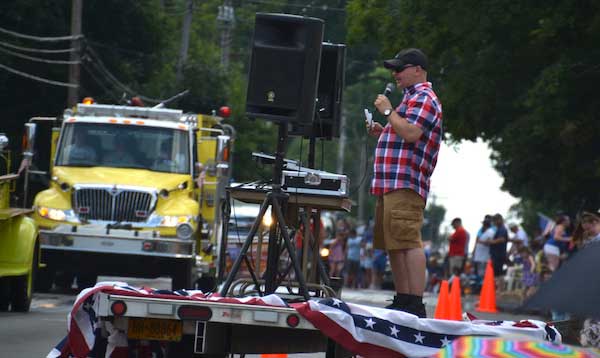 Wayne Teaven served as the parade emcee. Tom Mazerbo of Stafford served as the parade emcee and DJ for about 25 years. He passed away on March 1 at age 67. Teaven acknowledged Mazerbo's long tenure of service. Teaven also commended the late Richard Pucher for his years of work on the Fourth of July festival in Lyndonville.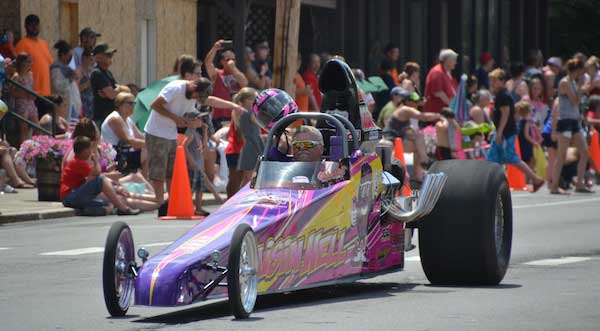 Michael Haight of Albion brought a top dragster to the parade. He races it at Empire Dragway in Leicester. The veicle can go 0 to 137 in 5 seconds. Haight calls it "Raisin Hell" in honor of his mother, who loved California raisins.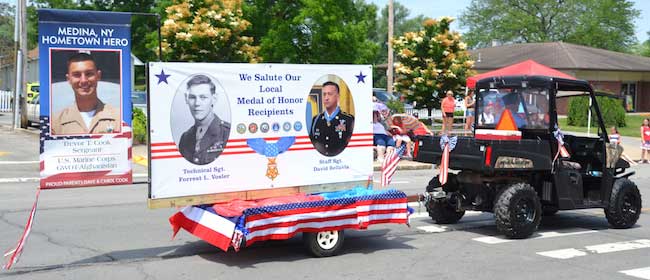 The Lyndonville Fire Department had a display of three soldiers from Lyndonville, including two who won the Medal of Honor, the nation's highest military award.
David Bellavia, a Lyndonville graduate, received the Medal of Honor on June 25 from President Donald Trump during a ceremony at the White House. Bellavia was recognized for his actions on Nov. 10, 2004 in Fallujah, Iraq. He led an infantry squad clearing houses of insurgents.
Bellavia had a busy Wednesday, when he rang the opening bell for the New York Stock Exchange and later threw out the first pitch during the Mets game against the New York Yankees at Citi Field.
Forrest Vosler of Lyndonville was awarded the Medal of Honor for his actions during World War II. He was a technical sergeant serving as a radio operator-air gunner on a heavy bombardment aircraft in a mission over Bremen, Germany, on December 20, 1943.
Vosler was severely injured in the mission but kept firing his guns and declined to take first-aid treatment. The radio equipment had been rendered inoperative during the battle, and when the pilot announced that he would have to ditch, although unable to see and working entirely by touch, Vosler finally got the set operating and sent out distress signals despite several lapses into unconsciousness, according to his Medal of Honor citation.
Sgt. Trevor T. Cook of Lyndonville was 25 when he was killed in a helicopter crash during a training exercise on July 6, 2011. Cook joined the Marines and served two tours overseas. He was stationed at Camp Pendleton in California and was a skilled crew chief and marksman.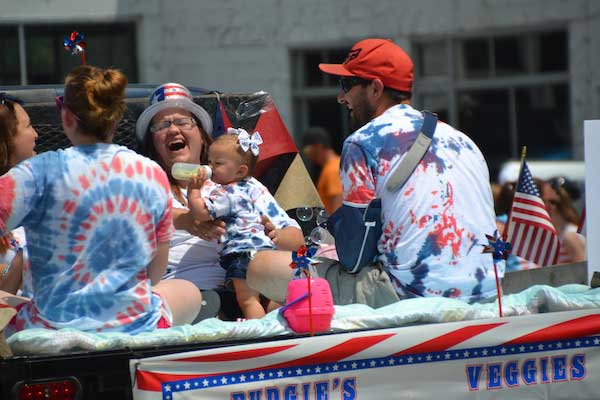 Pudgie's Veggies has fun on the float during the parade.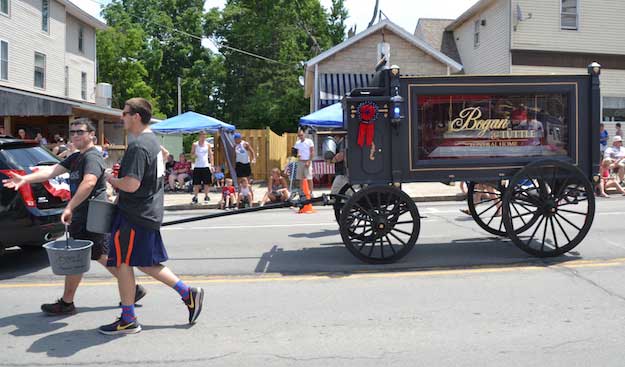 The Bogan and Tuttle Funeral Home debuted a carriage hearse the funeral home recently acquired, and then repainted and refurbished.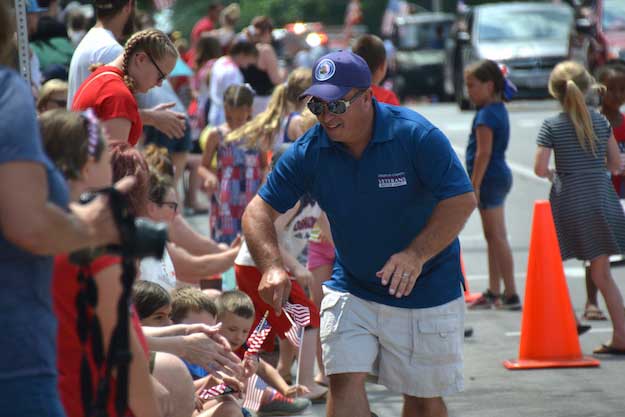 Earl Schmidt, director of the Orleans County Veterans Service Agency, passes out flags to people along the parade route.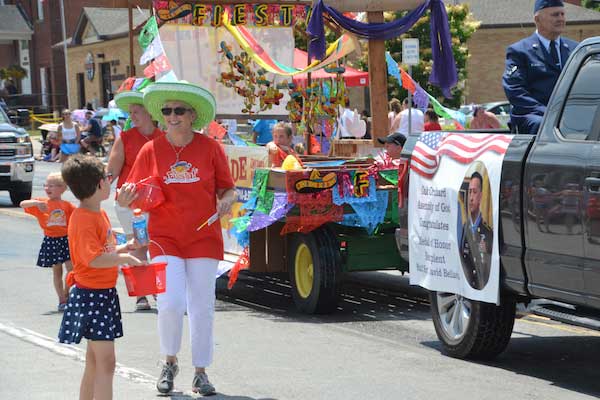 Diane Thurber of the Oak Orchard Assembly of God Church in Medina helps promote the church's Vacation Bible School from July 7-10. The church's display included a banner of David Bellavia and also highlighted veteran David Riviere who is in the back of the pickup truck.