Owner of Millville store building celebrates National Register listing
'When I came in here, I felt like I had stepped back in time, back to when T.O. Castle was here, and this was the mecca of Millville.' – Daniel Hurley
By Catherine Cooper, Orleans County Historian
Illuminating Orleans, Vol. 2, No. 40
MILLVILLE – Christmas came early this year for Daniel P. Hurley, owner of the former T.O. Castle & Son General Store on Maple Ridge Road in Millville.
He was notified that his application for National Historic recognition status for the building was approved on Dec. 8, at the 190th meeting of the New York State Board for Historic Preservation, held at the New York State Museum in Albany.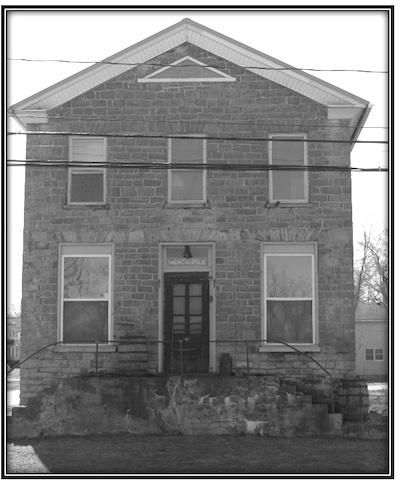 Hurley, a Gaines resident, first noticed the building in 2019 while driving past the site on Route 31A.
"I was just drawn to this building, it's hard to describe," he said. "When I came in here, I felt like I had stepped back in time, back to when T.O. Castle was here, and this was the mecca of Millville.
"It housed the store and the post office back then," Hurley continued. "Everybody who lived around came in here for items that they needed. This is where the news of the day was gathered and passed on: who was sick, who had died, how the crops were doing. This stove here is probably where the men gathered and talked about politics. You can feel the past in the air here.
"As the application says, this place 'retains much of its architectural integrity.' The floors, beams, joists, walls, ceiling, and the shelves are all as they were and that contributes to the feeling that it is a time capsule."
He sought National Historic Registry status for the building because he felt it was worthy of recognition as an example of an enduring structure and because of the affinity he felt with the T.O. Castle era of ownership.
Built about 1849 of locally sourced stone, it was owned and operated by two generations of the Castle family between 1849 and 1933. Prominently situated at a busy crossroads, this general store served the needs of the local farming community, selling dry goods, crockery and hardware.
At that time, a harness store, tannery, carriage shop and blacksmith shop were also in operation in the vicinity and local children attended School No.7 nearby and the Millville Academy operated until 1870.
Thomas Oliver Castle was born in Parma, Monroe County on April 2, 1826, the son of Jehiel and Nancy (Willey) Castle. He taught school for two years and in 1846, moved to Shelby Center in Orleans County. He worked at the store owned by his uncle, Reuben S. Castle, and then worked in Buffalo for two years as a supervisor of salesmen at the George M. Sweeney store.
After serving in the U.S. Army during the Mexican War, he settled in Millville in 1849. He married Mary Timmerman, daughter of Catherine Timmerman, in December of 1850. He was involved in every aspect of community life. He was a notary public, judge of sessions, post-master, and served on the Millville Cemetery Board. His obituary in the Medina Daily Journal of March 30, 1910, noted that "he was widely known and esteemed."
Hurley plans to accomplish the necessary repairs as soon as possible. He envisions minimum alterations to the interior as he would like to preserve the store's sense of the past and operate an emporium there. The building is the second National Historic Register site in Millville – nearby Millville Cemetery was recognized in 2007.