Out in Orleans: Holley keeps using old manhole cover made in Medina
Sweet Iron Works made the manhole cover by fountain in Public Square
HOLLEY – You don't have to go to a museum to see cool, historic things in Orleans County. Last week I spotted a manhole cover made in Medina. The manhole cover is still in use. It's next to the Salisbury Fountain in Holley's Public Square.
The Medina Historic Society has a Swett Iron Works manhole cover. It was the only one I'd seen before last Thursday, when I was in Holley.
Swett Iron Works was a significant foundry in Medina, north of the Erie Canal, at 145 Glenwood Ave. In addition to manhole covers, Swett made a lot of heavy-duty items, from barn door hangers to iron ladles. Some buildings still remain from its glory, but it's a shell of its former self.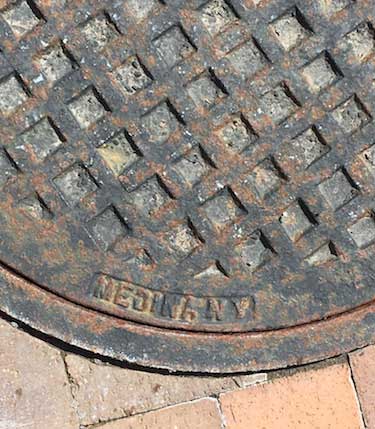 Albert L. Swett founded the iron works in 1889. The company ceased operating in 1961, laying off 40 employees.
Albert L. Swett was one of the most successful entrepreneurs in Orleans County's history. In 1898, he formed the A.L. Swett Electric Light and Power Company, which brought electricity to Medina. He built another reservoir in Carlton to provide more power to Orleans County about a century ago.
He used Lake Alice as part of the hydroelectric project. He named the lake for his daughter, Alice, who was only 11 when she died in 1884.
I mentioned the Swett manhole cover to a few people who I thought might find it interesting. They said some people will occasionally post pictures on Swett manhole covers they see in cities, including Buffalo and New York City. The one in Holley is the only one I know in active service in Orleans County.
I went to Holley last Thursday for an announcement about the village's efforts to redevelop the former Odd Fellows building in the downtown. The Landmark Society of Western New York is helping with an engineering survey of the building, and the village is seeking proposals to redevelop the building from 1889.
It was an exciting day for Holley officials, who have been worried about the building's disrepair in recent years. They are optimistic the building will again be a thriving part of the Public Square.
The announcement was made at the Salisbury Fountain in Holley. The fountain was refurbished about five years ago.