Otto the K-9 meets Lyndonville Scouts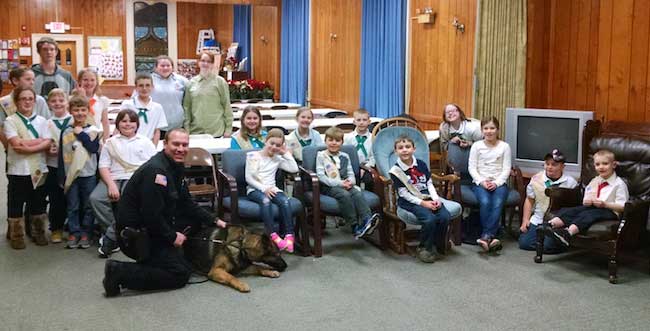 Photos courtesy of Amy Barry
LYNDONVILLE – Otto, the new K-9 for the Orleans County Sheriff's Department, met with the Adventure Scouts from Lyndonville on Tuesday. Otto was joined by Deputy Jeff Cole, the dog's handler.
Deputy Cole and Otto demonstrated commands and how sensitive Otto's nose is by finding a few hidden items. Deputy Cole also reviewed correct practices if one of the scouts were ever lost, how to approach a police dog and handler, and answered questions about their training.
Deputy Tom Marano joined Cole and Otto, and Marano answered questions about being a deputy and some of the different types of calls he answers while on duty.
The scouts are learning about different facets of their community including law enforcement, safety personnel and other important people they may come in contact with as they grow up.
Along with the visit from the Orleans County Sheriff's Office, the scouts have made toys from upcycled T-shirts and treats for PAWS (People for Animal Welfare Society) in Albion and are working on a free community soup luncheon.