Ortt secures state funds for Medina FD, Business Park infrastructure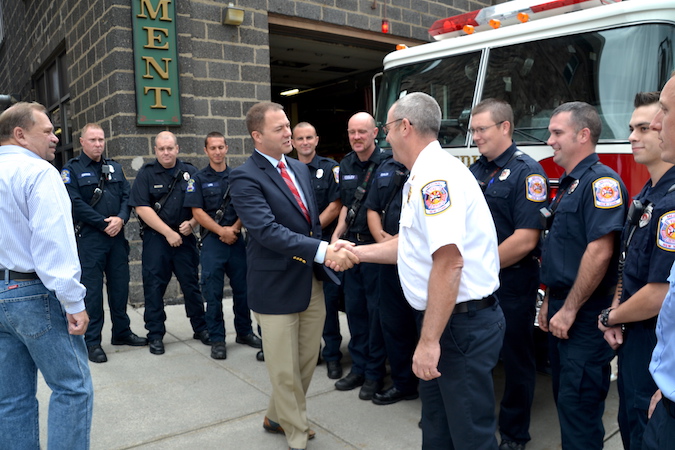 Photos by Tom Rivers
MEDINA – State Sen. Robert Ortt shakes hands with Medina Fire Chief Tom Lupo on Tuesday when the state senator announced $64,000 in state funds would go towards purchasing an SUV and trailer for the Fire Department.
The money from the State & Municipal Facilities Capital Program (SAM funds) will allow the Fire Department to better respond to water and low-angle rescues at several unsanctioned recreational areas in Medina, Lupo said. The SUV will allow firefighters to take equipment closer to incidents, such as rescues at the Medina Waterfalls.
Some of the recreational sites are too narrow to bring in fire trucks. In recent years, firefighters have twice been called for rescues at the Waterfalls, including one time when a person suffered a broken leg. Lupo said firefighters had to improvise to make the rescue.
Ortt also said $76,800 in state funds would be going to the Orleans Economic Development Agency for infrastructure upgrades at Medina Business Park.
The new water and sewer lines will serve the new Pride Pak vegetable processing plant. Pride Pak is expected to open in November on Maple Ridge Road.
Ortt outlined other funds he secured in the state budget for Orleans County:
• Orleans County Sheriff's Office, $10,000 for public protection efforts;
• Orleans County District Attorney's Office, $15,000 for public protection;
• Medina Railroad Museum, $15,000;
• Orleans/Niagara BOCES, $50,000 for state-of-the-art equipment;
• Public libraries in Albion, Holley, Lyndonville and Medina, $35,000 combined;
• Bullard Park in Albion, $50,000 towards new playground;
• Town of Shelby, $50,000 for Town Hall improvements;
• Town of Murray, new dump truck/snowplow with SAM funds;
• Clarendon, SAM funds to go towards painting the water tower.
In addition, Ortt said Holley High School is one of the school districts that are part of a "Sources of Strength" suicide prevention and drug addiction program for teens. A $1.5 million state grant will be shared by 60 schools offering the program.
Ortt also said state funds have been lined up to rehab the lift bridges in Albion and Brockport, projects that combined could be $7.8 million.