Ortt presents Orleans deputy sheriff with award as 'Woman of Distinction'
Ashleigh Stornelli called great role model in community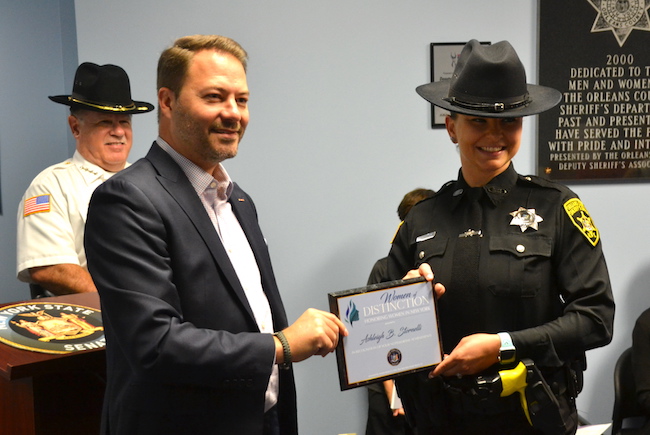 Photos by Tom Rivers
ALBION – State Sen. Rob Ortt presents Ashleigh Stornelli with the "Woman of Distinction" award for the 62nd Senate District during a presentation today at the Orleans County Public Safety Building. Sheriff Chris Bourke is in back left.
Ortt and the other state senators can each pick one person in their district for the honor. Ortt said he wanted to highlight a woman working in law enforcement for the award. He wanted the award to go to a woman with high character and who is recognized as a role model.
Sheriff Bourke suggested Stornelli, who has worked in the Sheriff's Office for six years after starting with the Holley Police Department.
"She is an excellent person and she does a great job for us," Bourke said during an awards presentation today in the Sheriff's Office.
Stornelli spent the past three years as the school resource officer Kendall Central School.
She switched back to road patrol to have more flexibility in her schedule so she has the option of being on the county's SWAT team.
Ortt praised Stornelli for building positive relationships at the Kendall school district and for her training in de-escalating situations with people in a mental health crisis.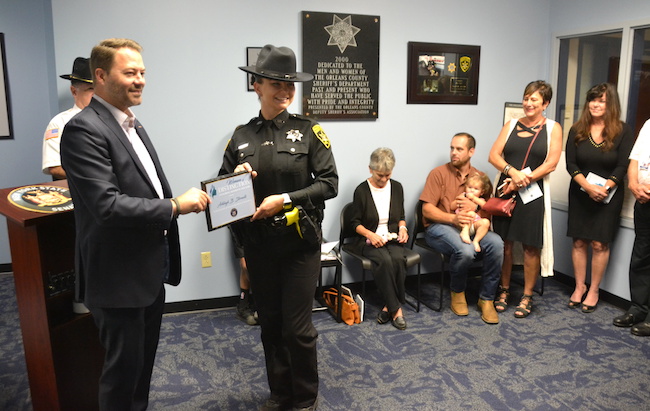 Deputy Ashleigh Stornelli accepts the "Woman of Distinction" award today. She was joined by family members, including her husband Trey, son Iziah, daughter Elliana, mother Cheri Poler, and grandmother Theresa Poler.
The award is usually presented in the State Capitol but that ceremony with all 63 award winners throughout the state isn't happening in Albany due to Covid-19 concerns. Ortt wanted to present the recognition for Stornelli in front of her family and some of her colleagues at the Sheriff's Office.
Stornell said she gives "110 percent" to the career.
"I take my job extremely seriously and I take it to heart," she said.
She thanked the sheriff for giving her a chance six years ago when she was hired as a deputy.
Bourke praised her for developing a safety program at Kendall school district and for connecting with many of the students, including having them try a DWI simulator to show the impact of getting behind the wheel while impaired.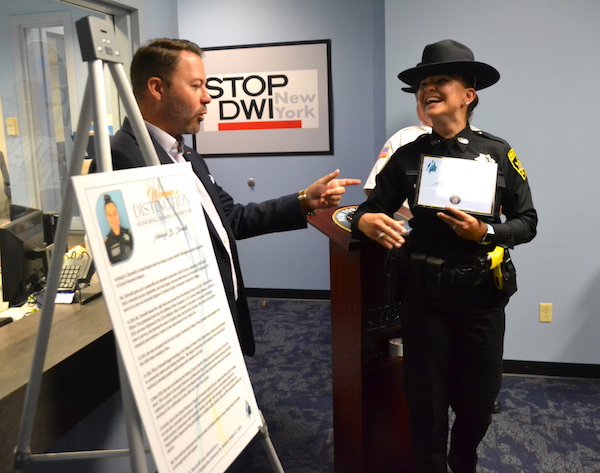 Ashleigh Stornelli laughs at a  comment from State Sen. Rob Ortt. He praised her for wanting to advance her career in the Sheriff's Office.
"In a field that is dominated by men to have a kick-ass woman I think is pretty good," he said.
Stornelli also was congratulated by County Legislature Chairwoman Lynne Johnson and County legislator Ken DeRoller. They praised the Kendall school district for its support of having a deputy work in the district as a school resource officer.
Stornelli grew up in Lyndonville and graduated in Lyndonville's Class of 2010. She played soccer, basketball, and track at Lyndonville, and then earned an Associate Degree in Criminal Justice at Genesee Community College.
In 2014 she joined the Army National Guard as a 32B — Military Police Officer. She graduated from the 42nd Military Police Company in Fort Leonard Wood, Missouri, in February 2015, and was stationed at the 222nd Military Police Company in Rochester for six years.
In 2015, she was accepted into the Erie County Community College Police Academy and graduated with the 126th Basic Academy Class.