Ortt presents checks to law enforcement agencies, East Shelby Fire Company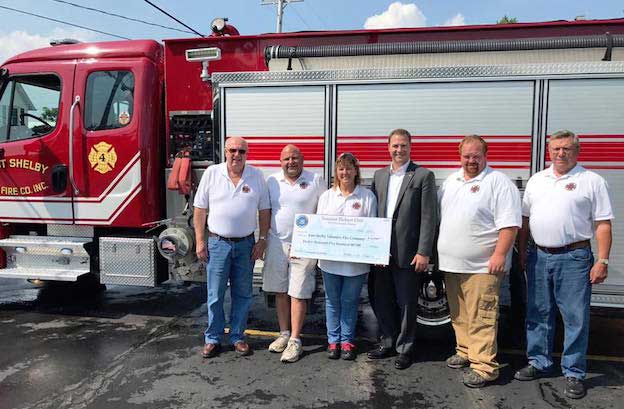 Provided photos
State Sen. Robert Ortt last week presented ceremonial checks to two law enforcement agencies and the East Shelby Volunteer Fire Company.  Ortt secured the state funding in the 2017-18 state budget.
East Shelby received $12,500 for rescue equipment. Pictured in top photo at East Shelby Volunteer Fire Company includes, from left: East Shelby Steward Dave Green, 3rd Assistant Chief Dan Culver, 2nd Assistant Chief Debbie Taylor, Senator Rob Ortt, Fire Chief Andy Beach and Trustee Gordon Reigle.
The fire company plans to purchase oxygen tanks for the breathing apparatuses firefighters wear in structure fires. East Shelby also plans to buy the "Jaws of Life" to assist in vehicle extrication of crash victims, as well as other rescues from small spaces. East Shelby provides services for the Town of Shelby and the hamlets of East Shelby and Millville.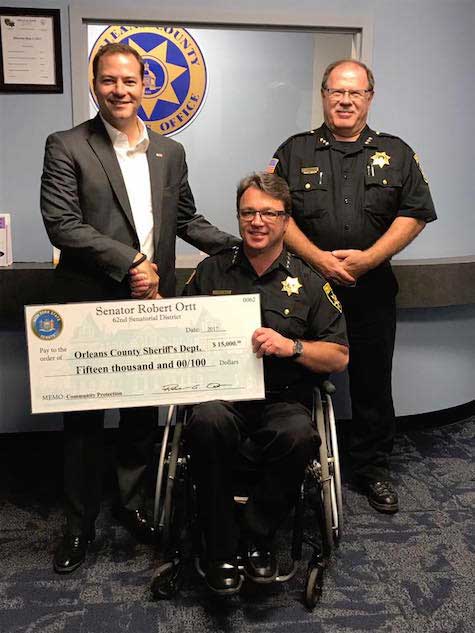 Ortt is pictured at the Orleans County Sheriff's Office with Sheriff Randy Bower and Undersheriff Chris Bourke. The Sheriff's Office will use $15,000 to purchase lights for the patrol rifles and a traffic radar to deter speeding.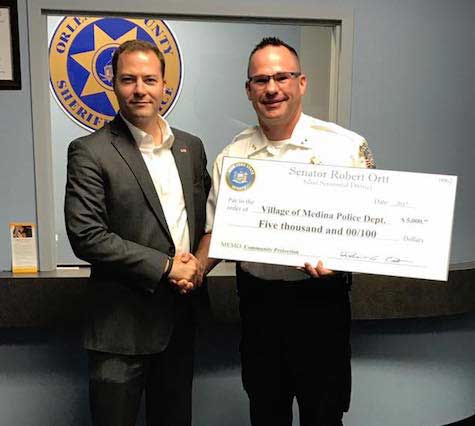 Ortt presents a $5,000 check to Chad Kenward, Medina police chief. The Medina Police Department will use the funding to install video monitoring cameras for the interview and holding rooms and on the exterior of the building.