Ortt joins officials in cutting ribbon for new fire safety trailer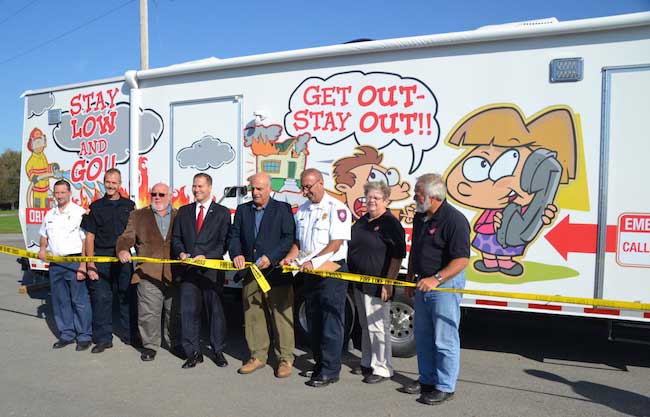 Photos by Tom Rivers: State Sen. Robert Ortt joined local fire officials and county legislators in cutting a ribbon of cautionary tape used at emergency scenes.
The following are pictured, from left: Jeremy Graham of the Albion Fire Department, a member of the committee that researched the trailer; Jerry Bentley of the Barre Volunteer Fire Company, who also was on the committee; County Legislator Bill Eick; Ortt; County Legislature Chairman John DeFilipps; Dale Banker, county emergency management coordinator; Pat Eick, secretary for the Emergency Management Office who has processed much of the paperwork for the grant; and Fran Gaylord of the Holley Fire Department and a member of the committee. (David Hydock, Pete Sidari and Mike Young were also on the committee.)
Ortt was able to secure $75,000 in state funds through the State and Municipal Facilities Capital Funding Program or SAM.
The trailer is being used in educating the community on proper fire safety. Local firefighters have already taken it to the five school districts in Orleans County for students to practice exiting through a window in case of a fire, and to learn about smoke in a building (the trailer has a fog machine) and also to not open a hot door (the trailer can heat up doors).
"This trailer will be a great tool for Orleans Emergency Management and the fire departments of Orleans County," Ortt said. "By learning from the visual and interactive approach that these trailers provide, children and families in our community will be more equipped and knowledgeable should an emergency arise."
Orleans County Emergency Management will use the Fire Safety Trailer in conjunction with 12 fire departments in the county to educate children and families.
"The Orleans County Fire Safety Trailer will be used to teach individuals the fundamentals of fire safety in a hands-on way," said Dale Banker, the director of Orleans County Office of Emergency Management. "The grant from Senator Ortt will enable us to visit Elementary Schools – teaching our children the safe way to escape a burning building, meet up with family members outside, and call 911 for help."
Fire departments in the county have previously needed to have fire trailers brought in from outside the county to help teach fire prevention, or they typically went without a "fire house."
"We are thankful to Senator Ortt for helping to provide high-quality fire safety education to kids across Orleans County," DeFilipps said. "This piece of equipment has the potential to save lives by teaching valuable lesson. If this safety trailer helps even one child, it will surpass our expectations."