Ortt, Hawley present state proclamation honoring Tillman's Village Inn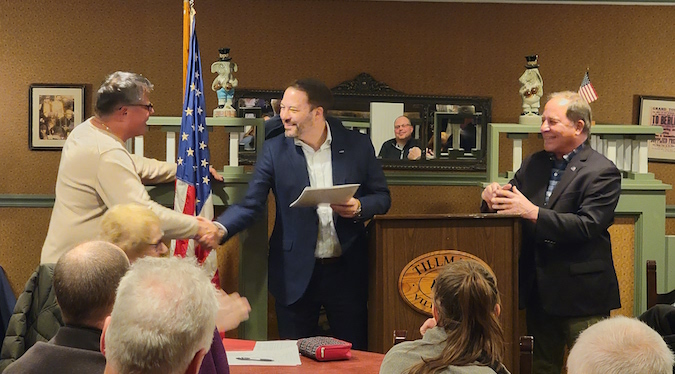 Photos courtesy of Kelly Dudley
GAINES — State Sen. Rob Ortt, center, and Assemblyman Steve Hawley, right, present a proclamation from the State Legislature on Wednesday evening to Mark Tillman in honor of the Tillman family's long-time operation of Tillman's Village Inn.
The family closed the popular restaurant on Dec. 30 after 70 years of service.
The restaurant earned numerous awards over the years, including from the USA Beef Council for menu excellence. The Village Inn was well known for its prime rib, steak and lobster. It also was a premier wedding destination in Orleans County through the ownership of brothers Mark and Tom Tillman, according to the proclamation..
The Village Inn also hosted numerous community events over the years, including the Orleans County Chamber of Commerce awards event and Legislative Luncheon.
"Mark, Tom and the whole Tillman family have shown the true meaning of investing into a community," the proclamation states. "Their departure from the Village Inn will truly be felt by the Western New York hospitality community and most important the entirety of  Orleans County."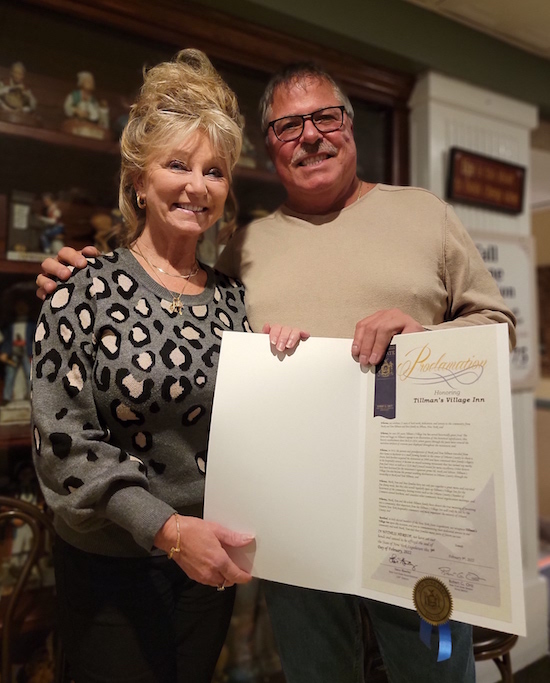 Mark Tillman and his wife Susan hold the proclamation from the State Legislature.