Ortt has $25K from state to continue Ag in the Classroom, 4-H at schools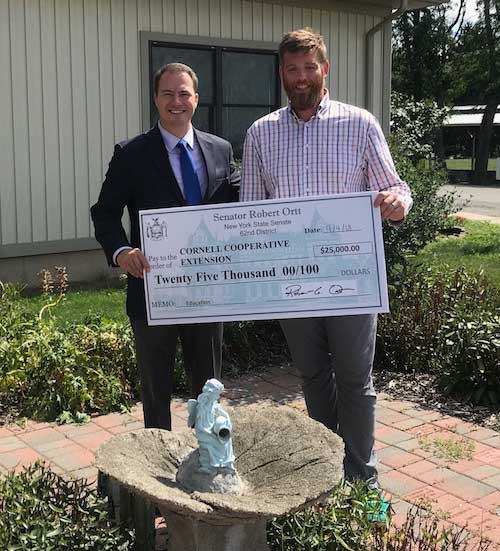 Provided photo
KNOWLESVILLE – State Senator Rob Ortt, left, last week presented a ceremonial check for $25,000 to Robert Batt, executive director of the Cornell Cooperative Extension in Orleans County.
The funding will be used to continue the Agriculture in the Classroom program, which currently goes to Kendall and Lyndonville schools as well as Rainbow Preschool in Albion. The Extension is open to expanding the program to other local school districts, Batt said this morning.
The state funding also will help fund the 4-H program at three local school districts. 4-H staff have been running clubs at Kendall and Lyndonville, and this year will be starting a program in Medina.
"The kids are there and they're excited to be doing it, and takes out the extra step of transportation," Batt said about the 4-H programs at schools.
All three are for students in elementary school. The Kendall program meets twice a month before school, while Lyndonville is twice a month after school. Medina will start in October with a monthly meeting after school, Batt said.
"We have seen incredible success with agricultural-based education in rural communities across the state," Ortt said.
---
You're here checking the site, so you know: Orleans Hub is a vital resource for our community. Day in and day out, we share information and insights that matter to those who live and work in the towns, villages and hamlets of our county. Local advertisers help make the Hub possible, and so can you.

Donate today to keep Orleans Hub healthy and accessible to all. Thank you!
---