Orleans, with 329 active Covid cases, sets new high during pandemic
Genesee second highest in NY with highest Covid positivity rate in past 7 days, while Orleans third highest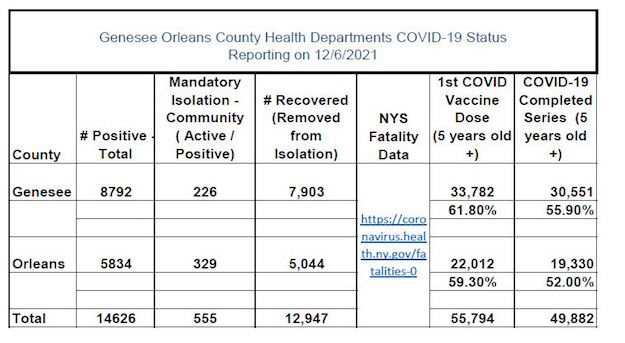 Orleans County has 329 active cases of Covid today, the most since the start of the pandemic in March 2020.
The 329 is up from the previous pandemic high of 315 on Thursday, according to data from the Genesee and Orleans County health Departments.
The county has 151 new confirmed cases since Thursday, and 135 more recoveries or people who completed their 10-day isolation and have been removed from mandatory isolation.
Orleans currently has 14 people hospitalized due to Covid, which is down from 17 on Thursday. The county is reporting another death from Covid, a person over age 65. That brings the total to 97 in Orleans County who have passed away due to Covid during the pandemic.
The number of active cases in Genesee County dropped from 243 on Thursday to 226 today, even though the county has 236 new confirmed cases in the past four days. The county also is reporting 250 more recoveries.
Genesee has 35 people hospitalized due to Covid, down from 39 on Thursday. The county is also reporting two more death due to Covid, a person under age 65 and one over 65. That brings the total deaths from Covid in Genesee to 146.
Genesee County also the second highest Covid positivity rate in the state over 7 days. Genesee's rate is at 14.0 percent, about three times the state rate of 4.8 percent. Lewis County has the highest positive rate at 14.5 percent and Orleans is third highest at 13.7 percent.