Orleans sheriff will be keynote speaker at conference for Self-Advocacy Association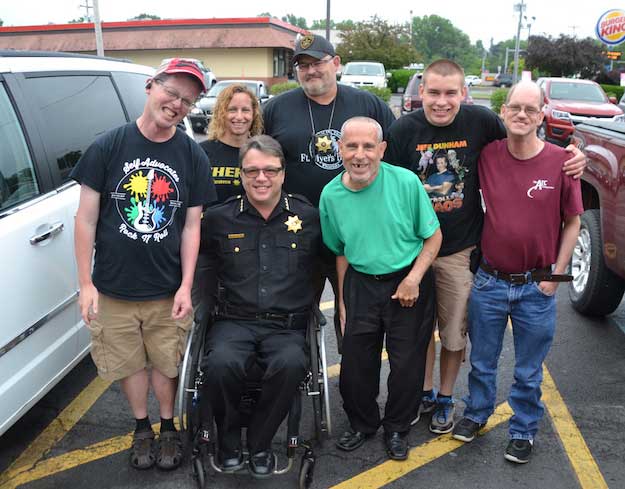 Photo by Tom Rivers
ALBION – Orleans County Sheriff Randy Bower and two Sheriff's Office investigators, Shannon Brett and Ken Strickland, are pictured with some of the Self Advocate All Stars in Orleans County before Bower took the All Stars to a conference in Batavia today.
Bower and the two investigators are pictured with, from left: Jonathan Doherty, Robert Greer, Tyler Nunnery and Mike Woodward.
The Self-Advocacy Association of New York State is holding a two-day Western Region Conference today and Friday at the Quality Inn in Batavia. Bower will be the group's keynote speaker on Friday. He also will lead a seminar on Internet safety. The sheriff said he will discuss "overcoming challenges" during his keynote presentation.
The Self Advocate All Stars formed in Orleans County in 2006. The local group made Bower an honorary member in 2015.
The All Stars advocate for people in the community with disabilities. All Stars include residents who live at home with their families, in apartments with supportive services or in Arc residential homes.