Orleans reports 7 more Covid-19 cases, including 5 at Orchard Rehab & Nursing Center

Orleans County has seven more confirmed cases of Covid-19 since Friday, the Genesee & Orleans County Health Departments reported this afternoon.
Orleans County has now had 254 people test positive for Covid-19.
The new cases includes two community residents, who both live in Shelby. One is in the 30s and the other is in the 40s.
There are also five new confirmed cases at Orchard Rehabilitation & Nursing Center. Those new cases include two people in their 60s and three in the 70s. Orchard has now had 53 residents test positive for Covid-19, which resulted in 18 deaths.
Orchard said 23 staff members have also tested positive for Covid-19, and one staff member is currently hospitalized and fighting the virus, Orchard posted on its Facebook page on Sunday.
There are 13 county residents hospitalized with Covid-19.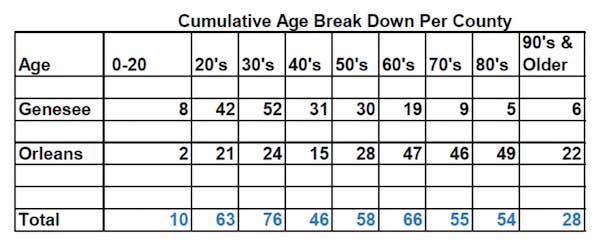 In Genesee County, there is one new case since Friday, bringing Genesee's total to 202. The new case is a Pembroke resident in the 20s.
The new positive case was not on mandatory quarantine prior to testing positive. In Genesee County, none of the current positive cases include people who are hospitalized..
Click here to see an online map of cases in Genesee, Orleans and Wyoming counties.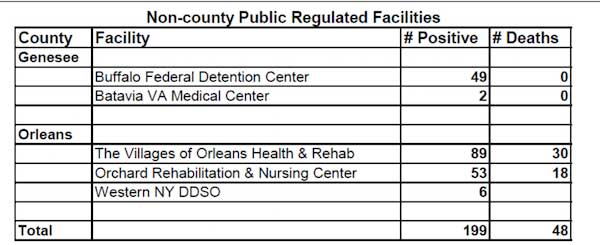 The facility breakdown is only showing the total positive cases from those facilities from where we received a positive swab for Covid-19.
More from the Genesee and Orleans County Health Departments:
• The Governor has amended Executive Order 202.6 for determining whether a business enterprise is subject to a workforce reduction (click here).
• Interim Guidance for Pools and Recreational Aquatic Spray Grounds During the Covid-19 Public Health Emergency (click here).
• Phase 3 is open. With that in mind, everyone in Phase 3 should have developed and implemented their Business Safety Plan and have it in place prior to opening whether it be a business, house of worship, not-for-profit organization, etc.
You are responsible to have your plan and all necessary supplies in place prior to opening. You will not be submitting your plan, however it must be on the premises in the event of a state, local or safety inspection. Keep checking the New York Forward website for your industry/organization summary guidelines.
• Groups now allowed up to 25: Per Governor Cuomo gatherings (groups, assembly, meeting, etc.) of 25 or less are permitted with social distancing and sanitization protocols in place.
The Health Departments do not authorize or allow exemptions from the Governor's orders. If you have questions about the orders you can go to forward.ny.gov or e-mail the Finger Lakes Regional Control Room at flnyf@esd.ny.gov.
To file a complaint about a business, location or incident in your community you can call 1-833-789-0470 or click here. Businesses that are not in compliance with the Governor's executive order may be penalized.