Orleans reports 4 more cases of Covid-19, including 2 at The Villages

There are four more confirmed cases of Covid-19 in Orleans County, bringing the total to 95, the Orleans and Genesee County Health Departments is reporting this afternoon.
There are also two more cases in The Villages of Orleans Health and Rehabilitation Center in Albion, bringing the total to 49 cases at the nursing home in Albion.
Besides the two cases at The Villages, the other new cases include a resident of Albion and one in Gaines.
Of the four new cases, one person is in the 50s, two are in their 60s and one is in the 90s.
(One of the new cases was considered a non-county resident, but the Health Department was notified that positive is part of the count in Orleans County. The individual was followed in the county they are currently in.  The person has since recovered.)
The Health Department also is reporting one additional recovery, bringing that total to 31.
Of the active cases, five people are currently hospitalized.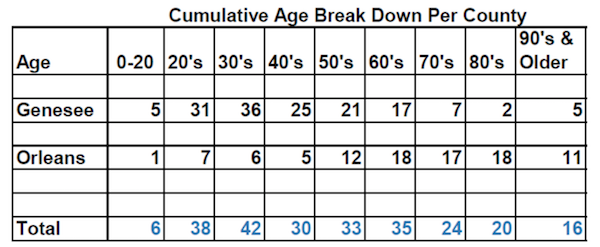 Genesee County doesn't have any new cases to report today and remains at 149 confirmed cases. The county has three more recoveries bringing that total to 78. Three Genesee County residents remain hospitalized with Covid-19.
Click here to view an online map of confirmed cases in Genesee, Orleans and Wyoming counties.

The facility breakdown is only showing those facilities from where the Health Departments received a positive swab for Covid-19.  Facilities will be added when and if there is a positive case of Covid-19. If a regulated facility from either Genesee or Orleans counties is not listed, there are no positive cases of Covid-19.
The local health departments do not have oversight with many regulated facilities, which may include nursing homes, correctional facilities and hospitals, etc.