Orleans reports 29 new Covid cases, Genesee has 43 more since Aug. 26
Hospitalizations up from 10 to 15 in Genesee since Thursday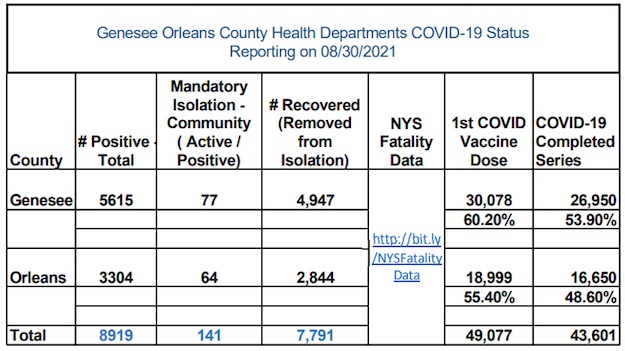 Genesee and Orleans counties combined have 72 new cases of Covid-19 since Thursday, and the two counties also are reporting 72 more people have recovered from Covid, where they completed a 10-day isolation and were removed from mandatory isolation.
While new cases and recoveries are the same, Genesee County has an increase in hospitalizations due to Covid, going from 10 on Thursday to 15 today. Orleans County remains at two people hospitalized due to Covid, according to the Genesee & Orleans County Health Departments.
In the update this afternoon from G-O Health, Orleans has 29 new active cases and those individuals are in the age groups of 0-19, 20s, 30s, 40s, 50s, 60s and 70s. Orleans also is reporting 29 more recoveries.
In Genesee County, there are 43 new cases and the individuals are in the age groups of 0-19, 20s, 30s, 40s, 50s, 60s, 70s and 90s. The county also is reporting 43 more recoveries.
The two counties combined have 141 active cases, with 64 in Orleans and 77 in Genesee. That compares to 102 a week ago when there were 49 in Orleans and 53 in Genesee. It's down from the 149 cases on Thursday when Orleans reported 64 active cases and Genesee had 85.
Percent positive for Covid tests: The 7-day positive testing average state-wide is 3.31 percent. It is higher locally with Orleans at 5.4 percent and Genesee at 5.8 percent positive in the past seven days.