Orleans reports 220 more Covid cases, 2 Covid-related deaths in past week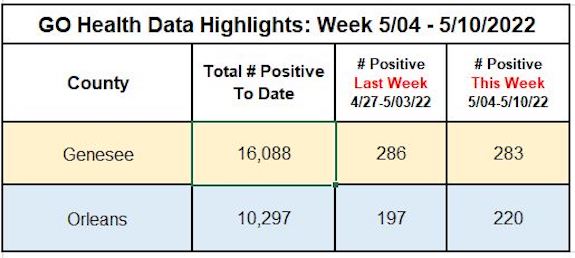 Orleans County continues to see an increase in Covid cases, with 220 from May 4-10, which is up from the 197 the previous week.
The county also had two more Covid-related deaths and now has had 116 residents pass away from Covid during the pandemic that started in March 2020.
There were 54 confirmed Covid cases in the county from March 30 to April 6. In the following weeks the cases increased to 83 (April 6-12), 113 (April 13-19), 166 (April 20-26) and then 197 (April 27-May 3), according to data from the Genesee & Orleans County Health Departments.
Genesee County also experienced an increase in cases each week for about two months – until this past week, when the cases dropped from 286 from April 27 to May 3, to 283 from May 4 to May 10.
Genesee also reported another Covid-related death in the past week and now is at 187 during the pandemic.
Statewide the 7-day positivity rate is 7.18 percent. It's much higher in the Finger Lakes region. Those nine counties, including Orleans, are at 13.34 percent over 7 days. The positivity rate is only higher in Western New York at 18.33 percent. The rate is lowest in New York City at 4.80 percent.
"Getting fully vaccinated and staying up to date on booster doses is a key way to prevent serious illness and hospitalization from Covid-19," Governor Kathy Hochul said in a statement on Wednesday. "I want to thank the more than 75 percent of New Yorkers who have gotten fully vaccinated and are keeping their communities safe and healthy."