Orleans reports 2 new Covid-19 cases, 4 more recoveries

Orleans County is reporting two new Covid-19 cases today, bringing the county's total to 282 people who have tested positive.
The new confirmed cases includes residents of Carlton and Ridgeway, with one in the 40s and the other in the 50s.
The county also is reporting four more recoveries in the community, bringing that total to 126, the Genesee and Orleans County Health Departments reported this afternoon.
Orleans also have 7 new individuals on precautionary quarantine due to travel from restricted states.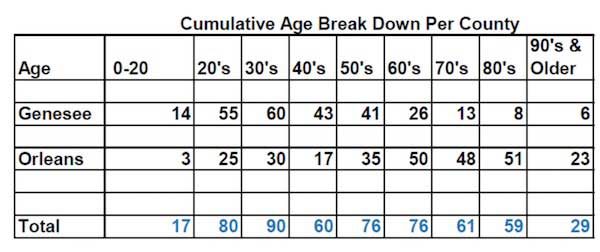 In Genesee County, there are no new confirmed and three more people have recovered, bringing the total recoveries to 205.
Genesee also has 40 new individuals on precautionary quarantine due to travel from restricted states.
One person in Genesee is hospitalized with Covid-19.
Click here to view the online map of confirmed cases in Genesee, Orleans and Wyoming counties.
• Statewide: Governor Andrew Cuomo announced 476 additional cases of novel coronavirus, bringing the statewide total to 421,336 confirmed cases. The 476 new cases are out of 54,002 test results reported to New York State yesterday, for a 0.88 percent positive rate.
Statewide there are 535 hospitalized with Covid-19 (down by 13), 127 in ICU (down by 4), 62 in ICY with intubation (down by 4) and two more deaths from Covid-19, bringing the state total to 25,204.
"Our numbers reflect the work of everyone in this state, and the number of ICU patients and hospitalizations have reached new lows again," Cuomo said. "That is extraordinary given where we were just a few months ago."
• New Mask PSA: The Governor also released a new Public Service Announcement, reminding their neighbors to wear a mask and help stop the spread of coronavirus. Click here to see it.
The new highlights the effective use of masks during the 1918 deadly Influenza Pandemic that infected 500 million people – a third of the world's population. The advertisement features archival photos of the use of masks during the 1918 outbreak, which was crucial to preventing the spread of the deadly virus, to inspire Americans to wear masks today. This new PSA is one in a series launched by the governor to inform the public on the importance of wearing masks during the Covid-19 pandemic.
"All the data and science show that masks work, and it is essential that everyone wear a mask to protect one another and further prevent the spread of Covid-19," Cuomo said. "Our message is simple: I wear a mask to protect you and you wear a mask to protect me."
From the Genesee and Orleans County Health Departments:
• Travel Advisory: Travelers from the following states with high coronavirus rates will be required to self-quarantine for 14 days: Alabama, Alaska, Arizona, Arkansas, California, Florida, Georgia, Idaho, Illinois, Indiana, Iowa, Kansas, Kentucky, Louisiana, Maryland, Minnesota, Mississippi, Missouri, Montana, Nebraska, Nevada, New Mexico, North Carolina, North Dakota, Ohio, Oklahoma, Puerto Rico, Rhode Island, South Carolina, Tennessee, Texas, Utah, Virginia, Washington, and Wisconsin.
Those violating could be subject to a judicial order and mandatory quarantine and potential fines.
• Traveler Health Form: For all out-of-state travelers from NYS restricted states, whether arriving by land or air, must self-identify by completing a traveler health form or be subject to a $2,000 fine. Click here for the traveler health form.
• Waiting for Testing Results:  If you are being tested for Covid-19 it is important that you self-quarantine until you get your test results whether you have symptoms or not.  If you are symptomatic, meaning you are coughing, have a fever or other symptoms, self-quarantine even if you are an essential worker until you get your results back, if you have Covid-19 you may be spreading it!  That means to stay home and limit contact with other people, even in your household.