Orleans reports 15 new Covid-19 cases, including 10 more cases at The Villages
2 more deaths reported, including 1 in community and 1 at The Villages

Orleans County has 15 new confirmed cases of Covid-19, the biggest one-day increase for the county.
Ten of those new confirmed cases are at The Villages of Orleans Health and Rehabilitation Center in Albion, where there have now been 68 confirmed cases.
The Villages also suffered another death of a resident, for 16 deaths now due to the virus at the 120-bed nursing home in Albion.
The county also had its first death from Covid-19 outside of the nursing home, the Genesee and Orleans County Health Departments is reporting this afternoon. That person had underlying health issues, the Health Departments reported.
"Due to privacy issues, we are not releasing further details about either of these individuals," Public Health Director Paul Pettit stated in a news release. "I would like to express my sincerest sympathy for these individuals' family and friends."
The 15 new positive cases of Covid-19 bring the county's total to 124 positive cases. That includes 38 people who have recovered.
The five new community cases include a resident in each of the following towns: Albion, Gaines, Kendall, Shelby and Yates.
Of the 15 new cases, the age ranges for the people who tested positive include two people in their 30s, one in the 50s, four in the 60s, three in the 70s, five in the 80s, and one in the 90s.
One of the community newly positive individuals was on quarantine prior to becoming symptomatic. Eight of the cases include people who are currently hospitalized.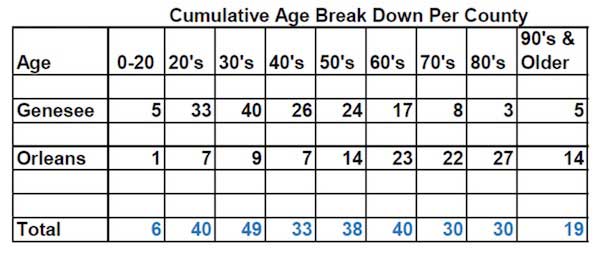 In Genesee County, there are four new positive cases of Covid-19 for a total of 161 positive cases.
Two of the new positive cases are people who reside in Batavia, while one resides in Bethany, and the other lives in the Town of Alabama.
Two of the people are in their 30s, one is in the 40s, and other is in the 50s.
Three of the newly positive individuals were on quarantine prior to becoming symptomatic.
Genesee had two more people recover from the virus, bringing the total recoveries to 90.
Five people are currently hospitalized from Covid-19.
Click here to view the online map of confirmed cases in Genesee, Orleans and Wyoming counties.

The facility breakdown is only showing those facilities with a positive swab for Covid-19.  Facilities will be added if there is a positive case of Covid-19.
If a regulated facility from either of the counties is not listed, there are no positive cases of Covid-19.  The local health departments do not have oversight with many regulated facilities, which may include nursing homes, correctional facilities and hospitals.
• In order to un-PAUSE safely, the Health Departments urge residents to continue to be intentional about social distancing, properly wearing face coverings, handwashing/sanitizing and limiting time in public.
As seen over the last week there have been daily increases in community spread cases of Covid-19.
"If we see a significant increase in community-acquired positive cases it may hinder our ability to move forward and re-open our counties," the Health Departments said. "It is up to each of us individually to adhere to the guidelines in place. This is about respecting others and their safety, understanding as we protect others we are protecting ourselves."