Orleans reports 1 more death from Covid-19, no new cases

Orleans County has suffered another death from Covid-19. The Genesee and Orleans County Health Departments reports today that the latest death was a resident of the Orchard Rehabilitation and Nursing Center in Medina.
The county has now had 52 residents die from Covid-19, including 21 residents of Orchard Rehabilitation.
"We are saddened to report the death of one of our county residents," the Health Departments said in a statement. "We extend our deepest condolences to the family and friends of this individual during this very challenging time."
Orleans doesn't have any new confirmed cases of Covid-19 to report. Ten people remain hospitalized from the county with Covid-19.
In Genesee County, there are two new cases, giving the county 218 total since mid-March.
One of the new positive individuals resides in Batavia and the other is from LeRoy. One of the individuals is less than 20 years old and the other is in the 40s.
The new positive individuals were not on mandatory quarantine prior to testing positive.
Genesee also has four more recoveries, bringing that total to 151. The county currently has one resident in the hospital with Covid-19.
Click here to see an online map of cases in Genesee, Orleans and Wyoming counties.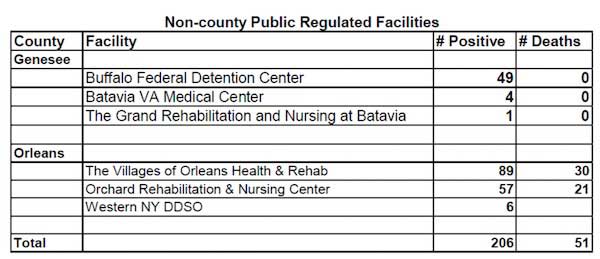 The facility breakdown shows the positive cases from facilities where there has been a positive case of Covid-19.
More from Genesee and Orleans County Health Departments:
• Quarantine for travelers from nine states: New York, New Jersey, and Connecticut announced that as of 12:01 a.m. today travelers from states with high coronavirus rates will be required to self-quarantine for 14 days. Click here to see the travel advisory and click here for interim travel guidance.
Currently, states include Alabama, Arkansas, Arizona, Florida, North Carolina, South Carolina, Utah and Texas. Those violating could be subject to a judicial order and mandatory quarantine and potential fines. These states may change at any time.
To file a report of an individual failing to adhere to the quarantine pursuant to the travel advisory, please call 1-833-789-0470 or visit this website.
• New York Forward: Keep checking the New York Forward website for your industry/organization/activity summary guidelines.
• Social gathering size: Groups of 50 or less will be in effect for those regions in phase 4. The Governor announced Wednesday that gathering sizes will be increasing from 25 to 50 for regions in phase 4. Further information is forthcoming. The local Health Departments do not authorize or allow exemptions from the Governor's orders.
Community Testing: Oak Orchard Health is now able to provide expanded Covid-19 swabbing to the public at their Albion location (future locations may be added later). Anyone needing testing and meeting the criteria (being symptomatic or required for profession) can call Oak Orchard Health at 585-589-5613 for an appointment, no walk-ins.
Oak Orchard Health will do their best to accommodate scheduling demands, but be aware appointments may fill up quickly. The current testing schedule is Monday 3:40 to 4:40 p.m., Tuesday 4 to 5 p.m., Wednesday 2:20 to 3:20 p.m., Thursday from 3 to 4 p.m., and Friday from 3:20 to 4:20 p.m.