Orleans reflects on 9-11, while thanking first responders for continued service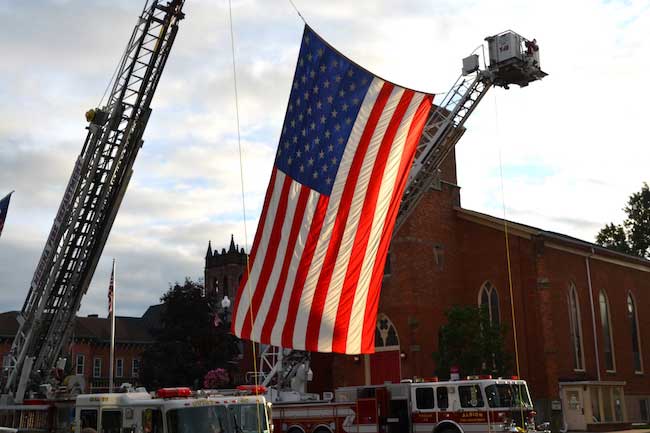 Photos by Tom Rivers
ALBION – A large American flag waves on Main Street on Tuesday evening during a memorial service on the 17th anniversary of the Sept. 11 terrorist attacks when nearly 3,000 people were killed.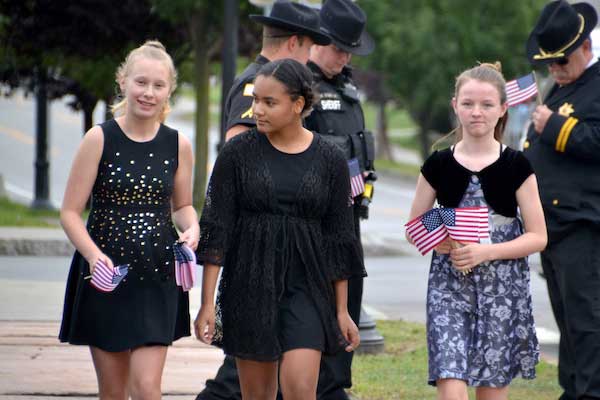 These Albion eighth-graders pass out American flags. They include from left Ashleigh Mowatt, Emilie Sitzer and Alexis Hess. They were later joined by McKenzie Olmsted in singing the National Anthem.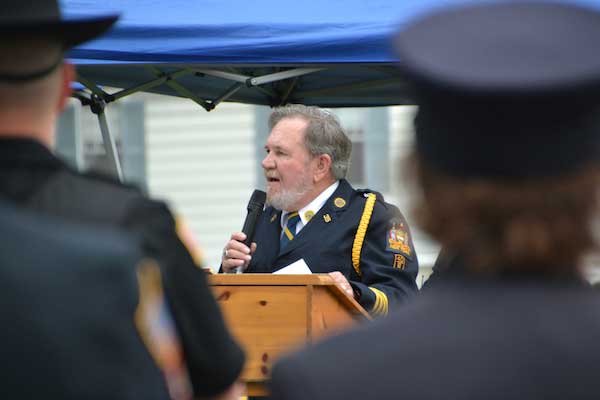 Gary Befus, a member of the American Legion in Albion, organized the memorial service. He said the terrorism attack was devastating with 2,753 killed in New York City, 184 in Washington DC,  and 40 more when a plane crashed in rural Shanksville, Pa.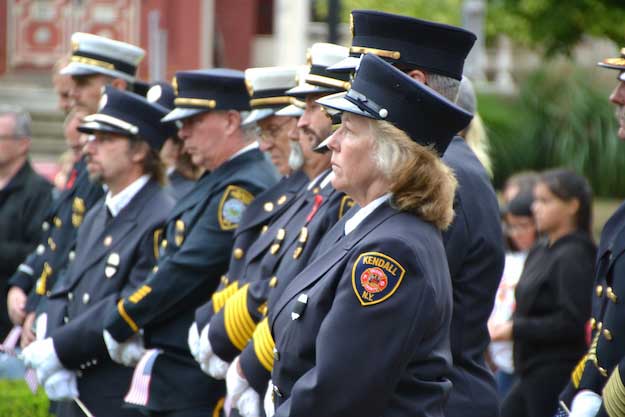 Gary Befus praised the continued service of local firefighters, law enforcement, paramedics and other first responders. Sue Maslyn of the Kendall Fire Department was among the many local firefighters who attended the service.
There were 343 firefighters and 72 police officers killed during the Sept. 11 terrorism attacks.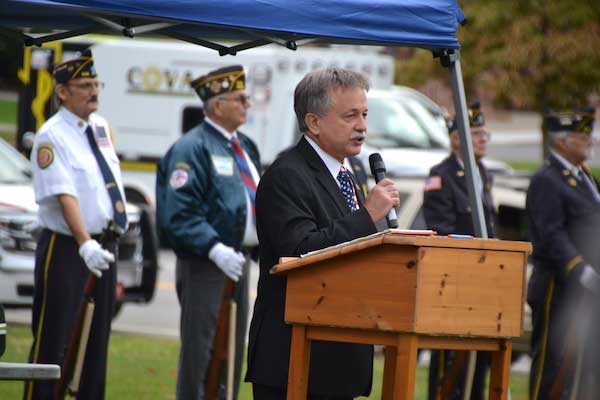 Orleans County Legislator Don Allport said the country was strongly united after the attacks 17 years ago. When Americans are together, nothing can defeat the country, he said.
"We must be Americans first," he said. "We must stand united. America is under attack every day."
Allport also said Orleans County is fortunate to have some many dedicated firefighters and first responders. "Imagine calling 911 and no one shows up," he said. "But in Orleans County someone shows up. First responders are the very thin line between an organized society and chaos."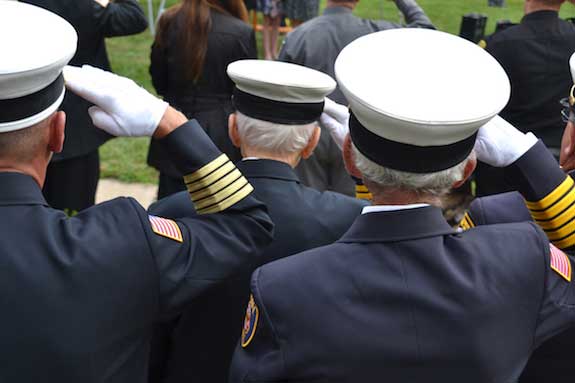 These firefighters salute during the National Anthem. Fritz Neidert of Albion is at center and Doug Jones of Kendall is at right.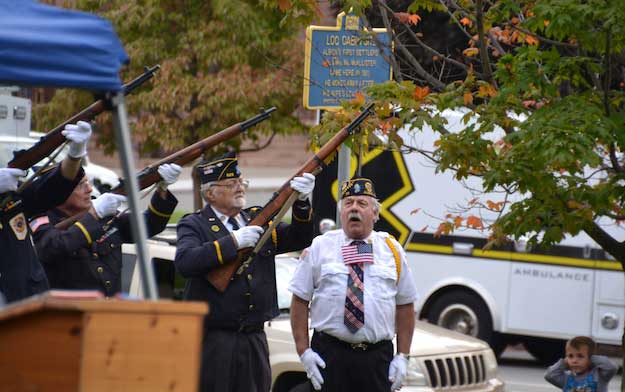 Members of the Honor Guard do a 21-gun salute under direction of Phil Warne, right.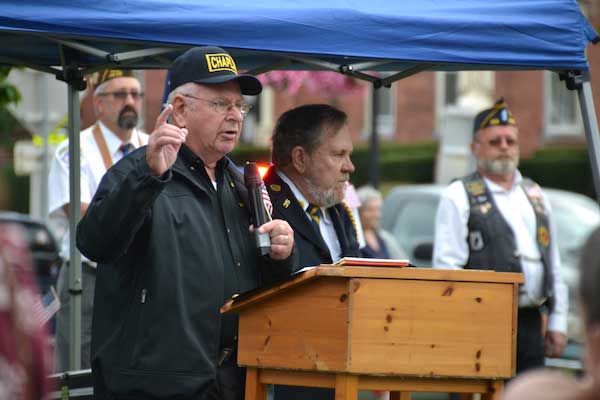 Don Snyder, a chaplain for the Sheriff's Office, praised the service of the first responders, who sacrifice their time and lives, often a great emotional and physical cost.
"First responders are the very best of humanity," Snyder said. "Orleans County is blessed with first responders who serve in emergency medicine, fire and law enforcement. Our first responders, without hesitation, respond to any need that presents itself."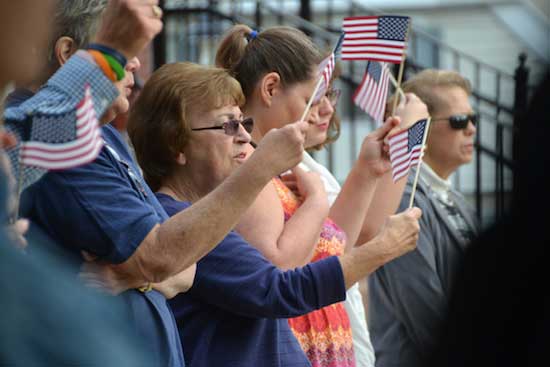 This group waves the American flag during the conclusion of the program.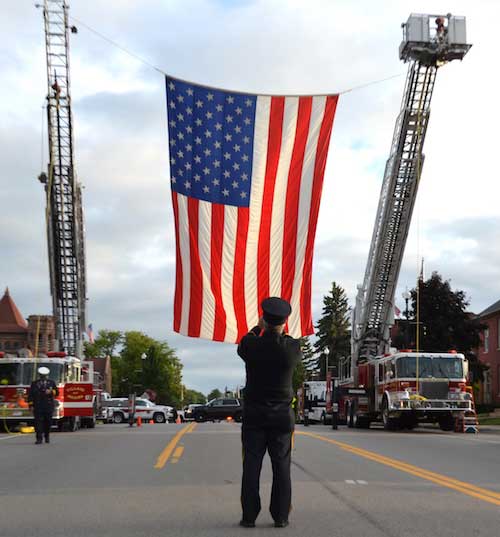 Albion firefighter Al Cheverie stands on a closed off section of Main Street to get a photo of the flag, which was held high by the ladder trucks from the Albion and Medina fire departments.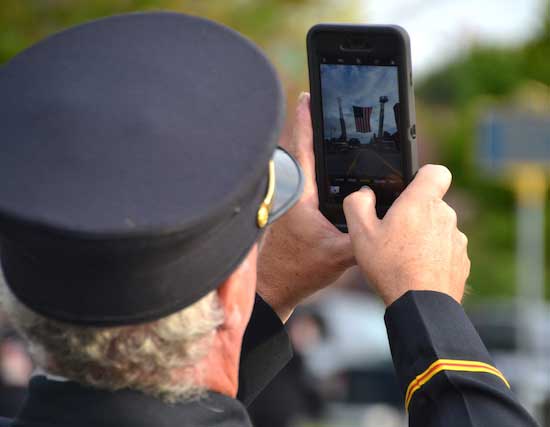 Al Cheverie used his phone to get a photo of the large American flag.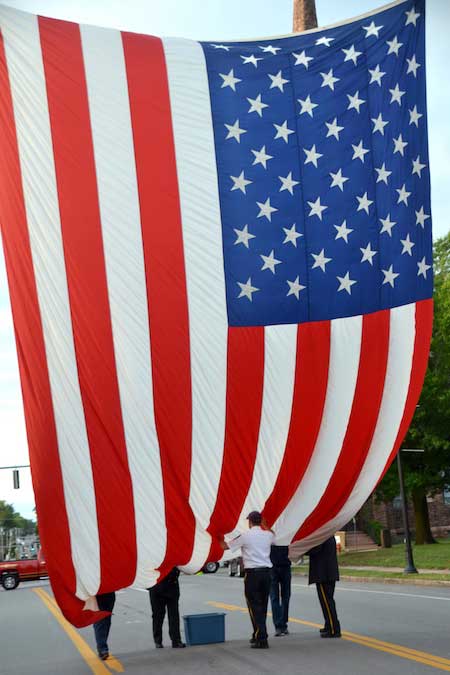 Jeremy Graham of the Albion Fire Department helps to fold the giant flag.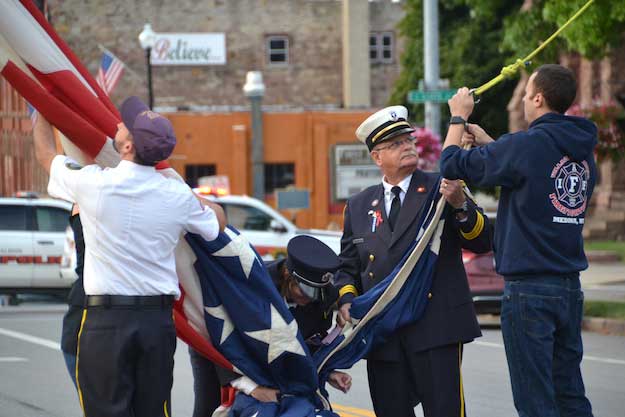 These firefighters fold the flag. They include Jeremy Graham, Jan Cheverie and Gregg Marston of Albion, and Brad Mahnke of Medina.