Orleans/Niagara BOCES students win awards at Regional SkillsUSA Competition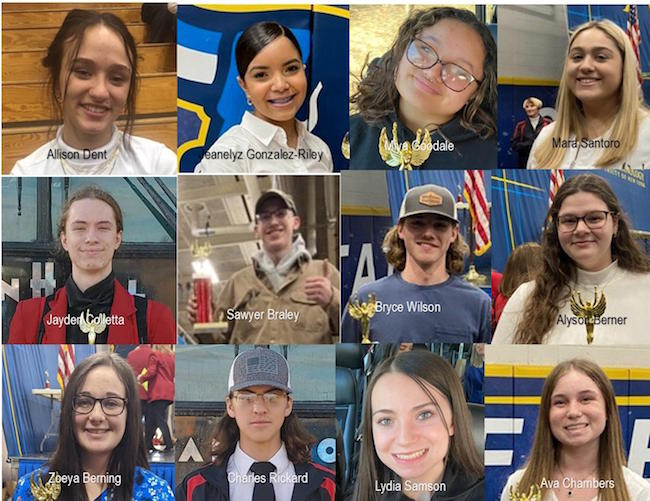 Press Release, Orleans/Niagara BOCES
Students from the Orleans and Niagara Career and Technical Education Centers were amazing at the Area 1 Regional SkillsUSA competition on March 8th!
Many of the students brought home trophies and Orleans/Niagara BOCES could not be prouder of all our competitors. Many of the students will be moving on to Syracuse to compete at the New York State competition.
SkillsUSA is a partnership of students, teachers and industry working together to ensure America has a skilled workforce. We help each student excel. A nonprofit national education association, SkillsUSA serves middle-school, high-school and college/postsecondary students preparing for careers in trade, technical and skilled service occupations.

Students who placed at the event include:
Sawyer Braley of Albion, 1st place in Welding
Allison Dent of Roy-Hart, 1st place in Cosmetology Senior
Jeanelyz Gonzalez-Riley of Lockport, 1st place in Cosmetology Junior
Miya Goodale of Barker, 1st place in CPR & First Aid
Seth Parsonsof Starpoint, 1st place in Early Childhood Ed
Xavior Fitzgibbons of Wilson, 1st place in Employment Application Process
Mara Santoro of Lockport, 1st place in Esthetics
CJ Uptegrove of Starpoint, 1st place in Precision Heavy Equipment
Jayden Colletta of Roy-Hart, 1st place in Related Tech Math
Colby Blake of Christ the King Academy/NT, 1st place in Restaurant Services
Tyler Hutcheson of Niagara Wheatfield, 2nd place in Carpentry
Sarah Baker of North Tonawanda, 2nd place in Cosmetology Senior
Bryce Wilson of Albion, 2nd place in Diesel Mechanics
Alyson Berner of Roy-Hart, 2nd place in Early Childhood Ed
Lenora Mercurio of Niagara Wheatfield, 2nd place in Job Demo A
Brason Dobson of Niagara Falls, 2nd place in Related Tech Math
Sebastian Cribbs of Starpoint, 2nd place in Small Engine Service
Olivia Brien and Nolan Dodge of Lockport, 2nd place in TV/Video Production
Savannah Shine of North Tonawanda, 3rd place in Advertising Design
Zoeya Berning of Newfane,3rd place in Animal Careers
Charles Rickard of Roy-Hart, 3rd place in CNC
Lydia Samson of Barker, 3rd place in CPR & First Aid
Arianna Kush of Lockport, Maleah McKinney-Updegraph of Lockport and Amber Hoerner of Roy-Hart, 3rd place in CSI Team
Ava Chambers of Medina, 3rd place in Early Childhood Ed
Lorna Becker of Roy-Hart, 3rd place in Extemporaneous
Christian Lates of Roy-Hart, Ashley Stanczyk of Roy-Hart, Jack Whipple of Lyndonville and Rachel Hill of Medina, 3rd place in Health Knowledge Bowl
Madison Kelley of Roy-Hart, 3rd place in Job Interview