Orleans/Niagara BOCES recognizes employees of the year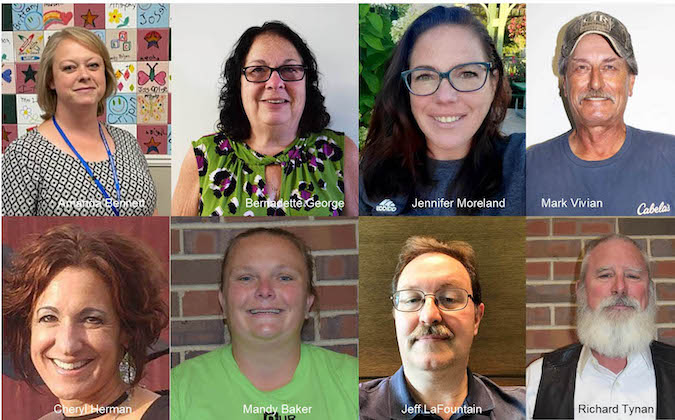 Press release and photo courtesy of Orleans/Niagara BOCES
The Orleans/Niagara BOCES recently named its employees of the year for the 2021-2022 school year. Employees are nominated by their peers and a committee selects an awardee in each of these categories: Administrator, Clerical, Continuing Education, Custodial/Maintenance, Staff Specialist, Substitute, Teacher Aide and Teacher.
Amanda Bennett is the Administrator of the Year. She is the former Principal at the Niagara Academy. She worked there for the past seven years. Bennett said her favorite part of her job was the people.  "I loved the kids and being able to help them and watch them succeed. The graduation ceremony was always an emotional time with saying good-bye to them and reflecting on the graduates. I love the staff, especially my office staff. The people at BOCES really have their hearts in the right place. They are all about the kids."
On learning she was named an employee of the year, she said, "I felt humbled to receive Administrator of the Year. My colleagues in administration are the hardest working people I have ever met in my life. To be selected amongst that group is an incredible honor."
Bernadette George is the Clerical Person of the Year. She started her position as Senior Clerk in the Labor Relations Department in December 2014.
"I like the people that I work with and that makes any job a lot better," she said. "I also like creating databases and helping others."
She is honored being awarded Clerical Person of the Year. "It felt nice. It was a total surprise and the pat on the back was appreciated."
Jennifer Moreland is the Continuing Education Employee of the Year. She has worked as a case manager at the Lockport Community Education building since 2017. Moreland said her favorite part of her job is her students.
"They are wonderful, hardworking people seeking opportunities," she said. "In my current position, I serve students with ingenuity and creativity while collaborating with hardworking colleagues who each bring a new perspective and a plethora of experience. There is never a dull moment in our program!"
"I was so grateful to have received this award. I was nice to be nominated and I am appreciative of the people with whom I work."
Mark Vivian is the Custodian/Maintenance Person of the Year. He has been a maintenance worker at Orleans/Niagara BOCES since 1979.  "My favorite part of my job that every day is different.  It is never the same and I work with great people," he said.
Vivian said he was very surprised to win the award.  "It was unexpected and very nice to receive it. I am retiring shortly and it was a great going away present."
Cheryl Herman is the Staff Specialist of the Year. She has been the Director of the Orleans-Niagara Teacher Center since 2007. "I actually started at BOCES in 2001 as a Computer Support Specialist for the career and technical education teachers and the Teacher Center. I left for a couple of years to teach high school Business in Medina from 2003-2005 and returned as a Computer Specialist. So all together I have been at BOCES for almost 18 years!"
When asked her favorite part of her job, she answered, "I love to collaborate and share with fellow colleagues. I love being able to bring awareness about new technologies to teachers and also train them in essential topics like Social Emotional Learning, Culturally Responsive Teaching and Educational Technology. Our NYS Teacher Center Network enables me to make connections across New York that most people do not get to make and these connections provide me the ability to bring vital information and knowledge to all of my consortium teachers."
She said, "I was very excited and surprised to win Employee of the Year! Our staff specialist group has so many amazing employees and I am honored and humbled to have been chosen to be this year's recipient. I would not be where I was without the support and friendship of all my colleagues.  A huge thank you and shout out to all of them!"
Mandy Baker was named the Substitute of the Year. She has been a substitute at the Orleans Career and Technical Education Center for the past two years and is starting her third year.
Baker said her favorite part is that she is different places every day.  "I love getting to meet all the students!"  She had this to say about winning the Employee of the Year award: "This is very exciting and I feel very blessed. I am glad my hard work pays off for people to notice!"
Jeff LaFountain is the Teacher Aide of the Year. He is currently working at the Orleans Learning Center and has been working with BOCES for 20 years.
"My favorite part of my job working and interacting with the students and my coworkers," he said. "Winning the award was a pleasant surprise. I thank my coworkers and employers for this honor."
Richard Tynan was named the Teacher of the Year. He retired this past school year and taught English at the Orleans Career and Technical Education Center since 2004. Before that he subbed and taught adult education.
When asked his favorite part of his career, "Undoubtedly the way academics were embedded into the various curricula. Students could see that literacy skills are necessary and helpful to completion of real-world tasks. I also liked working with students as they grappled with more adult workplace situations in which they assumed (sometimes) more adult responsibilities. It was fun to see their enthusiasm and engagement and to see glimmers of the amazing adults many are becoming."
He had this to say about winning Teacher of the Year, "I am undeserving of the honor, but grateful for the recognition. It has been lots of fun. I'd like to imagine that I did some good. There are many teachers I feel are more deserving than I. The skill and dedication of the O-N BOCES staff has always made me proud to be part of the organization."