Orleans legislators present several proclamations
County tries to highlight wine industry, Mental Health, Armed Services, 'Older Americans' and Motorcycle Safety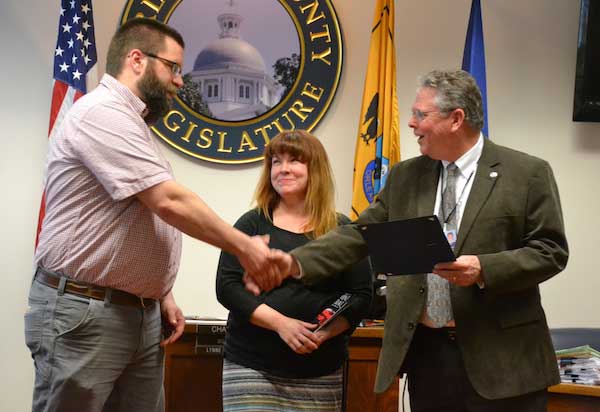 Photos by Tom Rivers
ALBION – The Orleans County Legislature presented five proclamations last week recognizing programs and assets in the county and region.
Legislator Ken DeRoller, right, presents a proclamation that recognizes April as "Wine Month." Bryan DeGraw, owner of 810 Meadworks in Medina, accepts the proclamation with Cate Banks, director of Niagara Wine Trail. DeGraw is vice president of the Wine Trail.
Legislators said wineries attract guests from neighboring counties, and visitors from other states.
New York is the country's third largest grape and wine producer, with 1,631 family-owned vineyards that generate 25,000 jobs and is visited by 5.29 million people, according to the proclamation.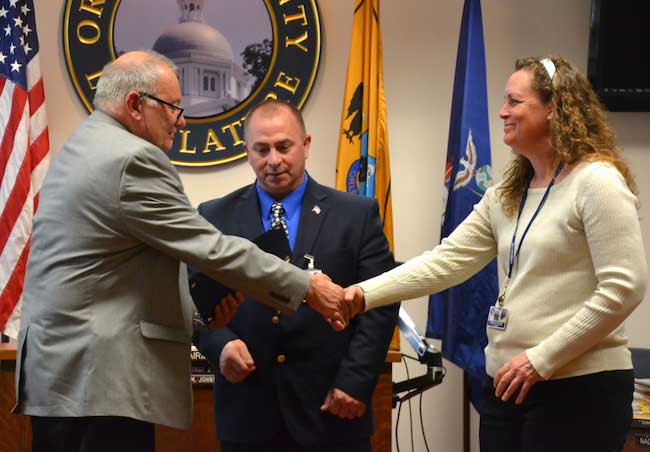 The county also joined seven others in Western New York in declaring May 10-20 as Western New York Armed Forces Week. The proclamation encourages residents to thank active duty members, reservists, military retirees and veterans "for their dedication, sacrifices and service to Our Nation."
County Legislator Fred Miller, left, presents the proclamation to Earl Schmidt, director of the Veterans Service Agency in Orleans County, and Nancy Traxler, a veterans service officer for the county. Schmidt and Traxler give the county two certified veterans service officers.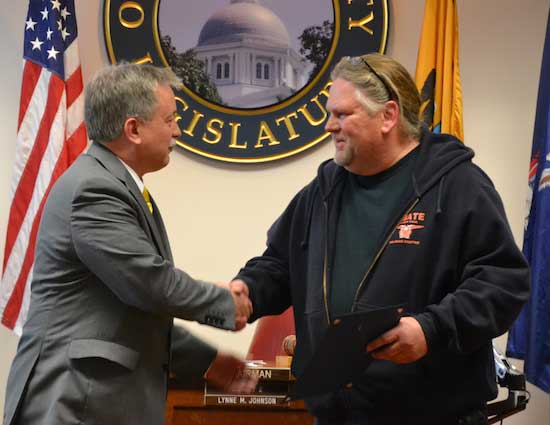 Legislator Don Allport, left, presents a proclamation for "Motorcycle Safety and Awareness Month" in May to Matt Tracy, vice president of the Orleans County chapter of the American Bikers Aimed Toward Education.
ABATE will have a motorcycle safety rally on Sunday at the County Courthouse. Bikers will arrive about 1 p.m. with the rally at 2 p.m. The group will then go on a 50-mile police-escorted ride within the county, ending at the VFW in Medina.
Legislators praised ABATE for helping to prevent accidents through awareness programs aimed at all drivers, acting as liaison on behalf of motorcyclists with government agencies, and promoting good citizenship by encouraging members to use their right to vote.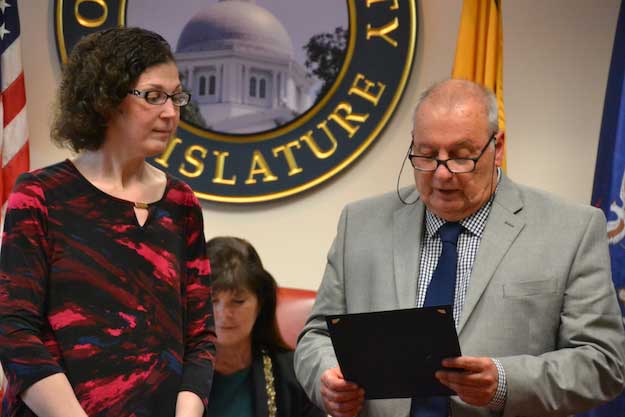 Legislator Fred Miller reads a proclamation declaring May as "Older Americans Month." He presented the proclamation to Melissa Blanar, director of the Office for the Aging. The local agency enriches the lives of individuals of every age by promoting home- and community-based services that support independent living; involving older adults in community planning, events, and other activities; and providing opportunities for older adults to work, volunteer, learn, lead, and mentor.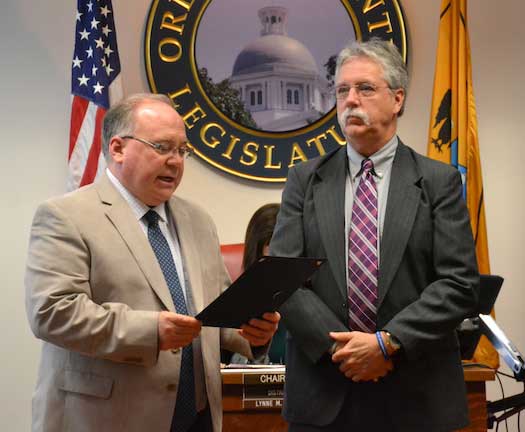 County Legislator Skip Draper, left, reads a proclamation declaring May as "Mental Health Month." He presented the proclamation to Mark O'Brien, director of the Orleans County Mental Health Department.
Draper said mental illness will strike one in five adults and children in a given year, regardless of age, gender, race, ethnicity, religion or economic status.
"Mental Health Month was developed to bring public awareness to the mental health challenges facing children, adolescents and adults, and to diminish the stigma associated with it," the proclamation reads.