Orleans has worst day yet for Covid-19 with 5 deaths, 23 new cases

Orleans County is reporting is worst day yet of the Covid-19 pandemic with 23 new confirmed cases and five deaths from the coronavirus.
The 23 new cases bring the county's total cases to 194. That is more than neighboring Genesee County, which didn't have any new confirmed cases today and remains at 178.
Genesee is more populous than Orleans, 57,280 residents compared to 40,352, according to the 2019 Census.
In Orleans, the majority of the cases are at nursing homes – 112 out of 194. Today's report from the health department shows 22 new cases at Orchard Rehabilitation and Nursing Center in Medina. That 160-bed nursing home now has had 25 confirmed cases. The health department is also reporting four residents at Orchard have died from Covid-19.
The Villages of Orleans Health and Rehabilitation Center in Albion doesn't have any new confirmed cases and remains at 87. However, one resident passed away from the virus, bringing the total deaths at The Villages to 23 from Covid-19.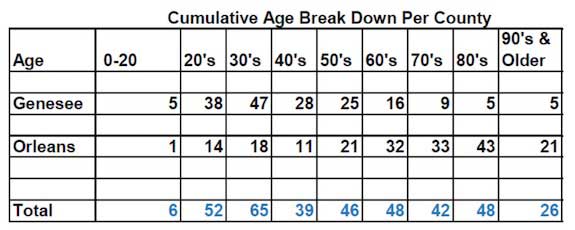 In Genesee County, none of the nursing homes have any confirmed cases of Covid-19.
Paul Pettit, the public health director in Orleans and Genesee, said he expects the nursing home numbers will continue to rise because of a state mandate require testing of all residents, and twice-w-week testing of nursing home staff.
That testing will allow the nursing home operators to more quickly identify residents with the virus, and move them away from non-positive residents.
The health department provided additional information on the 23 new confirmed cases. One is a Ridgeway resident and the others live at Orchard Rehab and Nursing Center.
Of the new positive cases, one individual is in the 20s, three are in their 50s, three are in their 60s, six are in their 70s, seven are in their 80s and three are in their 90s.
The health department is also reporting two more recoveries from Covid-19 in Orleans County, bringing the total to 59. Genesee has three more recoveries for 112 total.
In Orleans, 15 of the total active positive cases are hospitalized.
Click here to see an online map of confirmed cases in Genesee, Orleans and Wyoming counties.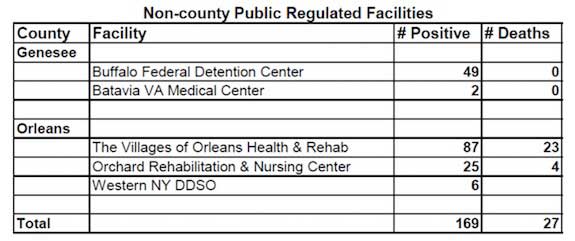 The facility breakdown is only showing the total positive cases from those facilities from where the health department has been notified of a positive swab for Covid-19. Facilities will be added if there is a positive case of Covid-19.
Because the local health departments don't follow the positive cases for facilities, we cannot report any recoveries from the facilities. If a regulated facility from either of the counties is not listed, there are no positive cases of Covid-19. The local health departments do not have oversight with many regulated facilities, which may include nursing homes, correctional facilities, hospitals, etc.
More information from the Genesee and Orleans County Health Departments:
• Memorial Day Weekend: As we move into the Memorial Day weekend, we would like to take a moment to remember those who fought for our freedom and have given the ultimate sacrifice, their lives.
We appreciate each of these individuals and their families who gave so much for this great nation. Even though there aren't any public gatherings or parades, it doesn't stop you from visiting cemeteries and monuments or have your own household time to remember our service men and women as long as you continue to social distance.
This is also the unofficial beginning of summer and we encourage people to be creative on how they can safely enjoy the great weather without putting others at risk of contracting Covid-19. Consider planting a victory garden of flowers, fruits and vegetables, go for daily hikes while social distancing, and/or start up some new hobbies.
Take time to step back and enjoy the slower pace we have found ourselves in during this pandemic. Remember to journal about how you and your family made it through these historic times. We are one day closer to making this a memory, remember this is only temporary. We can get through this together, without being so close.
• Social gatherings: According to the Governor's Executive Orders we are still unable to have any gatherings over 10 for any reason.
For questions go to NY Forward website and the Regional Control Room (for guidance and to answer your questions: mailto:flnyf@esd.ny.gov). To file a complaint about a business, location or incident in your community you can call 1-833-789-0470 or click here.
Un-PAUSING does NOT mean we can start having social events, even outside. The Governor's Executive Order still bans gatherings of any kind, in any location, to no more than 10 people.
• No yard/garage sales: Currently state guidelines are restricting these activities. The virus can be on items for several hours/days depending on the surface and can cause infection. People are touching the items to examine them, so it can put others at risk.
• The more socialization that occurs the higher risk of transmitting the virus, especially to those who are most vulnerable. It is imperative we still restrict social/family gatherings until we are certain to have this under control and/or there is a vaccine.
• It is expected we will see an uptick of positive cases and mandatory quarantines as social interaction increases.
• If cases increase, it shows us people may be ignoring the orders to not have gatherings of 10 or more people, not social distancing, not hand washing/sanitizing, disinfecting shared surfaces often, and/or not wearing face coverings properly.
This can also impact our ability to continue the re-opening phases. We ask that you respect the guidance and continue to social distance.
• New York State on PAUSE: NYS on PAUSE will continue until at least May 28, regarding large and social gatherings. To assist local authorities with enforcement of these orders, the Governor established the New York State PAUSE Enforcement Assistance Task Force where individuals can file complaints regarding the operation of non-essential businesses or gatherings 24 hours a day, 7 days a week. Click here to file a complaint online. You may also call 1-833-789-0470.
Businesses that are not in compliance with the Governor's executive order may be penalized.
• Masks/Face Coverings: Both counties are still low in supplies of masks. They are being distributed to high-risk agencies/businesses as prioritized and if there is a supply left over they will be distributed in an appropriate manner. County plans for releasing supplies to the public will be forthcoming as supplies become available. Additional information will be released by the respective County Emergency Management offices as appropriate.
• ROC Covid-19 Health Screener: This symptom tracker for the Greater Rochester region is a scientific study collected aggregate data by zip code to track hot spots of Covid-19. The data will potentially show how the virus may be spreading, identify areas that may be at risk and determine how our efforts are working to slow the spread. You can participate by taking the daily survey whether you are having symptoms or are feeling healthy. It just takes a few seconds. To learn more, click here.
• Contact Tracers: New York State is seeking contact tracers. If you are interested in this position, click here to apply to be a part of the NYS Contact Tracing team. This is a moment of crisis and New York needs our help as soon as possible.
• The Nursing Home hotline number is 833-249-8499 or click here for the link to the online form.