Orleans has second highest Covid positivity rate in state
Genesee and Orleans report 217 more Covid cases since Thursday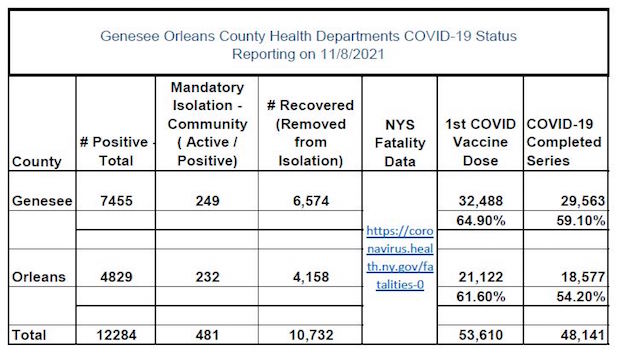 Orleans County currently has the second highest percentage of positive Covid tests over seven days in the state at 9.8 percent.
The state-wide positivity rate is 2.6 percent, putting Orleans at nearly four times the state average. Only Allegany County has a higher positivity rate than Orleans at 11.1 percent. Genesee is at 7.9 percent.
The Genesee and Orleans County Health Departments reported the number of Covid cases in the two counties since Thursday, with Orleans having 105 more and Genesee another 112.
The number of active cases in the two counties is now up to 481, a pandemic high. It was at 472 on Thursday. Orleans is at 232 and Genesee at 249 today.
Orleans is reporting 105 new positive cases since Thursday and 114 additional recoveries, or people who have completed the 10-day quarantine and been released from mandatory isolation. Genesee has 112 new cases since Thursday, and 87 more recoveries.
Orleans currently has seven residents hospitalized due to Covid, and Genesee has 15 in the hospital from Covid.
Orleans County also had another resident die from Covid, bringing that total to 91 since March 2020. The individual who most recently passed away was over 65 years old.
"Our deepest condolences are extended to the family and friends of this individual," the Genesee and Orleans County Health Departments stated in a news briefing.