Orleans has nearly 400 new Covid cases in past 3 days
561 active cases goes past previous high of 334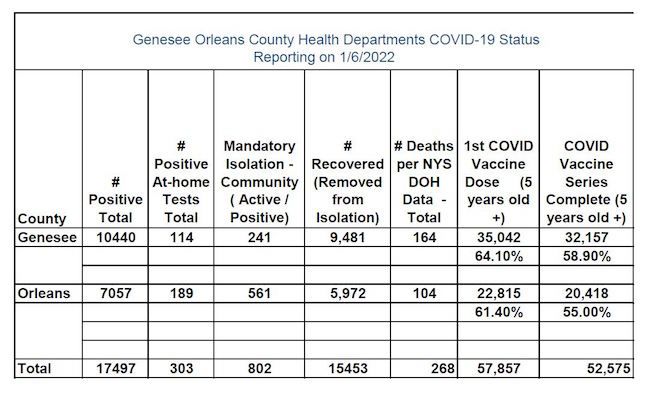 Orleans County is reporting 381 new cases of Covid-19 since Monday, and has a new pandemic high for active cases – 561. That is well above the previous high of 334 on Dec. 9.
The new confirmed cases include 105 from home testing kits.
The county also has passed over 7,000 cases since the pandemic started in March 2020.
While the number of cases is way up, the number of people hospitalized due to Covid remains at six, the same as on Monday.
Orleans also is reporting 89 more recoveries of people who completed their 10-day isolation and have been removed from mandatory isolation.
In Genesee County the number of active cases is down from 265 on Monday to 241 today.
The county is reporting 242 new cases and 260 more recoveries. Genesee also has two more deaths from Covid, both under age 65.
Genesee's new cases include 54 from home testing kits. The county has 22 hospitalized due to Covid, the same as on Monday.
New York State is reporting 84,202 new positive cases, which is the second highest during the pandemic. The record high is 85,476 on Dec. 31.
The state's positivity rate over the past 7 days is 22.5 percent. In Orleans it's 16.3 percent and in Genesee it's at 19.9 percent.