Orleans has 2 more Covid-19 deaths, now has 40 total

Two more Orleans County residents have died from Covid-19, bringing the total to 40 people who have passed away for the coronavirus, the Genesee and Orleans County Health Departments is reporting today.
The two deaths reported today were residents of the Orchard Rehabilitation and Nursing Center in Medina, which has now has 12 residents die from Covid-19. (Among the 40 deaths, the others include 27 residents at The Villages of Orleans Health and Rehabilitation Center in Albion, and one who was a community member outside a nursing home.)
Orleans County also has two new confirmed cases of Covid-19, who are both residents of Orchard Rehab and Nursing Center. One is in the 60s and the other is in the 80s.
Orleans County has now had 238 positive cases, with 48 of those at Orchard.
The Health Departments also are reporting one more person has recovered from Covid-19, bringing the county's total recoveries to 78 among community residents.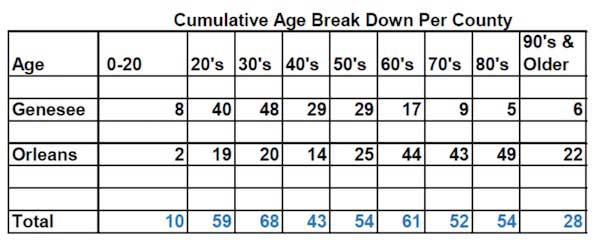 Genesee County is reporting one new confirmed case of Covid-19, a person in the 40s from Batavia. That new positive case was not on mandatory quarantine prior to testing positive.
While Orleans County has 18 people hospitalized with Covid-19, Genesee doesn't have any residents in the hospital from Covid.
Click here to see an online map of confirmed cases in Orleans, Genesee and Wyoming counties.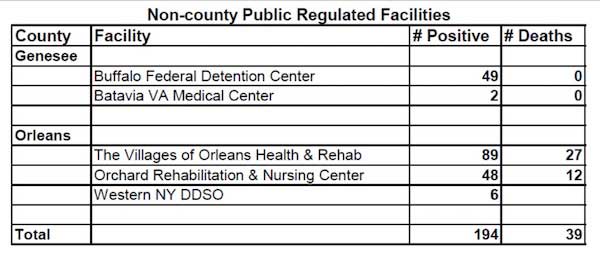 The facility breakdown shows total positive cases from facilities where the Health Departments have been notified of positive cases of Covid-19.
More from the Genesee and Orleans County Health Departments:
• Outdoor dining: Governor Cuomo announced that outdoor dining at restaurants will be permitted beginning June 4. Outdoor tables must be spaced six feet apart, all staff must wear face coverings and customers must also wear face coverings when not seated.
There are still limitations. We encourage business owners to go to the NY Forward website and click on Phase Two for more information.
For guidance on Outdoor and Takeout/Delivery Food Services, click here.
• No gatherings of more than 10 people: Per Governor Cuomo, gatherings (groups, assembly, meeting, etc.) of 10 or less are permitted with social distancing and sanitization protocols in place. The executive order is only good for 30 days or unless it is extended. (Click here for more information.)
The Health Departments do not authorize or allow exemptions from the Governor's orders. If you have questions about the orders you can go to forward.ny.gov or e-mail the Finger Lakes Regional Control Room. https://forward.ny.gov/new-york- state-pause
For questions go to NY Forward website and the Regional Control Room (for guidance and to answer your questions: e-mail to: flnyf@esd.ny.gov.
To file a complaint about a business, location or incident in your community you can call 1-833-789- 0470 or click here for a link to the online form.