Orleans, Genesee together continue to have about 200 confirmed Covid cases a week
Orleans and Genesee counties combined continue to see about 200 confirmed Covid cases each week.
In recent weeks the confirmed cases in Orleans and Genesee combined include 183 from Oct. 12-18, 191 from Oct. 5-11, 203 from Sept. 28 to Oct. 4, 199 from Sept. 21-27, and 202 from Sept. 14-20. The two counties are both ranked as medium for community Covid level by the federal CDC.
The seven-day positivity rate state-wide is at 6.65 percent ending on Oct. 18. Orleans and Genesee are in the nine-county Finger Lakes Region, where the positivity rate is at 7.51 percent.
The seven-day positivity averages for the Finger Lakes counties includes:
Orleans, 7.1 percent
Genesee, 7.4 percent
Livingston, 9.8 percent
Monroe, 7.1 percent
Ontario, 9.3 percent
Seneca, 8.5 percent
Wayne, 6.8 percent
Wyoming, 9.9 percent
Yates, 6.2 percent
The Capital Region and North Country both have the highest positivity rates at 10.03 percent, while New York City is the lowest at 5.63 percent.
Gov. Kathy Hochul continues to urge people to get vaccinated and boosted to help fight off serious cases of Covid.
"As the weather across the state continues to cool, New Yorkers must remain vigilant and be sure to use the tools that are available to keep themselves, their loved ones, and their communities safe and healthy," Hochul said. "Take advantage of the vaccine by staying up to date on doses. Test before gatherings or travel and if you test positive, talk to your doctor about potential treatment options."
Hochul on Wednesday also announced that children ages 5 and older may now receive the bivalent booster shots that are recommended to increase protection against Covid.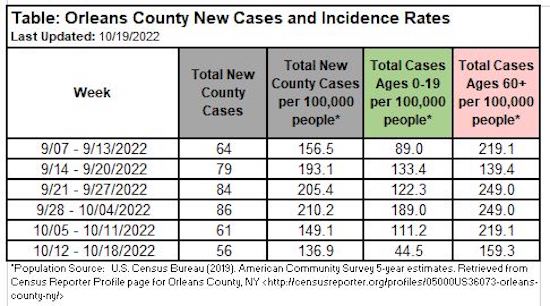 ---