Orleans, Genesee both put in medium community level for Covid by CDC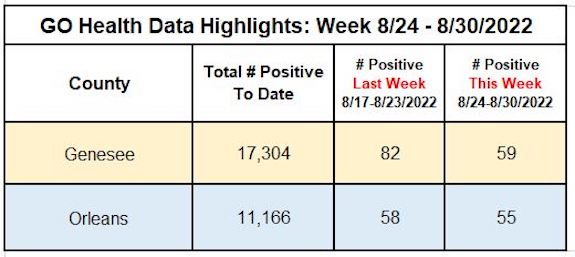 With Covid cases seeing a slight uptick in recent weeks, the federal CDC has put both Orleans and Genesee counties at medium for the community level for Covid. Both counties had been at the low level in early August.
In Orleans, the number of cases totaled 55 in the past week (Aug. 24-30), which was down from 58 the previous week. Orleans reported 57 from Aug. 10-16; 34 from Aug. 3.-9; and 38 from July 27 to Aug. 2.
The number of cases in Genesee totaled 59 in the past week (Aug. 24-30) which was down from 82 the previous week. Genesee reported 66 cases from Aug. 10-16; 62 from Aug. 3-9; and 52 from July 27 to Aug. 2.
Residents in counties in the medium community level are encouraged to wear a high-quality mask or respirator (N95) when indoors in public, the CDC said.
The Covid positivity rate statewide the past 7 days is at 5.9 percent. Orleans County is part of the nine-county Finger Lakes Region where the 7-day positivity rate is at 7.0 percent.
Orleans has the lowest positivity rate at 5.1% among the Finger Lakes counties. Other counties and their positive test percentages include Genesee, 6.4%; Livingston, 8.3%; Monroe, 6.7%; Ontario, 8.9%; Seneca, 6.3%; Wayne, 6.9%; Wyoming, 7.7%; and Yates at 7.3%.
"With school season approaching, New Yorkers should remain vigilant in keeping themselves and their loved ones healthy," Governor Kathy Hochul said. "Take advantage of the vaccine and booster by staying up to date on doses. Test before gatherings or travel and if you test positive, talk to your doctor about potential treatment options."