Orleans County will reap revenues from Batavia Downs Gaming success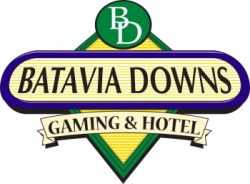 ALBION – Orleans County will see its revenue from Batavia Downs Gaming go up significantly this year with the race track and its 879 video lottery terminals having a record year.
Orleans was getting about $35,000 eight years ago as a part owner of the Western Regional Off-Track Betting Corp. That was money from OTB betting surcharges and profits from the gaming facility.
That was up to $51,822 in 2019 and is on pace for $85,000 this year, said Ed Morgan, the county's representative on the WROTB board of directors.
"It is a banner year," Morgan told county legislators on Monday.
The gaming floor has generated $60,656,682 during the 11 months so far this year. That doesn't include December. That is already ahead of the previous record high in revenue for a 12-month period – $60,087,894 from April 1, 2019 to March 30, 2020.
The net revenue has averaged $6 million a month at Batavia Downs Gaming since April, a pace for $72 million over 12 months.
The profit is divvied up with 39 percent to state education, 10 percent to gaming and administration, 41 percent to the operator (WROTB), 8.75 percent to horse racing purses and 1.25 percent to horse breeders.
The Western Regional Off-Track Betting Corp. owns and operates Batavia Downs as well as OTB branches. There are 15 counties and the cities of Rochester and Buffalo that make up WROTB, and they split revenue based on their population. Orleans receives about 1.5 percent of the total. Erie County, the largest county by population, gets 24.5 percent.
WROTB projected $61,260 for Orleans County in 2021, but passed that through the first three quarters of the year with payments at $63,027.
Batavia Downs was shut down about five months in 2020 due to Covid restrictions and then operated a reduced capacity for many months until July 2021 when the full gaming floor was reopened.
Morgan said Batavia Downs Gaming experienced a surge in revenue when the Covid restrictions were eased.
"People just wanted to be out," he said.
WROTB also bought a hotel next to the race track track/gaming facility and has offered "stay and play" promotions that have increased the occupancy rate from 60 percent to 85 to 92 percent on weekends, Morgan said.
"There has been a big increase in hotel occupancy, and they use the gaming floor," he said. "We believe that has made a huge factor in the third quarter."
A summer concert series at Batavia Downs also has brought many people to the gaming floor and race track, Morgan said.