Orleans County remembers 9/11 on 16th anniversary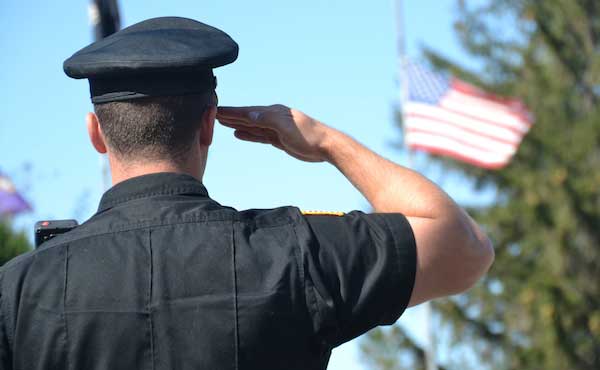 Photos by Tom Rivers
ALBION – Robert Wagner, an Albion police officer, salutes the American flag while Taps was played during a Sept. 11 memorial service today at the Elks Lodge. There will be another service at 6 p.m. today on the courthouse lawn in Albion.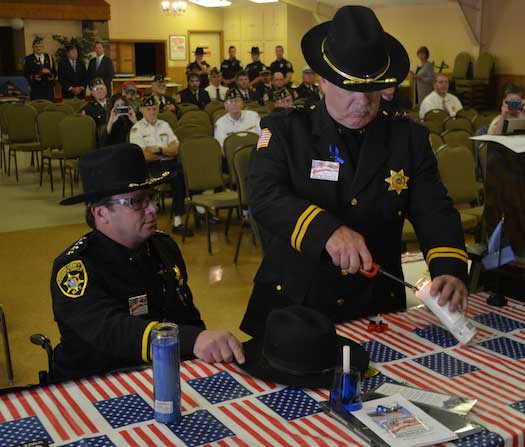 Sheriff Randy Bower, left, and Undersheriff Chris Bourke participated in the memorial service, lighting a candle in honor of the 72 police officers were killed in New York City during the terrorist attacks 16 years ago.
Most of the service this morning was inside the Elks Lodge with representatives from local law enforcement agencies, fire departments, ambulance, K-9 and other first responders, who laid helmets upfront during the service. They also lighted memorial candles.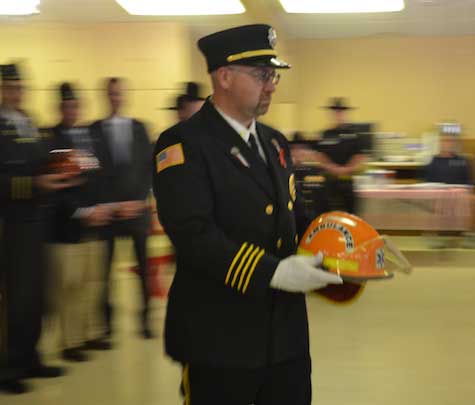 Jason Spencer, director of operations for Central Orleans Volunteer Ambulance in Albion, carries a helmet in honor of the medics and ambulance workers responded after planes were crashed in New York City, rural Pennsylvania and the Pentagon.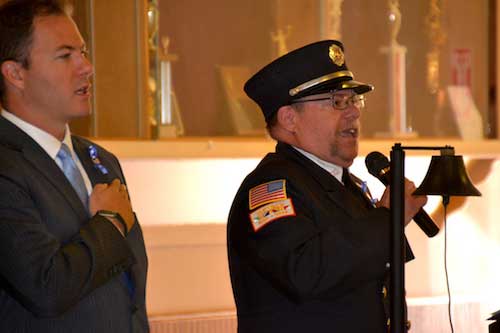 Albion firefighter Tim Irwin sings the National Anthem. He is joined by State Sen. Robert Ortt.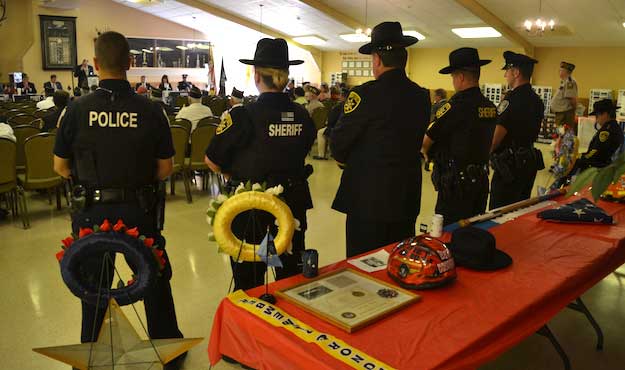 Representatives from local law enforcement attended the service, which was led by Larry Montello, a past American Legion commander for the county.
Montello said he wants to make sure the county doesn't forget the nearly 3,000 people killed on Sept. 11, 2001. He also wants to honor the sacrifice of the many first responders and citizens who went into harm's way to help people in burning buildings.
Orleans County Coroner Scott Schmidt was recognized during the service. He spent 20 days in New York City after the terrorist attacks. He was working as a mortuary officer, helping to collect and identify human remains.
"Scott, I don't know how we can ever repay you and your caring commitment at such a horrific time in our history of our great nation, but we know we all will be forever grateful for the healing you brought to so many people who lost loved ones," County Legislator Lynne Johnson said.
She praised all of the volunteers and first responders, "who went not thinking of the fear ahead, but for the love in their hearts to help others."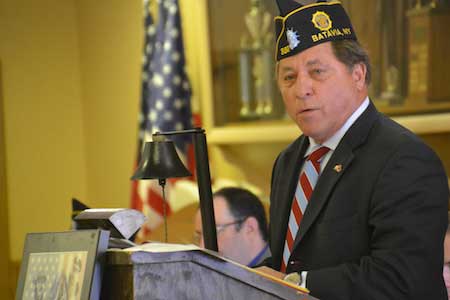 State Assemblyman Steve Hawley said many local families have loved ones serving in the military in the fight against terrorism.
"It's our duty to continue to remember the pain and poignancy of Sept. 11," he said.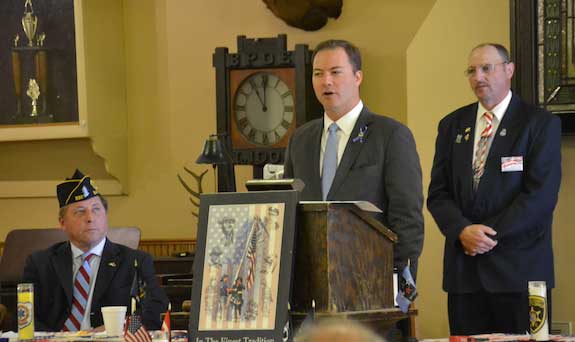 State Sen. Rob Ortt served a tour of duty in Afghanistan. Many citizens have stepped up to serve and protect the country, he said.
The country has thwarted terrorism attacks that don't make the news, he said.
"9-11 wasn't a one-off," he said. "We must continue to stay vigilant."
He recalled the strong unity in the country after the attacks.
"Yes, we need to play defense, but we also need to remember to love each other. Not just the anger and pain should come out of Sept. 11, but love your neighbor."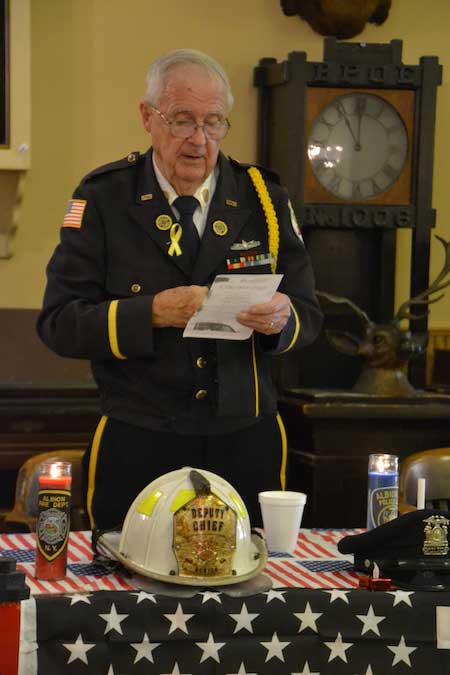 Ron Ayrault, an American Legion chaplain from Holley, reads the Firefighter's Prayer.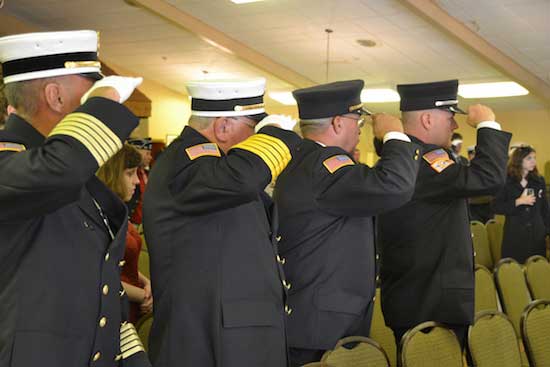 About 75 people attended the service this morning, including these firefighters, from left: Dale Banker of Albion, Jesse Babcock of Barre, John Becker of Kendall and Joe Grube of Albion.