Orleans County law enforcement will increase DWI patrols on Super Bowl weekend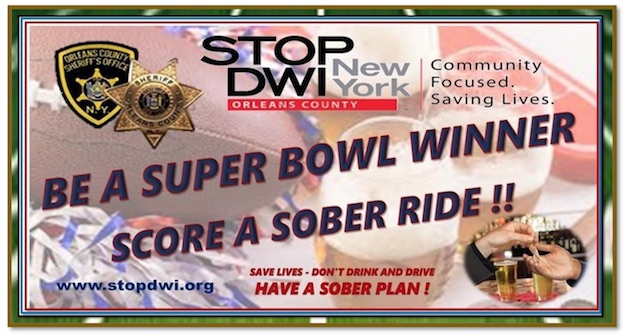 Law enforcement agencies in Orleans County will increase patrols for driving while intoxicated from Friday through Monday as part of a STOP-DWI Super Bowl Crackdown Initiative, Sheriff Chris Bourke said.
Although STOP-DWI efforts across New York have led to significant reductions in the numbers of alcohol-related fatalities, there are still too many, Bourke said.
Law enforcement agencies across the state will have increased patrols on impaired driving during Super Bowl weekend. The STOP-DWI campaign will include underage drinking enforcement, increased patrols and sobriety checkpoints to deter, identify and arrest impaired drivers.
The enforcement crackdown is funded by the Governor's Traffic Safety Committee.
If people are drinking, Bourke urges them to plan a safe way to get home. They should call for a ride from a sober friend, family member, taxi or Uber, he said.