Operation Honor presents $4k check to veterans' van service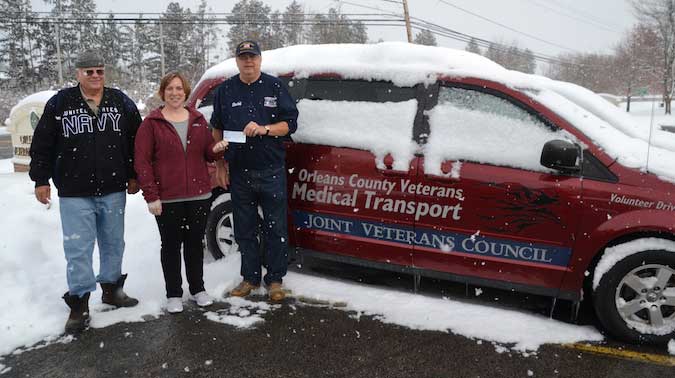 Photos by Tom Rivers
ALBION – Jennifer Thom, one of the organizers of the 5k Operation Honor on Saturday, presented a $4,000 check today to Orleans County Joint Veterans Council Van Service. Thom is handing the check to Dave Kusmierczak (right), chairman of the Joint Veterans Council. Steve Johnson, left, is the group's treasurer.
Thom and Sarah Levanduski-Surdel started Operation Honor last year with a 5K in Medina as their first event. Last year the race raised $3,000, which was given to the Warrior House in Shelby. The Warrior House provides a hunting retreat for veterans.
Thom and Levanduski-Surdel want to use the proceeds from the 5K to support veterans' programs in the community. David Thom, Jennifer's father, is a volunteer driver for the van service.
Jennifer Thom said the community was generous in sponsoring the event, which also included 40 participants who paid a $25 each to run or walk the course. The union for state corrections officers, NYSCOPBA, was the biggest sponsor at $1,500.
"This is a great shot in the arm," Johnson, treasurer for the Joint Veterans Council, said about the $4,000 donation. "It will really help us."
The Council has five vans. They purchased a low-mileage vehicle this summer for about $18,000. Johnson said the $4,000 from the 5K will go into a fund for the next vehicle.
The Joint Veterans Council runs the all-volunteer program, which has 27 drivers and 13 office volunteers.
The van service has taken 1,712 veterans to medical appointments this year, on 1,304 trips, through Oct. 31. Last month, the volunteers took 178 veterans to medical appointments.
Most of the trips are to VA healthcare sites in Batavia and Buffalo. The eras of the veterans served include 6 from World War II, 176 from Korea, 810 from Vietnam, 266 from the Persian Gulf and 454 from peacetime, according the Joint Veterans Council.
The vans so far this year have travelled 42,475 miles with volunteers putting in 4,694 hours.