OneChurch in Medina moves to former site of Grace Baptist on West Avenue
---
'We wanted a more central location. Our goal is to connect with the communities of Medina, Ridgeway, Shelby and Lyndonville.' – Kevin Weigel, site pastor at OneChurch in Medina
MEDINA – A long-standing church at the corner of West Avenue and Park Avenue is now home to a new congregation, after Grace Baptist Church sold the building in May.
OneChurch has had a presence in Medina since 2017, when they came from Akron and held their first service Christmas Eve at the former Sacred Heart Church on Ann Street.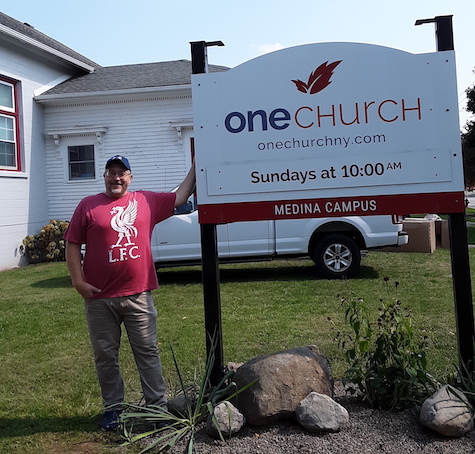 Kevin Weigel, site pastor for OneChurch, said they transitioned the former Catholic church site to a Free Methodist Church, and their congregation grew to 130 attendees before Covid hit.
"After Covid, we realized we had to change locations, as our lease was coming due," Weigel said. "We wanted to be more in the center of town."
When One Church discovered the former Grace Baptist Church was available, OneChurch purchased it in May.
Attempts to locate someone from Grace Baptist Church for a comment have been unsuccessful, and even Weigel isn't sure what happened to the congregation.
According to Grace Baptist Church's website, "A group of faithful believers were led by the Spirit to walk away from a liberal denomination and unite into an independent Baptist church which came to be known as Grace Baptist Church." That was in 1931.
OneChurch spent the summer painting and remodeling the building, and on Sunday held their first service there.
Weigel wanted to emphasize how great their landlord Skip Draper was to them at the former Catholic church site.
"He treated us fantastically," Weigel said. "But we wanted a more central location. Our goal is to connect with the communities of Medina, Ridgeway, Shelby and Lyndonville."
They have services for children through eighth grade and worship at 10 a.m. Small "Connect" groups to dig deeper into Scripture are held throughout the week. Amanda Kroenig of Medina is the children's director. Production coordinator is Caleb Cudzilla of Medina. A new director, Morgan Ellis, has been hired for the high school ministry. She is also the teen center coordinator for the YMCA in Medina.
"We are a very casual church," Weigel said. "Our worship is contemporary with messages relevant and practical, based on Scripture."
OneChurch enjoys partnering with associations in the community and looks forward to intensifying those relationships going forward, Weigel said.
The original OneChurch is based in Akron, with another site in North Tonawanda, in addition to Medina.