Old Medina HS transformed by artists
Show with 29 artists continues on Sunday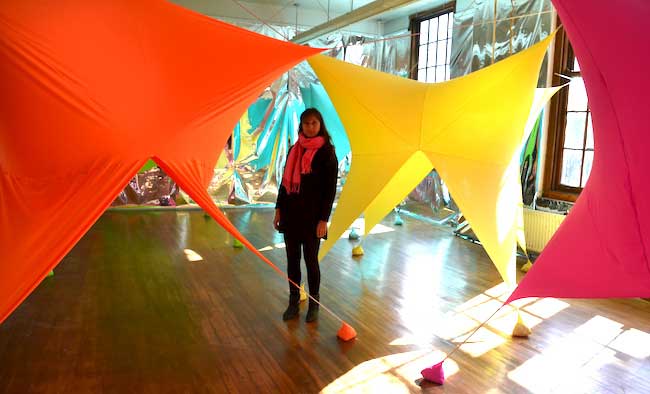 MEDINA – The former Medina High School on Catherine Street has been transformed by artists for a special three-day show that continues on Sunday.
The high school is hosting 29 artists, including Virginia Melynk of Buffalo, shown with her creation using triangular shapes made out of spandex that utilize geometric patterns.
Melynk submitted a proposal to be part of the "PLAY/GROUND" initiative. Artists were given free rein to create in old classrooms, stairwells, hallways and other space in the school.
"It's getting to engage in an old space and make something new out of it," she said.
The opening night show on Friday attracted about 400 people, with many from Buffalo.
The show will be open for a final day on Sunday from 11 a.m. to 5 p.m. Admission is $10, and is free to children 12 and under.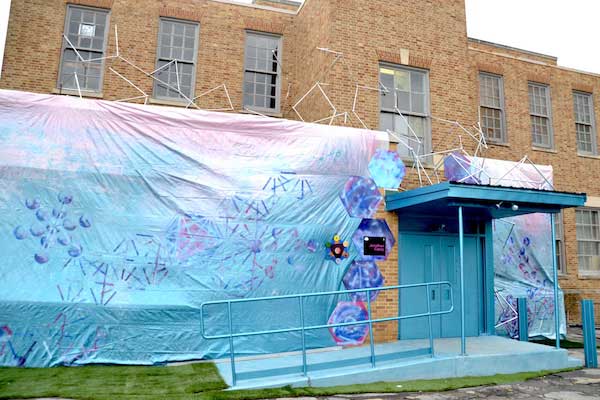 Jonathan Casey gave the back entrance of the school a radical new look.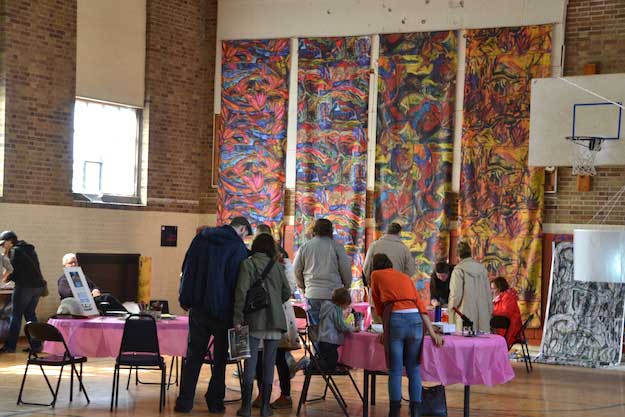 The gym showcases art and has stops for people to create their own artwork.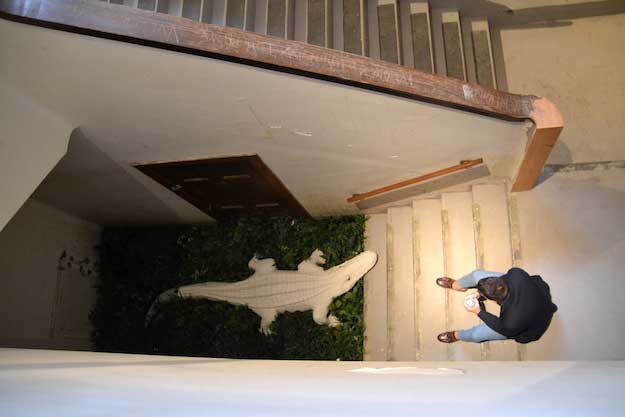 Michael Hungerford, regional director for Takeform Architectural Graphics in Medina, sits in the stairwell of the school near a large papier-mâché alligator, created by Bethany Krull.
Hungerford read about a similar project as PLAY/GROUND in a vacant warehouse in New York City. Hungerford knew the old Medina school would be vacant for several months this year. His uncle Roger Hungerford acquired it from Calvary Tabernacle Assembly of God Church and has plans to create apartments out of the school. First, Hungerford is working to renovate the former Bent's Opera House on Main Street.
Michael pitched the idea of the art installations in the school and the Roger backed the project.
"It is so far beyond my expectations," Michael Hungerford said. "The work is amazing."
Hungerford said PLAY/GROUND introduced many people to Medina who had never seen the community before, including many of the artists. They had a very positive reaction to Medina.
"I've enjoyed seeing the response to Medina, even from the artists who like it," Hungerford said. "They see cheaper property, which appeals to them because many artists are on a limited budget. This project has planted a seed to get people to Medina, and to the younger people here to see that something like this exists."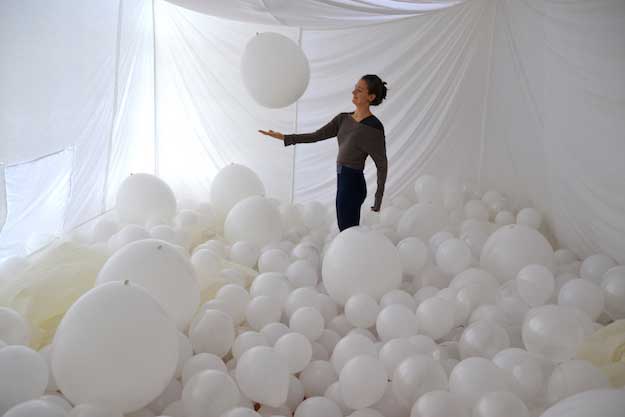 Kyla Kegler of Buffalo created "Thin Space." She welcomes people to get in the space with the balloons.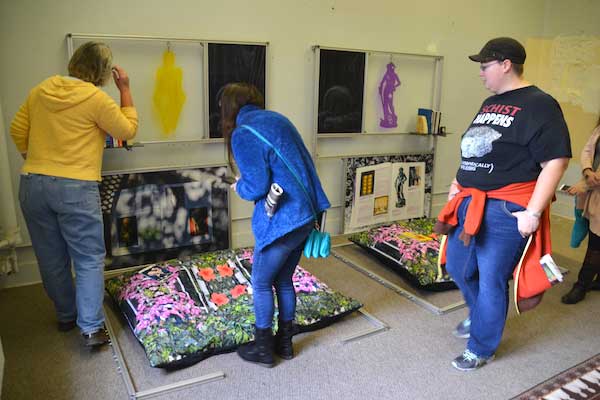 Some of the art visitors today get a close look of the exhibit created by Nando Alvarez Perez of Buffalo, who is from Oakland. His artwork is his vision of an ideal classroom setup, with lots of color on the walls, beanbags to sit on and reading nooks.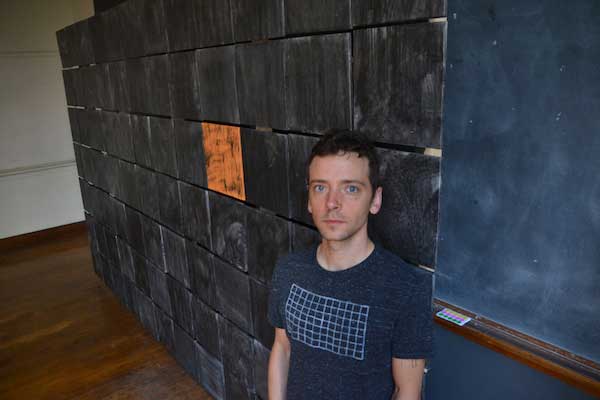 Kyle Butler of Buffalo created this apparatus for animations. He moves the squares around to create different images. The Michigan native welcomed the chance to create artwork without the pressure of sales.
"Everybody gets a classroom," he said. "It's a rare artistic opportunity."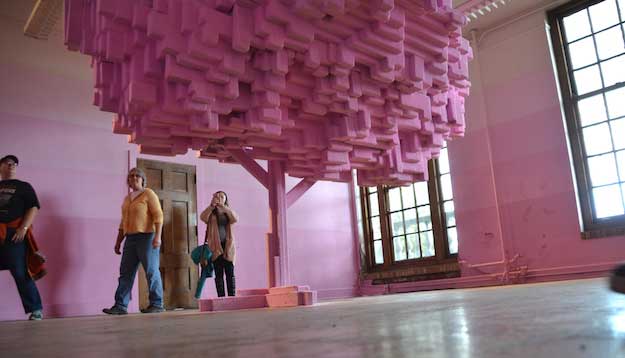 Colleen Toledano made this piece with pink foam, which proved popular for photos.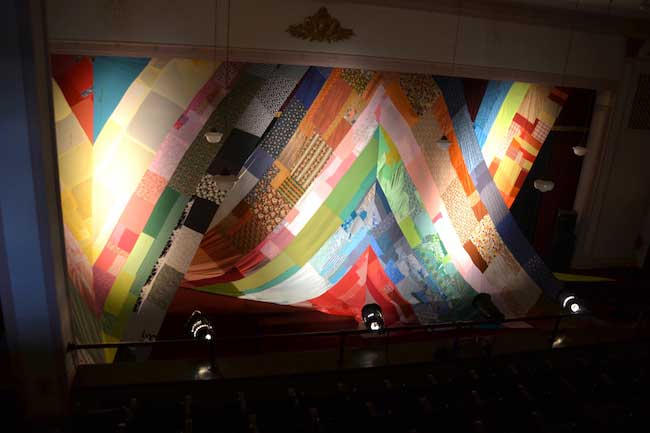 Amanda Browder first created "Spectral Locus" for the Albright-Knox Art Gallery in 2016, when large colorful fabric was draped on three buildings in Buffalo. The "Spectral Locus" is in the auditorium of the former school.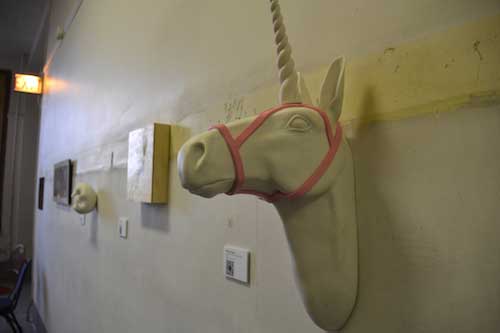 Bethany Krull made this hand-built porcelain creation she calls, "Your Very Own Mythical Creature." It is in the hallway of the former school.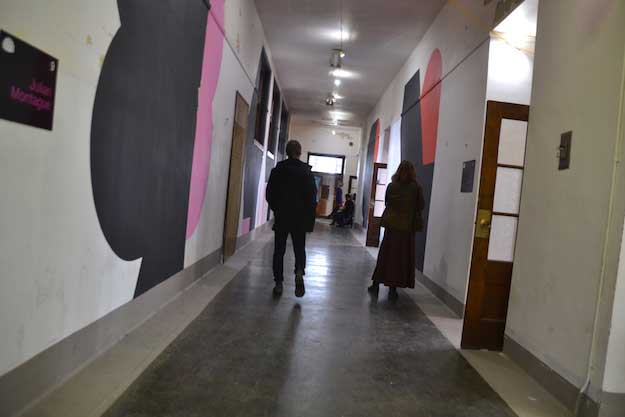 The plain white walls in the hallways are no longer.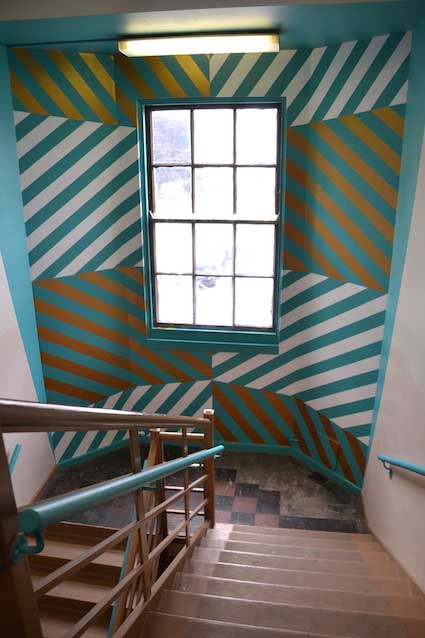 Even the stairways were given a new vibe by the artists.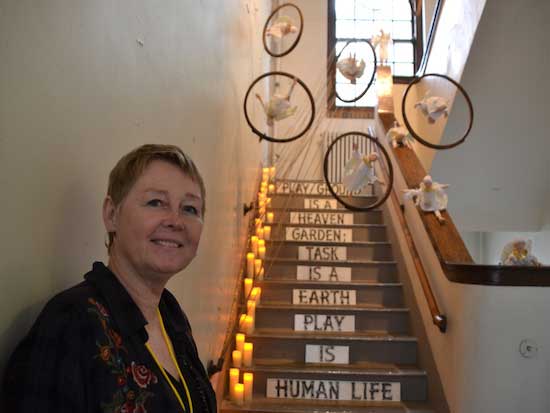 Elizabeth Cooper of Medina also is a featured artist. She created angels doing acrobatic moves in one of the stairwells. Todd Belfield of Jeddo Mill Antiques assisted with the installation.
"It's fabulous," Cooper said. "Everybody has very interesting stories on how they got started."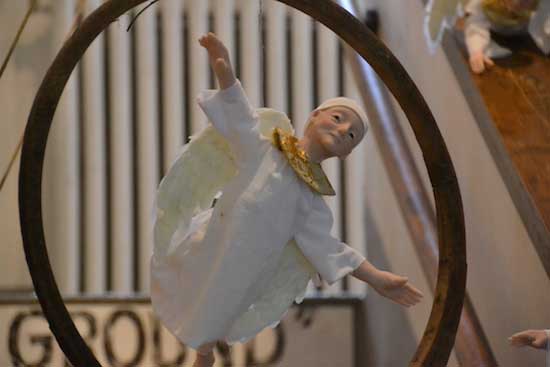 Cooper has the angels doing acrobatics. The rings are from barrel hoops. She is impressed with the variety of art work in the project.
"I feel like this is a spark for something very interesting happening in Medina," Cooper said.
For more on PLAY/GROUND, click here.