Officials pushed for a kid-friendly fire house to teach safety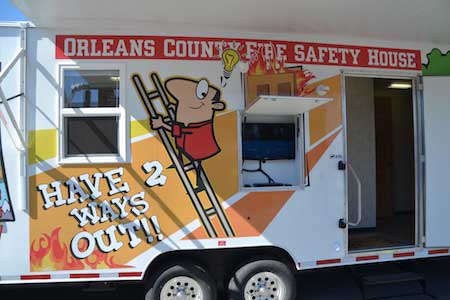 Photos by Tom Rivers
ALBION – The new Orleans County fire safety training trailer includes characters to help get the message across about having a fire escape plan.
"We didn't want a bland house," said Pete Sidari, an Albion firefighter who also works as a fire safety educator for the North Greece Fire District.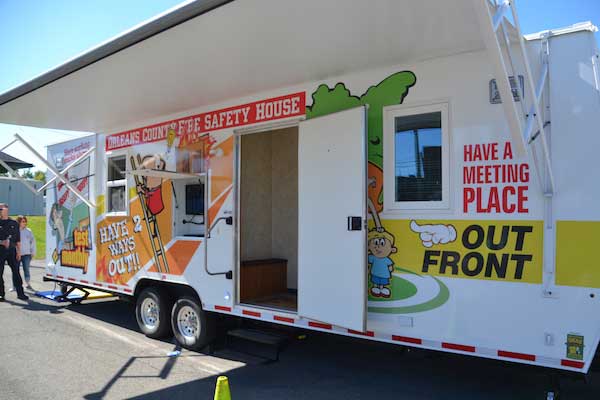 The county's Emergency Management Office received a $75,000 state grant through the office of Sen. Robert Ortt for the fire safety trailer, which is available to all 12 fire departments in the county.
Sidari reached out to Greg Stanton at Stanton Signs in Medina to create the signs and decals on the trailer. Sidari wanted characters and a message to reinforce what students will learn about fire prevention and a fire escape plan. Sidari said the trailer also functions as "a traveling billboard" with the messages.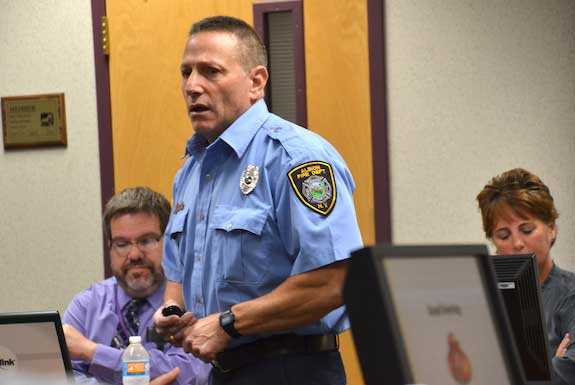 Sidari discussed the new fire safety trailer on Monday at the Albion Board of Education meeting. The trailer will be used next week during fire prevention week at local school districts.
The trailer made its public debut on Sunday when the 35-foot-long trailer was at the Medina Fire Department open house.
There have been 42 firefighters in the county trained to lead students through the trailer. Sidari said the public education program will be a work in progress. Many other communities with fire safety trailers have paid personnel who lead the program. In Orleans County, almost all of the firefighters are volunteers. Only Medina has paid staff.
The trailer will mainly be used at local schools, but Sidari said it will also be available at some community events.
It has special features with fog to simulate smoke, a hot door with electrodes, alarms, a burning trash can and a phone system to practice making 911 calls (a firefighter will be on the other line to answer the call).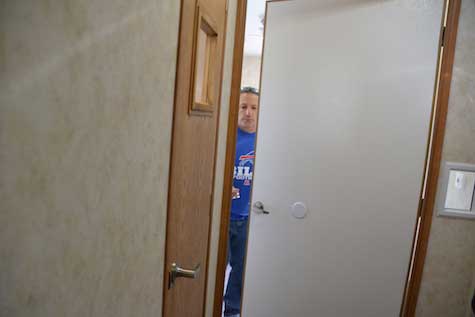 Pete Sidari closes a door in the fire safety house on Sunday. The door has an electrode that heats up. Children will learn to not open a hot door.
Firefighters stress the importance of having working smoke alarms, knowing two ways of getting out of a room. A door is the first try, but the second way out may be a window. Families should also have a meeting place outside a house or apartment in case of fire. Usually that is in front of the residence.